DP Address Updater
AUTOMATICALLY REFRESH YOUR DONORS' ADDRESSES EVERY NIGHT.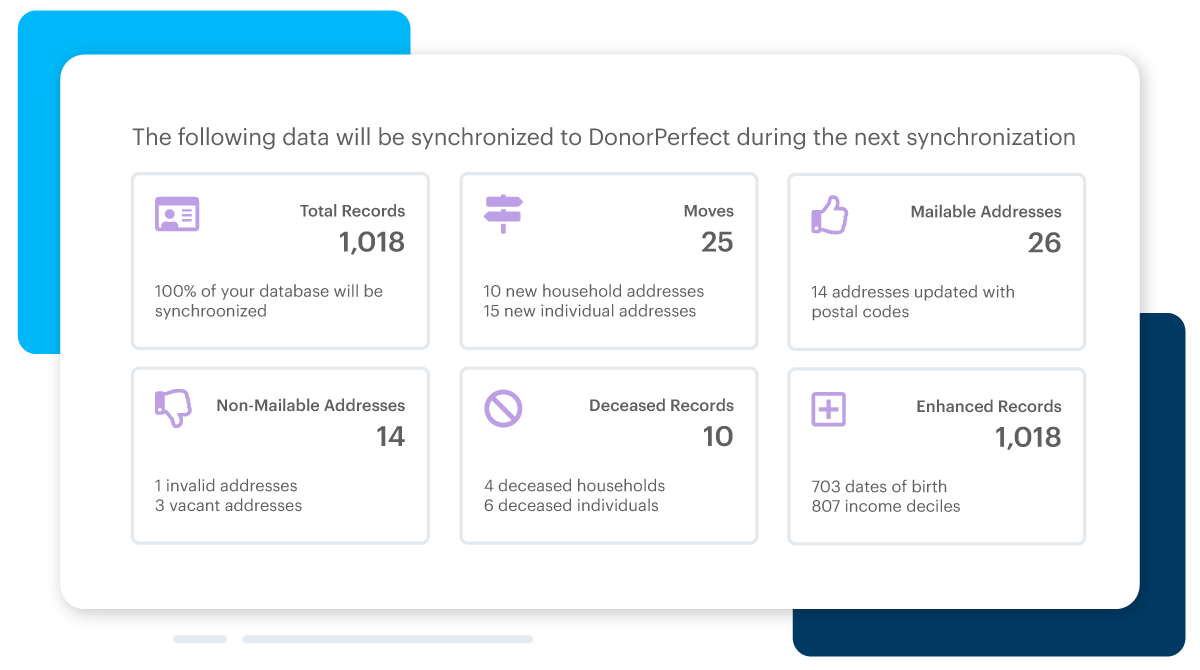 Click Image to Enlarge
According to American Community Survey data, approximately 13% of Americans – nearly 43 million – move to a new address every year. DP Address Updater, powered by TrueGivers, captures all address updates with a nightly data refresh, ensuring that DonorPerfect users have accurate and up-to-date information for direct mail appeals. This has the dual benefit of saving printing and postage costs by eliminating invalid addresses, and raising more money by making sure direct mail appeals reach as many interested donors and prospects as possible.
DP Address Updater can substantially reduce undeliverable and duplicate mail pieces by identifying and correcting address errors before they enter the mail stream. Your records are compared against the National Change of Address (NCOA) database to ensure you have the most current addresses, and updates include ZIP+4 certification according to USPS standards.
Reach more donors with DP Address Updater
According to the USPS
In recent years, nearly seven billion pieces of mail were Undeliverable as Addressed (UAA), costing mailers $20 billion annually in printing and postage
75% of undeliverable mail could be avoided by running NCOA updates prior to the mailing
Having the correct address ensures that your mailings reach all of your supporters, maximizing your fundraising success
If you're not regularly updating your database, an estimated 10-20% of your mailing list is invalid. Between printing and postage, nonprofits typically spend between $0.50 and $3.00 per direct mail piece. If you sent an appeal to 5,000 addresses that cost $1.00 per piece, you could lose $1,000 in direct costs – not to mention the gifts left on the table from supporters who moved and didn't get your letter
Features
Coding Accuracy Support System (CASS) and Delivery Point Validation (DPV) standardization of addresses to comply with USPS standards
NCOA updates when donors move to a new address
Residential Delivery Indicator (RDI) flags all addresses to indicate if the delivery address is a residence or commercial location
Vacancy and other address services flags all records to indicate if the delivery address is mailable
Deceased notifications for donors who pass away, including deceased date and whether it is an individual or household match
Basic, publicly available demographic information, including income decile, net worth, home owner, market value range, heritage, religion, business owner, and birth year
Service includes
Dashboard showing database updates and estimated savings
Mailing address validation and automatic updates
Discounts on USPS bulk mailing
Core demographic information for wealth screening
Deceased notifications for donors who pass away
Benefits
Automatically improve and maintain mailing address accuracy
Save time and postage costs by only targeting valid and up-to-date addresses
Raise more funding by segmenting your appeal letters and mailings more effectively
Learn when donors move into new homes and celebrate with a thoughtful note
Be made aware of deceased donors earlier
Frequently Asked Questions
1. How does DP Address Updater work?
---
2. How long do updates take?
---
3. Will my records be accurate?
---
4. Who can use DP Address Updater?
---
5. How does the subscription work?
---
Learn More about DP Address Updater