Client Resources
ALWAYS THERE FOR YOU, COMMITTED TO YOUR SUCCESS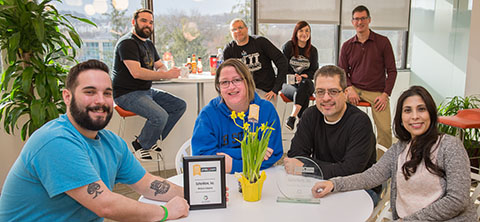 DonorPerfect is a 100% employee-owned company with offices in Philadelphia and Montreal. Many of our DonorPerfect team members have professional nonprofit experience and currently serve as board members and volunteers.
As much as we'd like to think we know what nonprofits like yours need most, we know that you know best. That's why we reach out to our users and fundraising experts for feedback and best practices as we innovate and improve our software, expand content offerings, and seek new ways to ensure the success of every member of the DonorPerfect community.
We take our users' happiness and satisfaction seriously, which is why 9 out of 10 DonorPerfect clients choose to stay with us, year after year.
Team Up with Our Staff Through DonorPerfect Gives Back
Tell us about your food and clothing drives and volunteer opportunities. DonorPerfect's Gives Back program can rally our whole company to help you out!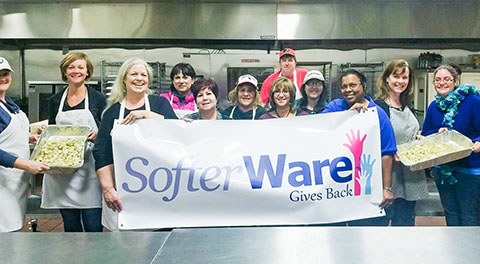 Discover the DonorPerfect Difference
Start off with DonorPerfect's Onboarding Team by Your Side
We've got an onboarding team, dedicated to your successful transition to DonorPerfect. From the time you purchase your software, an Implementation Coordinator will see that your database is configured to your liking and that your data stays intact when it's transferred into your new system. From there, an Online Forms specialist and a Payment Processing specialist can help you establish your first DonorPerfect donation form and start accepting payments. Then, it's onto Training so you can learn from our team how to get the most out of your DonorPerfect database!
Engage with Your Nonprofit Peers in DonorPerfect Community
Access knowledge base articles and training videos
Review your technical support case history
Connect with other nonprofits for discussions and Q&A
Submit suggestions for new features and vote on others
Stay Informed Through User Communications
Get Help from the DonorPerfect Team When You Need It
Call, email, or chat our

 

North American Support Team
*Average call pickup time is under 2 minutes!
Tune into our weekly

 

webinars

 

for best practices
Watch our Support Team's monthly webinars
Outside of the fact that the software is phenomenal…I think the Community is incredible. The support from the DonorPerfect staff if you have a question, and also the support from other users, has just been phenomenal."
Learn More about Client Resources