QuickBooks Integration
ELIMINATE DOUBLE DATA ENTRY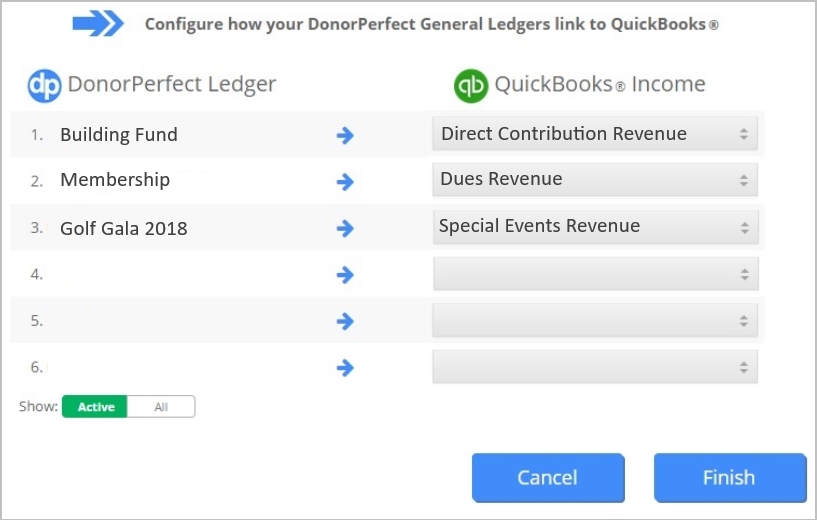 Click Image to Enlarge
Still using spreadsheets or disconnected systems to track your fundraising efforts?
When you unify your accounting software with your fundraising CRM, you no longer have to worry about your organization's finances falling through the cracks. Simply feed your DonorPerfect data into Intuit QuickBooks to automatically organize all of your finances in one place, and voila – seamless accounting that keeps your board and fundraisers on the same page.
Looking for an accounting solution that is tailored to your nonprofit?
Look no further than DonorPerfect's integration with QuickBooks. This must-have duo saves your organization more than 50 hours per month and allows access to your data via smartphone, tablet, or PC. 
See what QuickBooks Online can offer your organization: Learn more >>
Explore how DonorPerfect's integration with QuickBooks empowers nonprofit staff & leadership
Integration benefits
Post to your existing General Ledger system

Configure how your gifts post to QuickBooks

Send transactions to multiple bank accounts

Get detailed and summary listings

Map gifts to bank accounts, income accounts, classes

Manage staff access for data entry tasks
QuickBooks Desktop: Just the basics
Import DonorPerfect data files into QuickBooks
Creates bank account and income account entries
Send transactions to multiple bank accounts in one file
QuickBooks Online: Grow your nonprofit
Save more than 50 hours per month on administrative tasks
Send gifts from DonorPerfect to QuickBooks in one click
Access real-time data and automatically download transactions
Transfer transaction details and create journal entries
Quickly access filters for posted and unposted gifts
Customize the formatting of your data
Post gifts as individual, daily, or monthly summaries
Map your donors to QuickBooks customers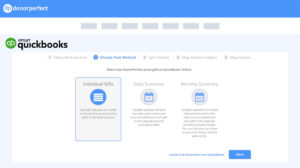 Our Simple Setup makes syncing information easy! Choose the real-time QuickBooks Online bank account and map Income Accounts right from DonorPerfect. These can be changed in your DonorPerfect settings at any time.
Learn More about QuickBooks Integration