Setting up recurring gifts has never been easier.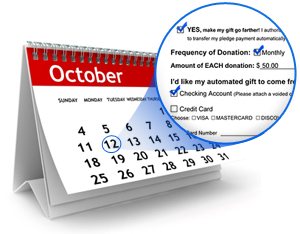 Collect recurring or one-time pledges by credit card or bank draft (ACH) with our EZ-EFT system. You simply enter donor account information once as a part of the pledge. Transactions can then be generated, transmitted and posted with almost no effort or collection risk.
EZ-EFT makes automatic pledge collection by credit card or bank draft quick and easy.
Less Administrative Time and Cost
Automatic Fulfillment and Reliable Cash Flow
Encourages Larger Gifts and Annual Renewals
Enhances Convenience for Donors
Better Security and Control of Funds





To learn how DonorPerfect can save you time with donation processing,
call 800-220-8111 or click here for a FREE consultation.