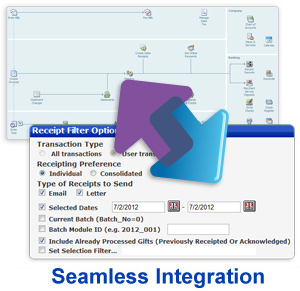 DonorPerfect's Accounting Interface Module enables nonprofits to integrate DonorPerfect Online and DonorPerfect Installed with the latest installed versions of QuickBooks® Pro and Premier®.
Benefits:
Gift transactions are summarized by General Ledger Codes and posted automatically to QuickBooks.
Saves time and reduces errors by eliminating the need to enter data twice.
Creates journal entries and transfers transaction detail.
Use QuickBooks to manage expenses, financial statements and non-donor revenue while benefiting from DonorPerfect's specialized features for managing donor information, gifts and pledges.



DonorPerfect is certified by QuickBooks as a Gold Developer – the highest level of certification!
DonorPerfect Product Rating (10.0 is Perfect)*
Overall Score: 8.91 (Excellent)
Ease of Use and Reliability: 8.59 (Excellent)
Technical Support/Overall Quality: 8.8 (Excellent)
Customer Willing to Recommend: 9.33 (Spectacular)
What does that mean?
DonorPerfect has been tested to meet Intuit's standards for quality and integration.
Independently surveyed clients gave us an overall ranking of "Excellent," and client willingness to recommend DonorPerfect is rated "Spectacular!"
An independent industry expert reviewed our software features, ease of use, and more and rated us "Spectacular" overall!