Hillel Fundraising Software Success Case Study
Client Success Story: UW Hillel
Hillel at the University of Wisconsin uses Consistent Recording of Fundraising Activity to Achieve Success with their $14 Million Dollar Capital Campaign
Hillel at the University of Wisconsin – Madison (UW Hillel), the second oldest in the nation, is home to over 5,000 Jewish students and provides programs and activities for the entire campus community. A new Hillel building is going up in the heart of the UW campus to support over 30 independent Jewish student organizations and serve as a center for religious, social, educational, and cultural life.
Business Challenge
Raise funds for a new building and relocation expenses as well as daily activities.
Greg Steinberger, Executive Director, has been there since July 1999 and has seen a lot of changes over the years. "The current facility, built in 1956 to accommodate 1,200 Jewish students, was no longer able to sustain the current level of activity. We really needed a new building, which required a $14 million capital campaign, $3 million endowment, and relocation funds."
Solution
DonorPerfect Fundraising Software
UW Hillel has been using DonorPerfect fundraising software for a long time. Greg noted, "DonorPerfect is the backbone of all we do to raise funds. It feeds other databases; it interfaces with other programs like WealthEngine (wealth screening service); it manages our fundraising activities, and provides the reporting and analysis of these activities. "
Capital Campaign
Before they could even consider building, Greg and his team had to make sure they could raise the construction funds and still support their daily activities. "For the capital campaign, we developed a list of our top 50 prospects in DonorPerfect, and gave it to our chief solicitors. Once we determined their likelihood of giving was strong, we went ahead with the decision to build and launched the campaign."
To raise these funds, UW Hillel engaged in a number of solicitation activities, including individual parlor meetings, informational meetings, targeted direct mail, DVD video/web presence, naming opportunities, bar nights and a few new innovative programs.
"We're always trying new things to raise money. Using DonorPerfect, we targeted new, younger donors ages, 30 – 45, to donate $10,000 over five years, which has been successful. We're currently sending out a special DVD to a Jewish group we haven't targeted before. We set them up in DonorPerfect with a specific code and created the solicitation letter. Now we're testing its effectiveness."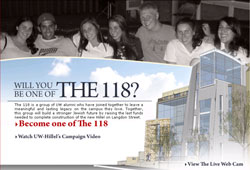 Annual Campaign
UW Hillel has also been raising funds for their annual campaign to support their daily activities. "We solicit alumni and parents with telemarketing about 20 weeks a year for renewals and prospective donors. We have DonorPerfect interface with a Microsoft Access program that creates computer-based pledge cards. We segment the lists to target specific groups such as alumni living on the west coast that can be called by student volunteers at night."
"We also do three major mailings a year. Mailing has become more expensive so, to help control costs, we've begun using DonorPerfect to track the volume and associated cost of our mail solicitations."
Greg noted that "No matter what the solicitation, we always enter the results back into DonorPerfect. For example, we set up future contacts if we're unable to reach them over the phone. And when a pledge or gift is received, the data is entered and DonorPerfect automatically generates the pledge reminders and gift acknowledgments."
Key Results
"At first, we weren't really using all of DonorPerfect's features – it was just a place to hold our data. But we became more serious about following the fundraising methodology DonorPerfect has developed. Over the years, we created all the flags, mail codes and solicitation codes that are the core of the system. This helps with our targeting of solicitations, follow-up activities and the evaluation of our fundraising efforts."
"Since then, we have quadrupled our donor database. Last year, we had roughly 2,500 gifts, a record number. We've raised the $14 million for the new building thanks to the successful capital campaign, and now we're completing the final phase, which is the $3 million endowment. This is in addition to raising the funds we need to cover our regular expenses. I can honestly say we would not have had all this success without DonorPerfect."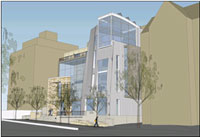 Key results:
Raised $14 million for a new building and relocation expenses
Quadrupled their donor database
Received a record 2,500 gifts in their most recent fiscal year
Raised funds to cover daily activities during capital campaign
[print]
I can honestly say we would not have had all this success without DonorPerfect.
Back to Top