Giving Tuesday Forms to Help Your Nonprofit Raise More Online
Because Giving Tuesday mostly takes place on social media, the ability to accept donations online is a must. Your website, your emails, and your social posts should all point to your online donation form.

Don't have a donation form yet? Don't fret! Here's how to create a customizable, integrated online donation form that looks fantastic, eliminates double data entry, lessens your processing fees, and gets you more monthly gifts. Add it to your website and link it to your emails and social posts in a snap!
Create a Time-Saving, Money-Raising Online Form in 3 Simple Steps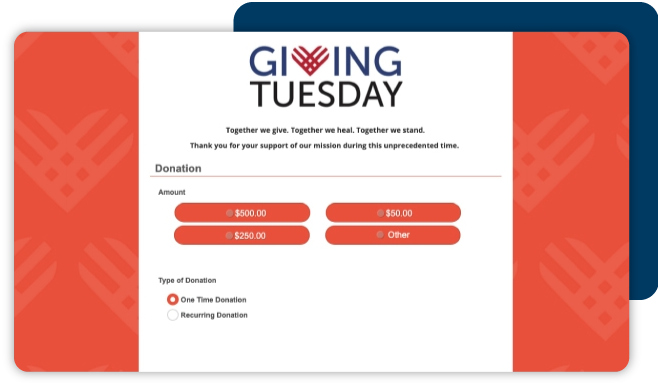 Step 1
Take 5 minutes to sign up for Integrated Payment Services with DonorPerfect Online Forms.
Collect online, monthly, and mobile gifts, and more with DonorPerfect Payment Services. It's simple, secure, and seamless. Best of all, gift and donor information processed through DonorPerfect Payment Services is instantly reflected in your DonorPerfect CRM database – so there's no data entry on your part.

Why Don't You…
Get 100% of every gift? Make sure your form allows each donor to cover the small fee associated with processing a gift. That way, your Giving Tuesday processing fees could wind up being free!
Step 2
Style your Giving Tuesday donation form.
Did you know that donors are 6x more likely to give when a donation form is branded? Once you start setting up a Giving Tuesday form, make it yours. Gain donors' trust by customizing it to reflect your organization's logo and colors. It's easy with our form styler. No design experience needed!

Why Don't You…
Make monthly giving a default option? Set your form to suggest a recurring gift at first glance. That way, all your Giving Tuesday donors can consider supporting your organization long term.

Step 3
Test the form with your staff.
Your online donation form is critical to your success, so it's important to have it tested before the big day. Send it to staff members and have them make a small donation or put your form in test mode to try it out.

Why Don't You…
Double your gifts? Many companies match charitable donations made by their employees, offering donors the chance to double their donation to you. Make it easy for donors to find out if their employer offers matching gifts with Double the Donation. This feature alerts donors to their match options the moment they're ready to donate – doubling their gift to you!

6 Overlooked Ways to Share Your Giving Tuesday Forms
Once your form's set up, it's time to get the word out and share your Giving Tuesday donation form with your constituents. Here's a list of 6 ways to share your form to keep donations flowing into your nonprofit.
1. Swap Your Donation Button
Edit the donation button on your website's homepage so that it links to your Giving Tuesday form during your campaign window.
2. Keep It Social
Make sure social media supporters know how to donate on Giving Tuesday. Add your Giving Tuesday donation form link to:

The about section of your Facebook page
Your Twitter description
Your Instagram bio
Your LinkedIn page
Also, include your Giving Tuesday donation form to all of the posts you share promoting your campaign before and throughout the big day.

Consider boosting your nonprofit's Giving Tuesday posts with paid advertisements on Facebook or other social networks. Without a boost, not all of your followers will see all of your Giving Tuesday posts. A well-built social media paid advertising campaign can ensure your campaign reaches your target audience.
3. Link Up YouTube
Share your donation form link at the end of any YouTube videos that your organization creates to promote #GivingTuesday.
4. Make Sure All Emails are Signed, Sealed, Delivered
Add your donation form link and a creative request to donate on #GivingTuesday to the email signature that appears at the bottom of all outgoing emails your nonprofit sends.
5. Cross-Promote Your Form in Other Forms
Add a link to your #GivingTuesday donation form to the email confirmation constituents receive when they register for events, sign up to volunteer, or join your mailing list.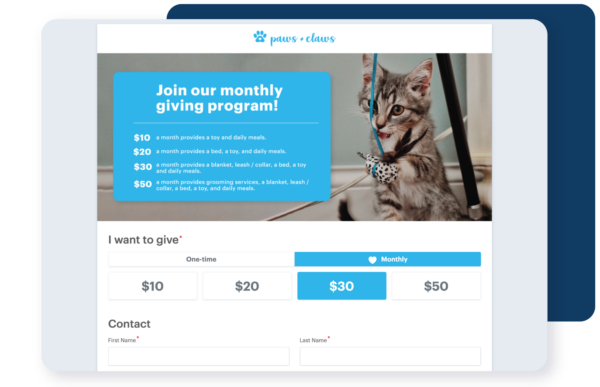 Are You Making the Most of Your Online Forms?
Now more than ever, nonprofit organizations like yours rely on online donations to raise money for their mission every single day, not just on Giving Tuesday. Packed with form-boosting tips, easy-to-follow how-tos, and video tutorials, the Online Forms Success Hub is your team's ticket to realizing a steady, hands-free, and reliable revenue stream for your incredible mission.
Get the Giving Tuesday Cheatsheet