Why Monthly Giving?
If there is one fundraising strategy that you commit to this year, make it to set up and grow your monthly giving program. There is no better way to retain your existing donors, gain sustainable revenue, and upgrade annual giving amounts.
Why Your Donors Want Monthly Giving
Your monthly giving program enables donors to give twelve times per year by filling out a single form or pledge card just one time. It's the simplest, most effective way for people to support your cause. Donors can pick an affordable amount to be automatically donated to your nonprofit and feel good knowing they're making a difference every month. They'll also benefit at tax time by having one receipt at the end of the year. Plus, they'll enjoy the convenience of paperless, online transactions.
How a Monthly Giving Program Fits Into Your Fundraising Strategy
A monthly giving program can positively impact your fundraising goals through increased annual giving gift totals, regular, sustainable revenue, and improved donor retention.
GOAL: Increase Total Annual Giving
Our data shows that monthly giving donors donate over 7X more than one-time donors. On average, the total annual gifts given by a one-time donor is $227. Monthly supporters donate $1663 annually on average. A Monthly Giving Program is an effortless way for donors to upgrade their annual giving amounts.
GOAL: Build Sustainable Revenue
Timely and predictable, monthly gifts empower your organization to accurately budget for the resources you need to accomplish specific tasks and goals. The more monthly donors you have, the more dollars you can confidently dedicate to both your current and forecasted initiatives.
According to our data, the current median of a one-time gift is $50. The current median of a monthly donor gift is $30 a month, or $360 a year. Converting 100 one time donations to monthly gifts pays huge dividends! In the example below, you'd have a sustainable monthly income of $3,000 per month from your 100 converted donors.
| Number of Gifts | One Time Donors ($50) | Monthly Donors ($360) |
| --- | --- | --- |
| 100 | $5000 annually or $416 per month* | $36,000 annually or $3,000 per month |
*It is unlikely that your monthly income from one-time donors will be the same amount each month since a large percentage of one time gifts come in during specific times of the year, such as during year-end.
GOAL: Boost Your Donor Retention Rate
Every nonprofit wants long-term supporters who continue to donate to their cause. Organizations that create and manage their monthly giving programs through DonorPerfect have an average monthly donor retention rate of 74.6%. Compare that with the 28.1% average retention rate of one-time donors, and you'll understand why a monthly giving program helps you keep your existing donors. Having donors join your monthly giving program means you'll have to spend less time acquiring new donors.
Give Your Monthly Giving Program an Advantage
DonorPerfect Payment Services for Monthly Giving streamlines the process of running your monthly giving program. So you can worry less about cash and focus more on your mission.
DonorPerfect automatically processes monthly gifts the day they are due, so those gifts immediately become revenue you can put to use. GIft data is available right in your donor's record without the need for any imports.
With Account Updater, recurring donor payment account information seamlessly updates in your system when it changes. You won't need to chase down expired credit cards!
DP Online Forms offers unlimited Monthly Giving Forms that are optimized for better conversion rates.
Your donation forms come with the highest level of fraud protection. DonorPerfect never stores sensitive credit card and bank information so your supporter's financial data is safe.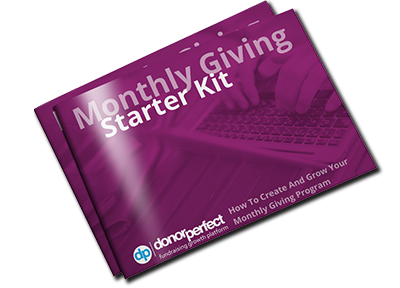 Free E-Book
The Monthly Giving Starter Kit takes you step-by-step to start your monthly giving program, providing you with helpful tips, free templates, and and handy tools.