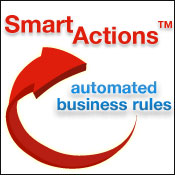 Horsham, PA, April 7, 2009— SofterWare, Inc., developer of DonorPerfect fundraising software solutions, has announced the release of SmartActions™ automated business rules as part of its web-based DonorPerfect Online constituent relationship management (CRM) solution. SmartActions™ enables nonprofits to set up workflow procedures that their DonorPerfect Online system will carry out automatically when certain predefined conditions are met.
Jon Biedermann, Vice President of SofterWare, explained, "There is no longer a need for nonprofits to spend thousands of dollars configuring and customizing a fundraising system. With SmartActions™, they'll save time by automating fundraising tasks based on their exact specifications. For example, if a gift of $500 or more is entered into DonorPerfect, an email notification can be sent automatically to the Development Director, and a follow-up call can be set up in the DonorPerfect Online Contact Manager, enhancing donor cultivation and retention efforts that are so necessary in today's economy."
Utilizing a simple step-by-step wizard setup, nonprofits can create pop-up alerts and reminders, send emails, enter data into fields, and launch websites – all without programming and all done automatically. They can even combine these actions with filters to meet specific conditions, and there is no limit to the number of SmartActions™ a nonprofit can create.
Mr. Biedermann noted, "This level of automated workflow processing is unique to DonorPerfect Online. Most fundraising solutions either don't offer this option at all or have limited capabilities that require complex programming to perform even the simplest tasks. DonorPerfect Online's SmartActions™ will save nonprofits a great deal of time, and eliminate errors and missed opportunities due to forgetfulness. Best of all, SmartActions™ is free to every user of the DonorPerfect Online system, and is included as one of the many benefits of providing our systems as SaaS (Software as a Service)."
If you would like to learn more about SmartActions and DonorPerfect, please visit www.donorperfect.com/smartactions.
About SofterWare, Inc.

SofterWare, Inc., based in Horsham, Pennsylvania is a leading provider of software to nonprofit organizations, with over 10,000 clients throughout the world. In addition to the company's DonorPerfect fundraising software, SofterWare also offers software for managing childcare centers, public and private schools, and camps and conference centers. For more information on SofterWare and its products, please visit www.softerware.com. For more information on DonorPerfect Fundraising Software, please visit www.donorperfect.com or www.donorperfect.ca.
Media Contact
Sam Goldenberg
215-542-4390 x233
sgoldenberg@softerware.com
www.donoperfect.com