The Top Workplaces are determined based solely on employee feedback via an employee survey, conducted by WorkplaceDynamics, LLP.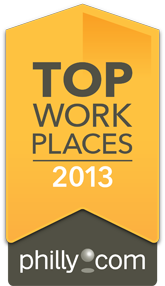 Horsham, PA. – March 21, 2013 – SofterWare, Inc. is pleased to announce that it has been selected again as one of The Philly.com Top Workplaces, for 2013.
The Top Workplaces are determined based solely on employee feedback via an employee survey, conducted by WorkplaceDynamics, LLP, a leading research firm on organizational health and employee engagement.
SofterWare was founded in 1981, and has grown over 30+ years from a small entrepreneurial business to a $25 million+ company with over 10,000 nonprofit, childcare, camp, school and payment processing clients.
SofterWare Co-Founder and CEO Doug Schoenberg noted, "We credit our longevity and success to our team's dedication to delighting customers through outstanding products and services. We're honored to win this award again, and as I noted the last time, this recognition is most gratifying because it comes from the hard-working team of people who drive our success."
SofterWare Co-Founder and President Dr. Nathan Relles said, "This survey confirms our belief that if we surround ourselves with outstanding people, and treat them with respect, SofterWare will flourish, and continue to achieve higher and higher levels of customer and employee satisfaction. We took great pride in reading some of the comments our staff shared anonymously, such as:
"I work for a great company with amazing people and enjoy what I do every single day."
"Feel like I am an extremely important part of the team and success of the company."
Learn more about this survey ranking by visiting: www.softerware.com/topworkplacesprofile
Philly.com published the complete list of Top Workplaces on March 17th. For more information about the Top Workplaces lists and WorkplaceDynamics, please visit www.topworkplaces.com and www.workplacedynamics.com.
About WorkplaceDynamics
WorkplaceDynamics conducts regional Top Workplaces programs with 37 major publishing partners and recognizes a list of 150 National Top Workplaces. Over the past year, more than 5,000 organizations and 1 in every 88 employees in the U.S. have turned to WorkplaceDynamics to better understand what's on the minds of their employees.
About SofterWare, Inc.

SofterWare, Inc., based in Horsham, Pennsylvania is a leading provider of software to nonprofit organizations, with over 10,000 clients throughout the world. DonorPerfect, its fundraising/CRM solution, received more "Excellent" ratings than any other vendor in N-TEN and Idealware's "A Consumers Guide to Low Cost Donor Management Solutions". It also received the Campbell Award for "Excellent Customer Satisfaction".
In addition to the company's DonorPerfect fundraising software, SofterWare also offers software for managing childcare centers, public and private schools, and camps and conference centers. For more information on SofterWare and its products, please visit www.softerware.com. For more information on DonorPerfect Fundraising Software, please visit www.donorperfect.com or www.donorperfect.ca.
Media Contact.
Sam Goldenberg
215-542-4390 x233
sgoldenberg@softerware.com
www.donorperfect.com