November 15, 2023 | Categories Donation Processing, DonorPerfect Fundraising Software, Featured
10 Donation Processing Features That Improve Donor Retention
From running monthly giving programs to hosting fundraising events, a smooth and secure donation process is crucial for nonprofit organizations of any size, because every dollar indeed counts. In this day and age, donors have come to expect the process to be completely streamlined, providing them with immediate feedback and peace of mind – knowing their hard-earned funds are going to the right place.
When you choose a nonprofit payment processor for your donations, look beyond the monetary aspect. Your operational efficiency and donor retention will benefit from a solution that syncs with the data stored in your fundraising system. You've worked hard to collect this information from your supporters; why not realize its full potential?
Here are 10 features your organization could take advantage of with an integrated donation processing solution.
Try these nonprofit payment processing tools to improve your donor retention:
1. Accept in-person and over-the-phone payments
An integrated payment solution that accepts both in-person and over-the-phone payments encourages your donors' continued support by offering convenience, personal engagement, and wider inclusivity, all working together to contribute to a better donor retention rate.
2. Accept online donations with integrated forms
As a donor, giving online is often a more positive experience than over the phone or in-person. That's because online donation forms reduce friction by allowing donors to enter their own card information and set up recurring payments, all on the same PCI-compliant form. A convenient, secure process encourages them to revisit.
As a fundraiser, online donation forms that integrate with both your payment processing solution and your fundraising software are a game-changer for constituent management – they allow you to continuously sync all of your organization's data to avoid duplicates and mistakes. Accurate information is necessary to track your supporters' preferences and improve your relationships.
For example, DonorPerfect Payment Services integrate with our Fundraising Software and Online Forms for a comprehensive, streamlined approach to constituent management. With all of your data stored neatly, securely and correctly, you can show your donors that you pay attention to their needs, and that they can trust you to carry out your mission.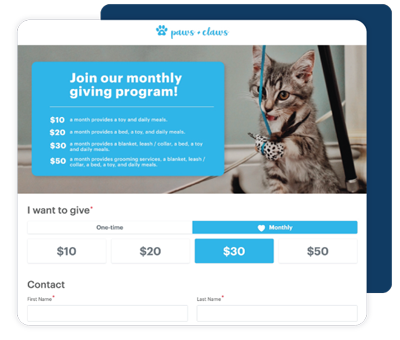 3. Simultaneously process gifts and enter gift data
An integrated payment processing solution like DonorPerfect's will allow you to process gifts and record gift data simultaneously – no need for you to manually enter anything twice. As soon as a gift is submitted through your online donation form, it is processed in real time, and the appropriate donor record is updated. With immediate access to accurate gift information, donors can trust that your staff is organized and transparent with your records.
4. Process one-time and recurring gifts
Whether donors prefer to contribute in the moment or on a recurring basis, an integrated payment processor can handle both. Both options can be leveraged on your online donation form, allowing donors to self-select whatever works best for them. This flexibility makes it easier to cater to your donors' preferences. And gifts that repeat on an automatic schedule are, of course, tremendous for your donor retention rate.
5. Manage monthly gift programs
With an integrated payment solution like DonorPerfect's, monthly gifts are automatically processed and added to the appropriate donor record. Once the monthly commitment has been made, neither the donor nor the fundraiser have to take further action. This means you can easily create a monthly giving program – complete with a program name and strategic giving levels – and include it as an option on your general online donation form, or on a separate form dedicated to your monthly program.
"It's really nice to have this 'set it and forget it' functionality as far as monthly donations are concerned. Many of our sponsors and other donors readily go for this convenient and secure option – obviously!" DonorPerfect client Susan Lam, Living Hope International
6. Process credit card and eCheck donations
The more options your donors have to pay, the more convenient they will find your donation process. Even if they prefer to pay a certain way every time, knowing that they have other options provides a sense of comfort, convenience, and trust. For example, DonorPerfect Payment Services support both credit card and eCheck donations to expand your donors' payment options.
7. Provide immediate feedback on credit card payments
It can be quite nerve-racking to send a gift or submit a payment without confirmation that it's been correctly processed. Both you and your donors deserve swift peace of mind. Integrated payment solutions like DonorPerfect's provide immediate feedback on credit card payments to confirm that they have been received, properly recorded, and – if you choose – automatically acknowledged.
8. Automatically update credit card information
Integrated payment solutions often come with tools that automatically update credit card information as it's changed. No need to waste time or money reaching out to donors for their updated card details.
9. Fundraise on-the-go with a mobile app and card reader
It's important to have payment processing solutions for all of the different ways you fundraise. For example, the DonorPerfect Mobile app allows you to accept payments on-the-go, so you can collect donations at events or while in the field. For in-person transactions, DonorPerfect's card reader speeds up the donation process, ensuring you can accept one payment after another in a quick fashion.
10. Manage auctions efficiently
If your organization hosts auctions, an integrated payment solution will help you manage the process effectively. For example, with DonorPerfect's auction management solution, you can boost bidding activity with outbid text alerts, creating a sense of urgency among potential donors. Winners at your auctions can checkout using their mobile devices, and bidders can make payments at any time with the "Buy It Now" feature.
Your choice of payment processor can significantly impact your nonprofit's fundraising success. You're not just processing payments; you're improving your organization's ability to make an impact. DonorPerfect Payment Services offer a comprehensive solution that seamlessly integrates with your fundraising operations, simplifying the donation process for both you and your supporters.
Learn more about DonorPerfect