May 17, 2023 | Categories Conferences, DonorPerfect Community Network Conference, DonorPerfect Fundraising Software, Featured, Nonprofit News, Social Fundraising, SofterWare Products
Expert Q&A: Reviving Your Online Donor Journey to Increase Engagement
It's not often that a consultant offers you free advice, but the fundraising community is known to unite through a common bond: each member has their own unique goal for the greater good. Learning is a cornerstone – sharing free resources to inspire more funds for each individual mission. That's why we feel strongly about bringing nonprofit leaders and digital experts straight to you.
We sat down with digital marketing consultant Dana Snyder, founder of Positive Equation and the host of Missions to Movements, to discuss how nonprofits can provide an online donor journey that inspires nonprofit website visitors and social media users to invest in their mission. Dana has worked with organizations like Movember, Dress for Success, American Idol, and USTA to leverage the latest digital innovation tools and strategies.
To review your online donor journey with a fresh set of eyes, join Dana at the DonorPerfect Community Conference on June 6th and 7th, 2023 – scroll down to register for free!
Best practices for your online donor journey: Q&A with digital consultant Dana Snyder
Your donors' most important online moments, where you might be losing them, and how to inspire more engagement
DonorPerfect: In your upcoming session at the 2023 DonorPerfect Community Conference, you will be touching on important online moments for a potential donor engaging with a nonprofit. Which moments do you feel are the most important and why?
Dana Snyder: There are many online moments where a nonprofit can make a big impact in the interactions that take place with potential donors.
To start, I always ask organizations to look into the data using Google Analytics because the answer about which moments to focus on is unique for everyone.
Here are two top pieces of data to pull:
Top Pages Viewed
Do you have a blog post that's getting a TON of views?
Your about page?
Home page?
Top Social Media Channels Driving Acquisition
What social media platforms are drawing people to your website?
What channel has the lowest bounce rate?
What channel creates the longest time spent on site?
As an example, let's say my homepage and a blog post were the top two performing pages on my website. I'd want to take a look at those pages and go through the experience on desktop and mobile as if I was a first-time visitor.
Key things to consider:
Do the copy and imagery speak to your ideal donor?
Do you provide the option for someone to provide their contact information to learn more? On a blog post, for example, you can allow visitors to request more information or download a free resource in exchange for their email.
Is there a frictionless way to donate before having to scroll?
Looking back at the social media data, what channels stood out? I recommend focusing on two of your top social media channels. It might shock you! For me, YouTube has the lowest number of visitors to my site, BUT those visitors have less than a 50% bounce rate AND stay on my site for 3-5 minutes or more. That's incredible! That's a channel I should be investing in.
Your nonprofit social media channels and website are often the first impressions your organization has. Make sure to invest in your branding and marketing!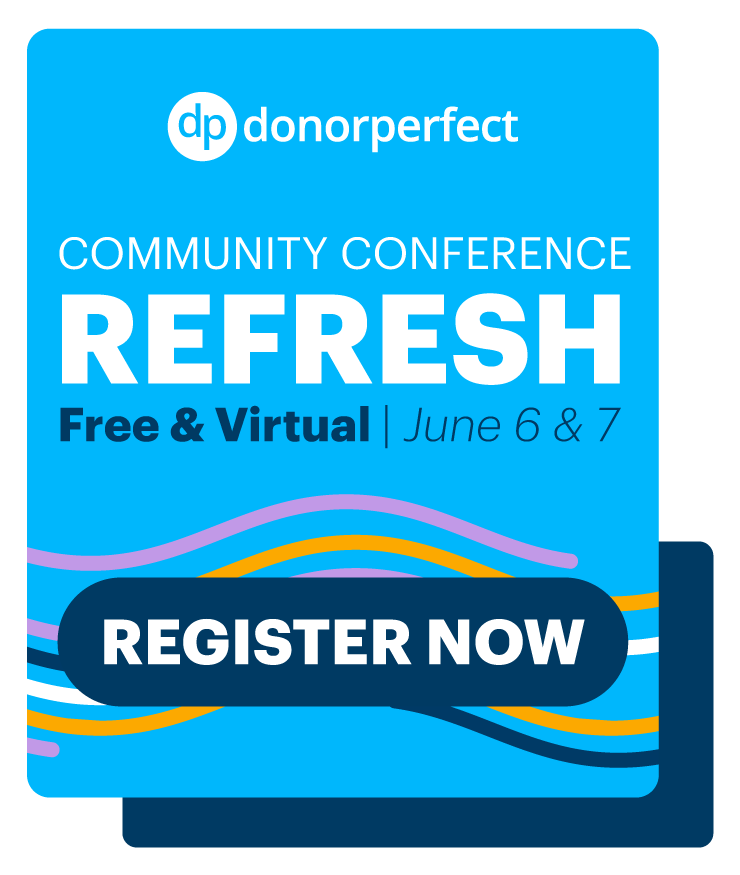 How to Refine Your Online Donor Journey
@ DonorPerfect REFRESH: 2023 Community Conference
Sessions held on June 6th and 7th, between 10:30 am – 4:30 pm ET
You're invited! Join nonprofit digital marketing consultant Dana Snyder for a free fundraising lesson that will teach you how to inspire website visitors to become invested in your mission.
DonorPerfect: In your research and experience, where are nonprofits losing opportunities in their online donor journeys?
Dana Snyder: Hands down, at the time of asking AND after the gift is made…
When a donor has decided to click on that donate button, don't make it difficult!
Too many times, I've clicked "Donate" and been directed to a third-party website, or a realllllly long donation form that's not mobile-friendly, or even asked to log in. Log in to what!?
Check your online conversion rate – how many people click the donate button vs. how many follow through to donate? It might be time to evaluate your donation process.
The other moment I think is crucial is right after the donation is made.
Nine times out of ten, I receive a traditional "thank you for your donation" email… and that's it!
THIS is your big opportunity. That donor is so thrilled to support you and then there's a very lackluster reply on the backend.
After a gift is made, donors should be redirected to a thank you webpage with a photo or video, maybe another ask to give monthly.
Then, put together an automated email thank you series that drips out over the course of a few months.
Use email templates to send quick, meaningful thank-yous!
Learn more »
DonorPerfect users have exclusive access to Constant Contact email series templates, including thank-yous for different occasions, monthly giving, new donor welcome, crowdfunding, and Giving Tuesday!
DonorPerfect: If you had to use one word or phrase to explain how nonprofits can increase online donor engagement, what would it be?
Dana Snyder: Personalization.
I love this example from The Adventure Project. On their homepage, look at the header copy, "…build a world our grandkids will be proud of." They're not trying to speak to everyone. They know who their key donor demographic is and they've customized their messaging to relate to them.
Where can you sprinkle in personalizations that will speak to the heart of your donors?
DonorPerfect: What advice would you give to a nonprofit that is starting out on social media, but hearing crickets in their likes and comments?
Dana Snyder: Focus on a primary and secondary channel. Too often we try and be on everything! It's not possible, unless you have a big team, to create great content everywhere.
Niche down.
Understand how people use those two channels, what are the business goals of those platforms and how can you uniquely provide value and entertainment there.
DonorPerfect: When working with organizations as their digital consultant, which methods of reaching more donors online have been the most successful?
Dana Snyder: I'm a big fan of Facebook and Instagram advertising because you can reach the right people, at the right time, with the exact message you want.
Organic content reaches 1-3% (or less) of your audience. You never know if someone saw that BIG announcement a few weeks ago that leads up to an ask.
With social media ads, you can deliver targeted messaging to a very specific audience with any goal in mind.
It's a great way to increase visibility, generate new email leads, and get donations. I have a series of DIY ad courses on my website that teach nonprofits how to set up each of these campaigns.
DonorPerfect: What is a "value-based lead magnet" for nonprofits and what are your favorite examples?
Dana Snyder: I have a great podcast episode (Episode 50) that outlines how a nonprofit generated 500+ emails for less than $.50 using social media ads and lead magnets.
You always want to think about the end user. What would be of interest to them and speaks to your mission/cause?
For example, I teach social media advertising to nonprofits. As a lead magnet, I've run ads sharing a Social Media Ads Checklist, a free downloadable to know where to start when building ad campaigns.
I've seen nonprofits create mini cookbooks, coloring books, lists of books or movies related to the cause, free webinars, etc.
Get creative and start testing!
Learn more about DonorPerfect