May 11, 2022 | Categories DonorPerfect Fundraising Software, Featured, Integration
Exclusive DonorPerfect Fundraising Email Templates in Constant Contact
Running a nonprofit is challenging work. Focusing on your mission should be your primary focus, however, fundraising is critical to meeting your nonprofit's needs. That's why we, at DonorPerfect, like to do what we can to alleviate some ‌struggles you face in the dual role of advocate and fundraiser. We've created email series templates with carefully crafted messages and added them right to your Constant Contact email templates.
These templates cover some of the most common fundraising campaigns you encounter as a fundraising professional. All you need to do is plug in your own information, decide who and when to send it, and click send. Listed below are the categories and individual emails found in each series.
Your New Monthly Giving Series
Templates included:
Promote Monthly Giving Levels
Recruit Funders for a Dedicated Project
Spotlight Sponsorship Opportunities
Thank Donors by Gift Levels
Thank Special Project Funders
Thank Your Sponsors
About the series:
This email series will help you grow your monthly giving program. The first template includes giving levels. This is a great way to approach monthly giving because it helps your donors understand the value of their gift in relation to your mission (ex. $25 feeds 5 dogs for a week). There are also three available templates for different thank-you email types.
Templates included:
Thank You to First-Time Donor
Thank You to First-Time Crowdfunding Donor
Thank You to First-Time Event Attendee
Thank You to New Monthly Donor
Social Media Invitation
Volunteer + Event Invitation
Impact Email to First-Time Donor
Impact Email to First-Time Crowdfunding Donor
Impact Email to First-Time Event Attendee
Impact Email to New Monthly Donor
Donor Survey
Sneak Peek
About the series:
The Welcome Series emails are designed to help you welcome and retain new donors. There are thank you templates to choose from depending upon how your new donor discovered your organization. There are also invitation templates designed to increase a new donor's engagement with your organization.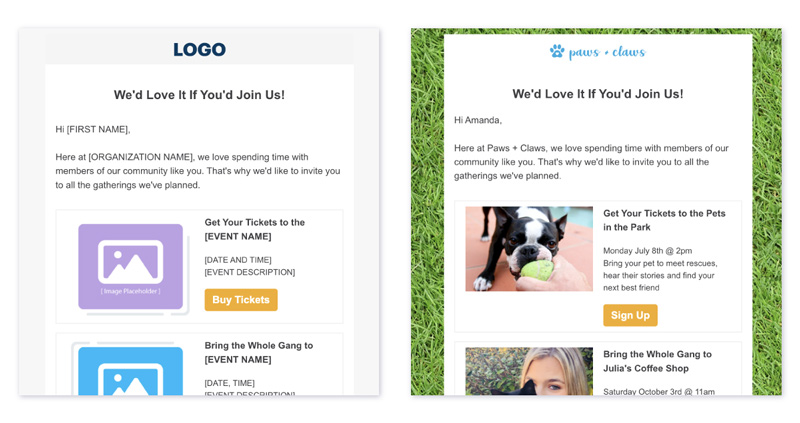 Your New Crowdfunding Series
Templates included:
To Board Members
To Donors
To Schools
Ambassador Thank-You
About the series:
We created the Crowdfunding email templates to help you recruit supporters to fundraise on your behalf. The emails also provide your supporters with tips on how to run a successful crowdfunding campaign.
Your New Giving Tuesday Series
Templates included:
Campaign Reveal
Day Before Reminder
Day of 8 AM
Day of 4 PM
Day of 8 PM
Thank You
Ambassador Invitation to Board Members
Ambassador Invitation to Donors
Ambassador Invitation to Schools
Thank You to Ambassadors
About the series:
The Giving Tuesday email series is the nuts and bolts of your communication strategy for Giving Tuesday. It includes a reminder email to be sent the day before as well as motivational call-to-action emails to be sent throughout the day on Giving Tuesday.
Accessing DonorPerfect's New Email Fundraising Templates in Constant Contact
To access and use these new email templates:
Log in to your Constant Contact account.
Click Create > Email at the top of the screen.
Select a tab from the available categories. (Monthly Giving, Welcome Series, Crowdfunding, and Giving Tuesday)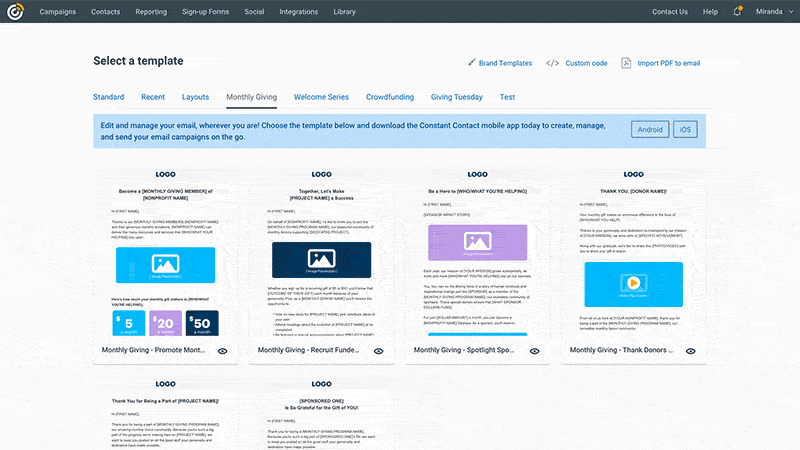 Using the templates and customizing them to meet your needs is simple. Check out Using DonorPerfect's Fundraising Email Templates in Constant Contact for all the details.
Additional DonorPerfect Fundraising Resources
Complementary to the email series, DonorPerfect offers additional resources to support all of your fundraising efforts.
DonorPerfect offers the Monthly Giving Success Hub, a comprehensive online resource, encompassing all the tools and know-how you need to run a successful monthly giving program. From training opportunities and case studies to retention and growth strategies, the hub has you covered. This resource also includes additional templates to promote your monthly giving program via social media posts, phone and even video chat.
Donor Cultivation Resources
Part of fundraising is spreading awareness about your mission and reaching new audiences. DonorPerfect has a number of resources to help you find new contributors to support your cause. Check out these blog posts to get started:
19 Places Potential Donors Could Be Hiding
Planning Your First Fundraising Cultivation Event
So, What's Your Donor Relationships Status?
Crowdfunding provides an avenue for your nonprofit to reach new audiences, and it offers your donors a different way to support your cause. DonorPerfect crowdfunding forms are simple for your supporters to use and customize. Here are some resources for tips and tricks to ensure you have a successful campaign.
Your Nonprofit Crowdfunding Campaign Kit
Top Crowdfunders Answer Your Questions
10 Ways to Motivate Your Crowdfunding Campaign Participants
Giving Tuesday, a holiday many consider to be the start of the giving season, can be a very successful fundraising day for nonprofits. Focusing on social media posts and emails can also give this campaign a high return on investment compared to other fundraisers. Swing by DonorPerfect's Giving Tuesday website for even more templates, campaign ideas, strategies, and webinars.
With help from DonorPerfect and Constant Contact, we can ease the stress of fundraising so you can focus on the work you do to better our world. Don't forget to check out our new email templates in Constant Contact, and add a comment below to share your ideas for new email templates.