October 4, 2021 | Categories AFP Conference, Conferences, DonorPerfect Community Network Conference, Featured, Nonprofit News
DonorPerfect CommUNITY Conference SESSION SPOTLIGHT: Strategies for Engaging Racially + Culturally Diverse Donors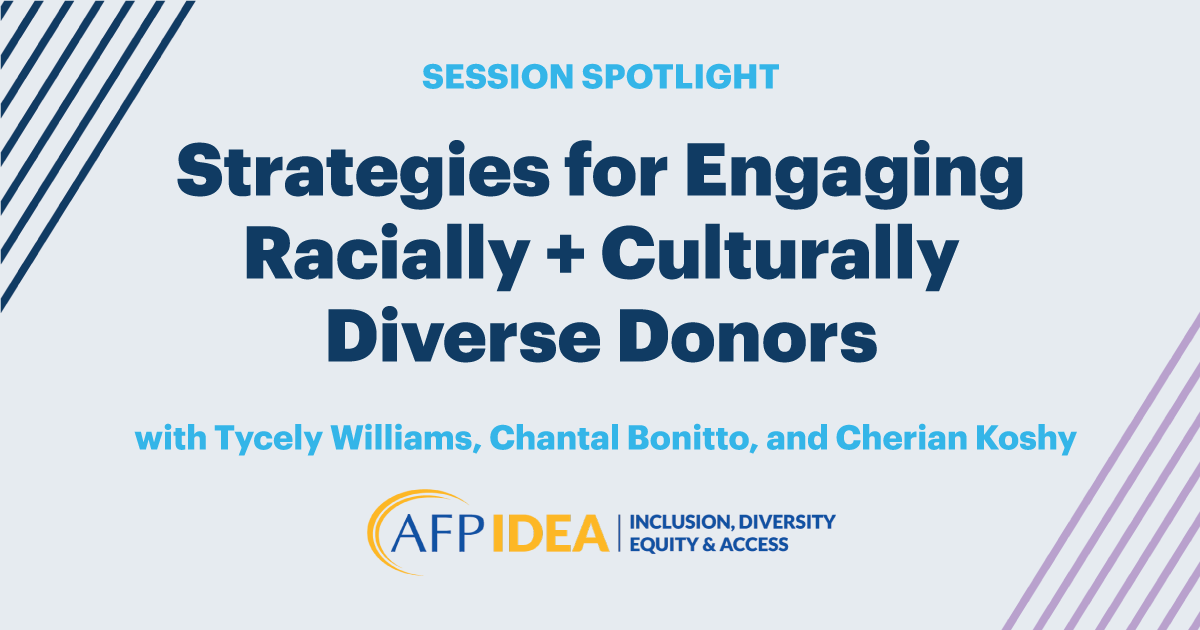 Is your fundraising strategy inclusive?
DonorPerfect is proud to partner with the Association of Fundraising Professionals to emphasize the urgent need for Inclusion, Diversity, Equity, and Access in the nonprofit sector. The DonorPerfect team is committed to facilitating and encouraging critical conversations that pave the way for this progress in your donor community.
In this keynote session presented by DonorPerfect and AFP, nonprofit leaders of color Tycely Williams, Chantal Bonitto, and Cherian Koshy will examine cultural norms around cultivation, solicitation, and stewardship. Join us to discover cultural differences in donor engagement and learn how your organization can celebrate your diverse database.
About the panel
Tycely Williams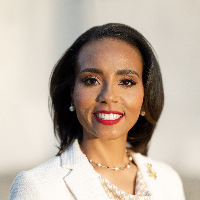 Over the past 20+ years, CRFE Tycely Williams (she/her) has inspired individuals and institutions to invest more than $100 million in charitable causes.
She most recently served as Chief Development Officer for America's Promise Alliance, the largest alliance of youth-serving organizations in the U.S. She has held leadership positions with YWCA USA, American Red Cross National Capital Region, and YMCA of Metropolitan Washington, and many other organizations.
She leads the Association of Fundraising Professionals' Inclusion, Diversity, Equity, and Access Committee; teaches Fundraising and Leadership at The Pennsylvania State University; and serves on several nonprofit boards.
A cum laude graduate of Wake Forest University, Williams holds a Bachelor of Arts degree in Communication with distinguished departmental honors and a minor in Journalism. She also earned an Executive Master's in Leadership from The McDonough School of Business at Georgetown University.
Chantal Bonitto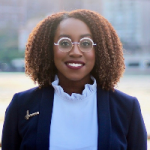 Chantal Bonitto is an organizational leader in the space of diversity, equity, and inclusion and a seasoned development expert in the nonprofit sector. Her career has been dedicated to identifying and creating resources for institutions that benefit the most marginalized communities in our society.
In 2019, she spearheaded a new fundraising program focusing on next-gen philanthropists and donors of color at Planned Parenthood Federation of America.
Chantal is the Executive Director of the Northeast region for resource development at CARE USA. She also serves on the Board of Women in Development New York and the Advisory Committee for Women of Color in Fundraising and Philanthropy. She is also the co-creator of Women Writing Philanthropy: Writing Clinic Program with the Feminist Press.
Her passion for justice, equity, inclusion, and the power of women's philanthropy has made her an insightful leader in the future of resource development.
Cherian Koshy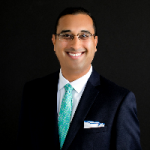 With 20+ years of experience, Cherian Koshy (CFRE & AFP Master Trainer) is an accomplished trainer and speaker in the nonprofit sector. He's personally raised more than $100M as the head of fundraising for various nonprofits.
He currently serves as the Director of Development for Des Moines Performing Arts, Chair of Volunteer Iowa, and on the global board of the Association of Fundraising Professionals.
His industry-specific thought leadership has been featured in Advancing Philanthropy, The Chronicle of Philanthropy, the Institute of Fundraising (UK), keynote presentations, blogs, webinars, workshops, and podcasts.
As a coach and consultant, he's led organizations to scale their revenue growth and build stronger teams. He's led several successful multi-million dollar capital campaigns and worked with a wide variety of nonprofits including the arts, human services, faith-based, and education.