April 13, 2022 | Categories DonorPerfect Fundraising Software, Featured, Fundraising Strategies, Nonprofit Technology
Fundraising tips for small and growing nonprofits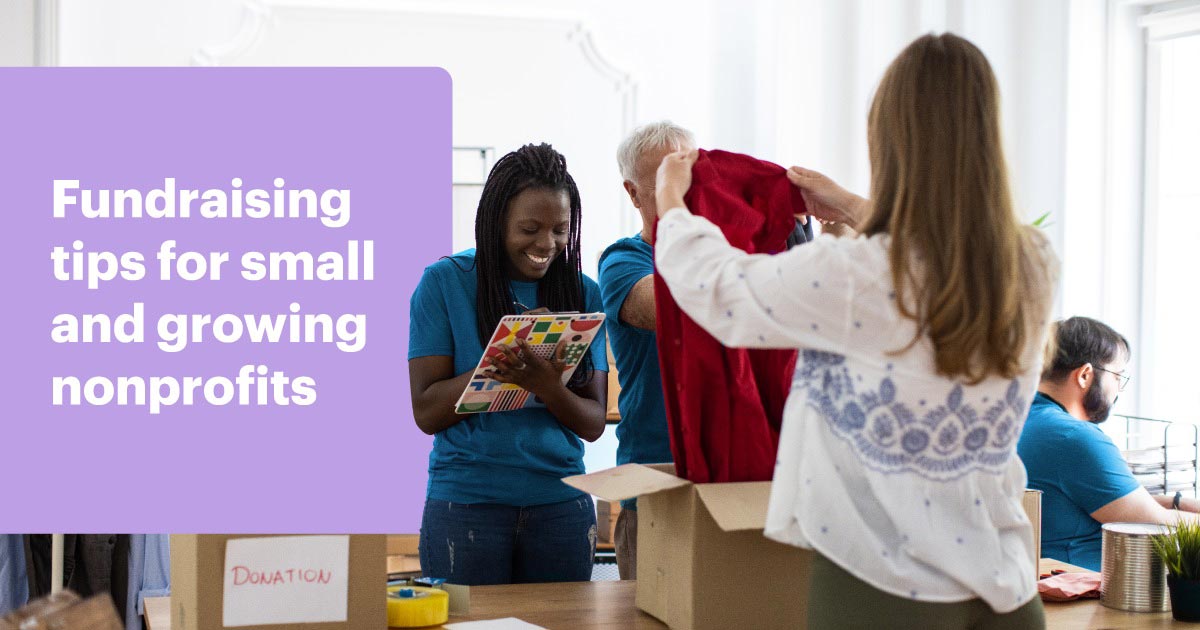 Who knows a community and its needs better than a small, grassroots nonprofit? For small and growing nonprofits, in particular, your constituents are so much more than just data points – they're your neighbors, your friends, business partners, and more. While your visible footprint may not be as large as national organizations, your direct connection to your mission makes you and your nonprofit's team (whether you have a formal team or not!) the perfect people for the job.
We know that small and growing nonprofits have unique needs and considerations that may not fit the mold when it comes to commonly held beliefs and advice about fundraising. Here are some tips we've gathered from our small and mighty partners.
You don't need to go it alone
When you wear many hats (or, more likely, every hat), it's easy to get caught up in what needs to get done every day to the point of forgetting to ask for help or advice. However, if someone has an idea for making one of your processes more efficient, they can help save you valuable time that you can reinvest elsewhere. Sometimes a fresh set of eyes is all it takes to crack your nonprofit's challenges.
Chances are, if you're up against a fundraising challenge, so are some of your peers. You'll come up with the right solution quicker when you put your heads together. Your local community may have specific resources too – for example, the Nonprofit Centers Network in Denver, Colorado offers invaluable resources and connection opportunities for nonprofits of all sizes. Don't underestimate the energizing effects of meeting and collaborating with others who care deeply about the same mission, too!
Assemble the right tools and automate them
Administrative tasks, like sending out tax receipts or keeping donor records up-to-date, are a great place to start looking for ways to save time. Be mindful and, if possible, record how you spend your time in an average week. Are you wrestling with spreadsheets? Do you regularly comb through emails and old voicemails looking for information a donor already shared with you? Do you spend an inordinate amount of time transcribing notes from meetings and donor visits?
The right constituent relationship management (CRM) system can keep all of the fundraising information and data you need in one place. It can also handle many administrative tasks automatically, and save your nonprofit up to 15 hours each week on routine tasks. For example, when a donor gives, their donor record can be updated in your system without manual data entry. Voice-to-text capabilities that you likely already have in your smartphone or laptop can turn your commute into time spent updating donor records (unless you need that time for podcasts or car karaoke, in which case, we're fierce advocates for self care!).
Involve your most loyal supporters
Did you know that volunteers give ten times more than people who don't volunteer? They already have an insider's look into your nonprofit, they care deeply about your mission, and they want to see you succeed. Offering giving opportunities to interested volunteers can create a reliable revenue stream for your organization.
Crowdfunding and peer-to-peer fundraising can transform your supporters into fundraisers and advocates. When you can supply them with templates and secure online donation forms that are already connected to your nonprofit's accounts, they can share your message with their friends, families, and personal networks.
Use your data wisely
Many nonprofits have "diamonds in the rough" hidden in their data - that is, supporters with the potential to make major gifts, but they haven't been asked yet or haven't found the right opportunity. With tools like DonorSearch, you can comb through your database to find prospective donors who have high inclination and high capacity to give - the most critical ingredients of a fruitful major gift conversation!
For larger communications, we recommend segmenting your data and only sending mail or email to groups you believe will be receptive to your message. For example, if you're interested in encouraging supporters to consider leaving your nonprofit in their wills, you'll likely waste money on printing and postage if you include supporters under the age of 55. You can segment by demographic information, past giving, specific interest areas, and more!
Online events can be inclusive, inexpensive, and fruitful
The COVID-19 era brought with it a new ease and understanding of videoconferencing across ages and other demographics. While virtual events may have been a headache before 2020, donors and event goers are now accustomed to virtual auctions, performances, interactive events, and more. In fact, many may prefer an online option to an in-person event, due to health concerns, or even just wanting to stay home on a weeknight after a long day of work.
Small and growing nonprofits can continue to capitalize on this trend by hosting virtual fundraisers, or holding regular events in smaller, less expensive venues and offering a virtual option for additional guests if you're over capacity. Virtual events can include donors from outside of your immediate community, and can bring in supporters and their networks from all over the world.