August 26, 2016 | Categories Donation Processing, DonorPerfect Fundraising Software, DonorPerfect Update, Nonprofit Technology
WebLink Release Announcement
Mobile Responsive Forms Are Here!
Next week, a
new version of WebLink
will be released that makes mobile responsive forms available, changes how confirmation emails are formatted and improves discount codes. Our new mobile responsive forms will resize to fit any size browser window or device.  This makes it easier for donors to make a donation from their smartphones and tablet devices.
Here's how your forms could be affected
:
Any new forms you create after the release will be mobile responsive by default.
Existing forms will need to be converted by checking the "Make My Form Mobile Responsive" check box in The Basics >Style My Form.
You can set a form back after you've converted it. Simply uncheck the "Make My Form Mobile Responsive" check box. Your original version will be preserved as it was.
Any custom CSS code that's been manually added to the form's style sheet will not be converted.  You should re-add it to the mobile form's style sheet if needed.
Once you convert a form, you may need to re-upload any header images for the form so they are optimized for mobile. We've included information on screen to help you with that process. You can also visit Editing the Header and Footer of a Page to learn how.
For complete instructions, visit
Mobile Responsive Forms
in the Knowledgebase.
Improved Email Receipts
A donor's email confirmation receipt may be one of the first interactions you have with them. Making a positive first impression is key. Recent statistics show that 43% of Charity/Nonprofits emails are read on a mobile device. If your email receipt is too small to read, or not properly formatted, you could be discouraging donors from giving again.
This release of WebLink includes enhancements to ensure that your confirmation emails be easily read on a mobile device
. In the new release, all of the fields on the form, except for those in the Item Detail section, will be presented in one column in the
confirmation email
. Using the one column format means confirmation emails will be cleaner and easier to read on a mobile device. It also helps ensure that your form's labels and fields will align properly and will help stop Item Details from merging together.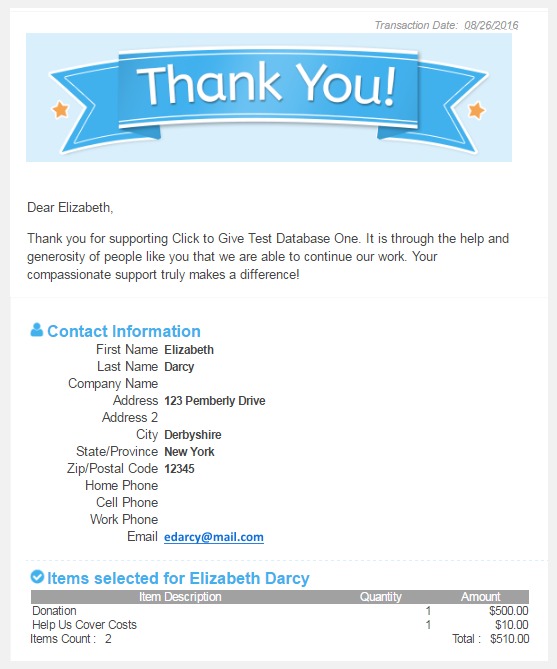 100% Discount Available
Discount codes are a powerful tool to boost online donations, new and renewed memberships and event registrations. To make this feature even more effective, we've updated Discounts to allow for a 100% discount. This makes it easy to offer items such as a free t-shirt, bumper sticker, or other promotional item as a thank you for donating. Thanks for the great Suggest and Vote idea!
Attend Our Pre-Release Webinar
Want to know more about all of the changes coming in this release? Register for our
FREE Pre-release Webinar
, this Tuesday, August 30th from 2 PM to 3PM.
Release Notes
Mobile Responsive Forms, email receipt improvements and our new 100% discount code aren't the only changes in this release. Read about all of the enhancements and fixes in the
WebLink 2016 Release Notes
.