May 14, 2020 | Categories DonorPerfect Fundraising Software
The Key to Retaining Monthly Donors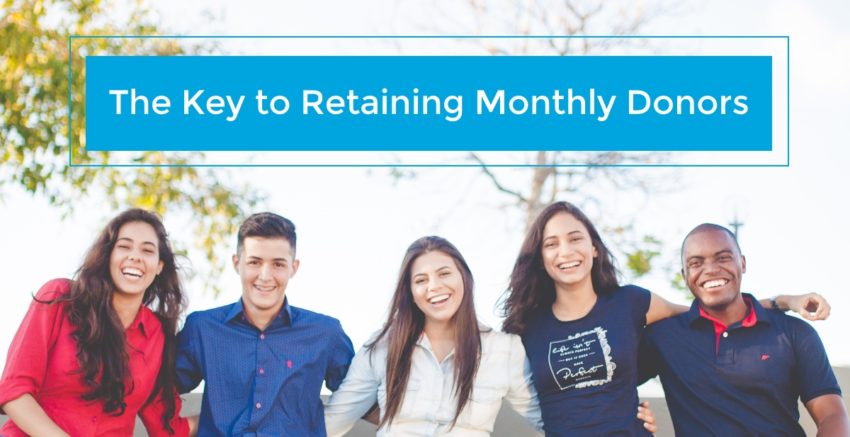 Did you know that donors who are enrolled in a monthly giving campaign are twice as likely to be retained year-to-year than donors who submit one time gifts? How about that donors who are enrolled in a monthly giving campaign average consistent giving between 4-7 years? That's a lot of revenue over time that you can depend on. Having a Monthly Donor campaign is one of the most effective ways to sustain a consistent income of donations and retaining donors. The key to a great monthly giving program is retaining those donors so they become lifetime supporters of your organization. Below are a few helpful tips on maintaining your monthly donors relationships and retaining your most valuable donors:
1. Thank Monthly Donors Early
It's extremely important to thank donors immediately after their first donation and open up a relationship with each donor. Your mission may be the reason why a donor chose to donate to your organization, but the relationship you establish with the donor will be the reason they continue to offer their support. That's why it is so crucial to thank donors and email them through an automated New Donor Welcome Series. After they are welcomed, periodically remind these donors how much their donations mean – but don't thank them too often! Donors want to feel appreciated but not burdened by frequent messages.
2. Share the Impact of Donations with Monthly Donors
Donors know that their donations are important but often don't get a chance to see their donation at work. How does a $50 donation help you achieve your mission? Does it buy 5 pounds of food or 20 gallons of clean water? Its important to give donors a tangible way to see the impact of their donations, especially when those donations add up throughout the year. It shows them how much of a difference their contributions make. Create a special segmented campaign for these donors so you can share their donation milestones with them.
3. Offer Special Perks to Monthly Donors
As mentioned above, donors want to feel appreciated. Giving special perks to monthly donors like invites to exclusive events, discount codes for event registration, or extra swag will remind donors how important they are while also keeping them more involved with your organization. Treat monthly donors more like members and create segmented emails with unique content and offerings to make them feel extra special. Learn how to set up a special discount code to share with special donors in the Online Forms Success Hub.
Developed a Winning Strategy?
How effective is your organization at keeping donors? Have you been able to win over some 'life time' donors? Share your stories and success with other fundraisers in the Development & Fundraising Group in DonorPerfect Community.