June 11, 2020 | Categories Donor Management, DonorPerfect Fundraising Software, Featured, Fundraising Strategies
Finding New Donors: 19 Places Potential Donors Could Be Hiding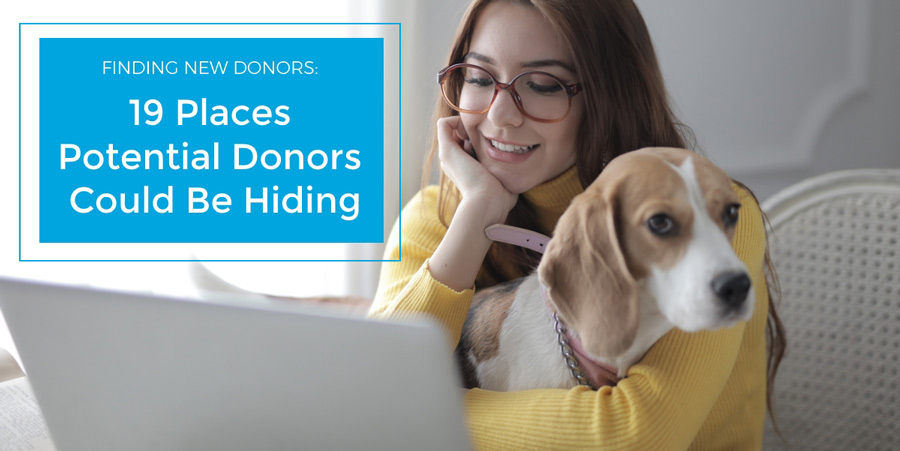 Where can I find new donors? Whether you're new to fundraising or you're a seasoned pro, finding new donors to support your nonprofit organization can be difficult. The good news is that you might not have to look very far to find potential new supporters. The key is to discover individuals, corporations, and others that already have some type of connection with you. Those involved with or interested in your nonprofit's mission or program areas will be more likely to donate. Let's explore where to look to begin adding new names to your donor lists immediately.
Where Can I Find New Donors?
As mentioned above, those that have some awareness or connection to your nonprofit will be more inclined to donate than someone who has never heard of you or dislikes your mission entirely. For example, someone who owns a dog is more likely to support an organization that rescues dogs than someone who doesn't like animals. The more constituents interact with your organization, the greater the chance that they will donate. If they've adopted a rescue dog from your no-kill animal shelter, they will probably donate to support that shelter.
Potential Donor Circles of Influence
Think of your potential donor pool as three main circles of influence. As you go further out in each circle, the less feasible it is that someone will donate to your organization. Where these circles intersect is where you'll find your potential new donors.
Where to Find Potential Donors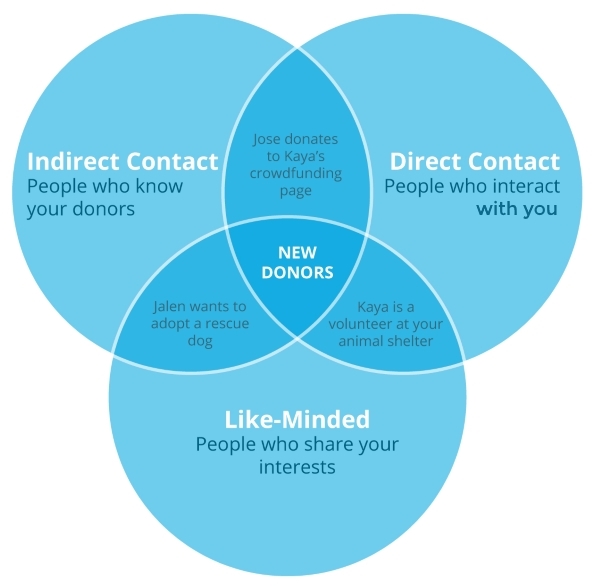 Finding Donors Who Have Direct Contact With You
People who know you and have already interacted with your nonprofit are the most likely to support your cause. They are aware of your mission and are interested in the community you serve. This group of constituents has the highest likelihood to send gifts of financial support.
1. VOLUNTEERS: Did you know that 72% of volunteers are involved with only one organization? Tap into that engagement to convert your volunteers into financial supporters.
2. LAPSED DONORS: Re-engage with lapsed donors to see if they'd like to donate again.
3. EVENT ATTENDEES: These supporters liked your organization enough to attend or participate in one of your events. Reach out to event goers with other ways to get involved with your nonprofit's cause.
4. BOARD MEMBERS: Do your board members support your organization financially? If not, consider running a Board Giving campaign to get 100% of your nonprofit's board members to give.
5. WEBSITE VISITORS: Capture contact information from interested website visitors with a form to join your mailing list. Also, make sure your donate button is easy to find.
6. SOCIAL MEDIA FOLLOWERS: When you share impact stories and other news, be sure to include a link to your donation form allowing social media followers to give.
7. ONE-TIME DONORS: Solicit one-time donors to upgrade their giving levels or to join your monthly giving program.
8. EVENT SPONSORS: Ask businesses that are event sponsors to consider financially supporting your organization with regular donations.
9. OUTREACH PARTICIPANTS: Collect contact information from constituents that attend your speaking engagements and visit your tables at community outreach activities.
Finding Donors Who Have Indirect Contact With You
Those that know the people who support your mission are good candidates for potential donors. They may want to become part of your community since their trusted friends and family members have already validated your cause.
10. CROWDFUNDING CAMPAIGN: Encourage existing donors to join your crowdfunding campaign and reach out to their friends, family, and colleagues to participate.
11. SPONSOR PATRONS: Create yard signs, car decals, or other promotional materials to indicate that a business is a proud supporter of your nonprofit. Ask companies that routinely sponsor your events or provide auction items to display their support of your organization on their premises. Their customers will see their support and may want to join them.
12. MATCHING GIFTS: When an employee donates to your organization, prompt them to ask their employer to match their gift through their company's matching gift program.
13. REFERRALS: Reach out to board members, volunteers, staff, and trusted donors for recommendations about who they know that might be interested in becoming more involved with your nonprofit.
14. AMBASSADORS: Staff and board members are the perfect ambassadors to share their personal experiences at your organization with family, friends, and other colleagues. They do amazing things to make the world a better place. Equip them to share those stories to cultivate new supporters.
Finding Like-Minded Donors Who Share Similar Interests
People who share similar interests are a great source of potential donors. Like you, they are passionate and care deeply about your cause. Grab their attention to channel that passion into financial support. For this group, your goals should be to build awareness and cultivate them towards the activities described in the "Direct Contact" circle rather than to solicit direct donations.
15. PROSPECT RESEARCH TOOLS: The quickest and most accurate way to identify new prospects and increase giving from current donors is to use a prospect research tool like DonorSearch. You'll save time and get better results.
16. SIMILAR NONPROFITS: Partner with similar nonprofits or review their 990s, annual reports, and websites to find a list of potential donors that might also be interested in your cause. Be sure to ask staff and board members if they know any of the prospective donors you discover.
17. RELATED INDUSTRIES:What vertical industries do your organization's supporters use? For example, if your nonprofit helps families in the community, which for-profit businesses and industries (e.g., local pediatricians, restaurants, or pharmacies.) serve these families? If those businesses are not sponsors or donors already, ask if they'd be willing to partner with you.
18. SOCIAL MEDIA ADS: Use social media ads to find new supporters by reaching out to people who have similar demographics and interests as your existing followers.
19. TRENDING TOPICS: Help potential new supporters discover your work by using trending hashtags and topics in your social media posts. Discover what's trending via Google Trends, Facebook Trends, and Twitter Trends.
Where Are Your Potential Donors Hiding?
Is there somewhere that you typically find prospects? Have you found new donors through one of the methods described above? We'd love to hear how you build your donor lists. Tell us about it in the comments of this blog or on the Development and Fundraising Professionals group in DP Community. We always value the insightful feedback and advice that our clients share with us.