October 19, 2017 | Categories #GivingTuesday, Donation Processing, Donor Management, DonorPerfect Fundraising Software, Featured, Fundraising Strategies, SofterWare Products
3 Practical Tips to Track Your Giving Tuesday Donations in DonorPerfect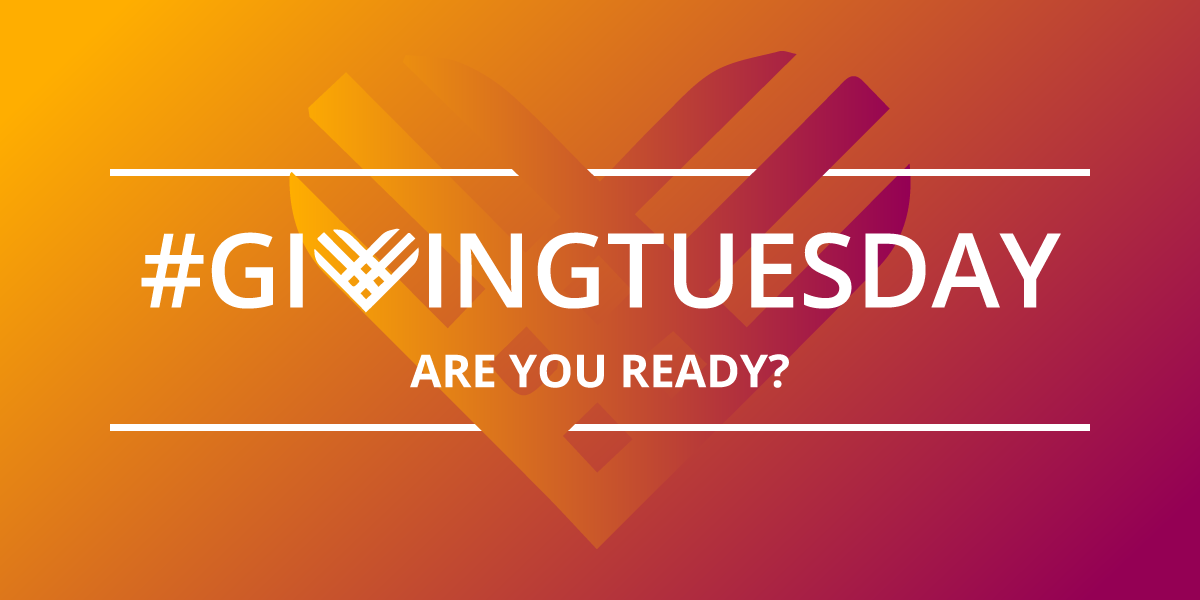 Are you ready for Giving Tuesday? How much more effective would your Giving Tuesday fundraising materials be if they got to the donors who are most likely to give? It starts with having a healthy database of good information that helps you organize and track your Giving Tuesday donations. Here are our top recommendations to get your DonorPerfect system operating at peak levels before Giving Tuesday arrives.  
1. Use Good Data 
One of the best ways to save time and ensure that your Giving Tuesday solicitations are getting to the constituents that want to donate is to maintain a healthy database. That can be a challenge, especially if your volunteers have been entering data differently than you wanted.


How Healthy Is Your Donor Data?
Below are some typical symptoms of an unhealthy database.
Do you have letters that have been returned for improper addresses?
Do donors complain of receiving the same mailing twice or indicate that they don't want mail in the first place?
Are constituents calling because they aren't receiving publications and materials that they requested?
When you send emails, is there a high number of them that bounce back?
If you have the symptoms of an unhealthy database, take time now to address these issues before you begin any new Giving Tuesday campaigns. Not only will this save you time and money on your postage and materials, it will make your campaign more effective by getting your materials to the donors that are most likely to give. It will also make it easier to track your Giving Tuesday donations. 
Resources for a Healthy Database
These resources in our Knowledgebase can help get your database ready for Giving Tuesday.
2. Designate Giving Tuesday Solicitation Codes 
Once you've optimized your database, you're ready to set up the codes you'll need to manage and track your Giving Tuesday donations.  While you certainly can set up as many codes as you need for Giving Tuesday, we recommend you start with these 3 types of codes.


Solicitation Code
A Solicitation is a request for a charitable contribution. A Solicitation Code is used to track those requests. The solicitation date, number of donors contacted (mailed), the expenses, and the goal for each solicitation are entered into the system through Code Maintenance. We recommend that you set up a Solicitation Code to track your Giving Tuesday donations. This code is used in the Solicitation field (field name = solicit_code) found on the Gift and Pledge Entry Screens. It is also used later by the Solicitation Analysis Report and by your DonorPerfect Online Forms for online donations. To learn how to set up this code, visit Adding and Editing a Solicitation Code.
Thank You Letter Code
The Thank You Letter code is used in the Thank-you Letter field (ty_letter_no) in the Gift and Pledge entry screens. This is what tells DonorPerfect which Thank You Letter to send when sending out email and letter receipts and acknowledgements for your donors' Giving Tuesday gifts.
These resources can help when using Thank You codes:
General Ledger (GL) Code
On your solicitations for Giving Tuesday, you should share how funds will be used once donated. If there is a specific project or fund that you want Giving Tuesday donations to be directed at, take time to set this up now.



3. Optimize Your Online Forms
Once you've created your codes (Solicitation, Thank You Letter and General Ledger) to help track your Giving Tuesday donations, you need to set them up in your online forms.
Simply edit the form you'll be using to collect Giving Tuesday donations and click Set Item Codes under "The Basics". You'll find the Solicitation (solicit_code), Thank You Letter (ty_letter_no) and General Ledger (gl_code) codes listed in the "Donation" section of the form. (For the specific steps of how to set up these and other codes in DonorPerfect Online Forms, be sure to visit Setting Codes for Donations and Other Transactions.)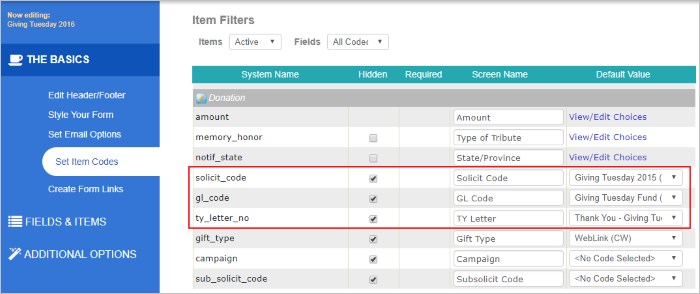 Online Form Resources
Make your forms do more with these helpful tips:
Next Steps
Your online donation form is ready to go. You've entered all the right codes, fine tuned your receipt page, configured recurring donations and tested your form. Now what? It's time to get those solicitations ready! These two resources can help:
Join the Discussion
Our Development and Fundraising Professionals discussion group in DP Community is the perfect place to ask your peers about their Giving Tuesday campaigns and how they've set up their codes, forms or emails in DonorPerfect. Stop by!
Download Our Free Giving Tuesday Campaign Resource
Need ideas for your Giving Tuesday solicitations? Check out our free   GivingTuesday Campaign Resources. This free guide takes you step-by-step through the multi-faceted process of holding a successful and effective Giving Tuesday campaign. It features campaign best practices, social media templates, tips for effective emails and more.
Free GivingTuesday Campaign Ideas: