March 31, 2020 | Categories Coronavirus / COVID-19 Nonprofit Resources, Featured, Nonprofit News, Nonprofit Technology, SofterWare Products
10 Tips on How to Host an Online Auction as a Fundraising Event Substitute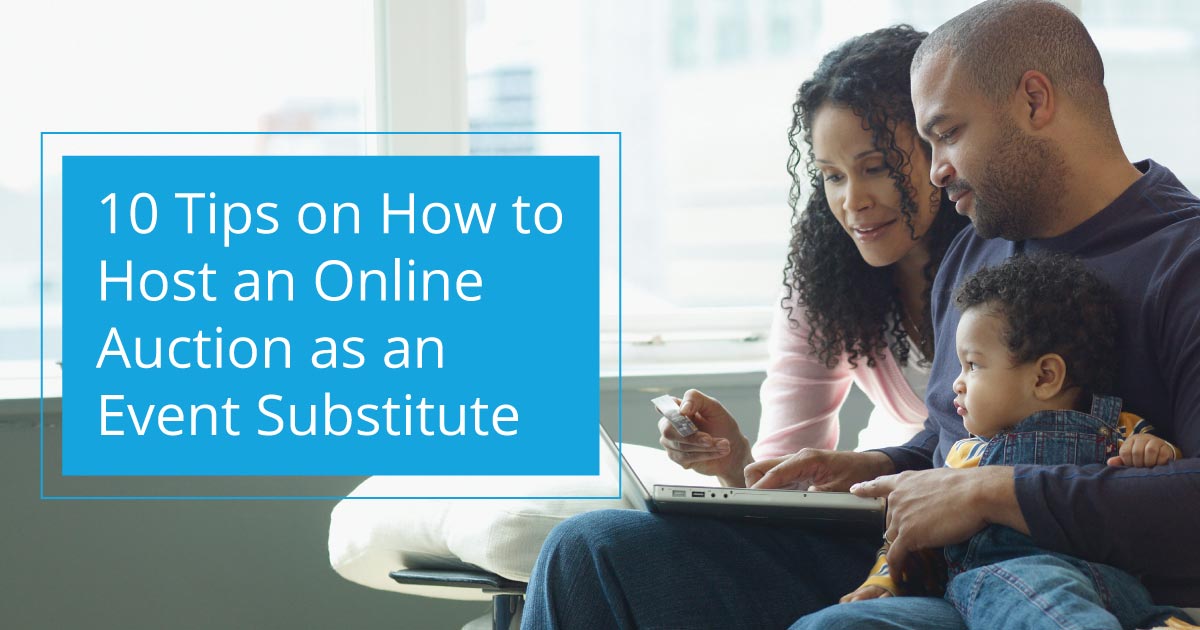 Fundraising events everywhere are being canceled amid the current coronavirus (COVID-19) public health crisis and its subsequent social distancing restrictions. This is especially devastating because it's event season, and we don't want your nonprofit's important mission to suffer. The good news is that whether you were planning a gala or a live auction, all of your upcoming events can alternatively go virtual in the form of a donor-engaging, money-raising online auction.
From bidding to payment, ReadySetAuction auction management software is fully equipped to host your nonprofit's auction entirely online. Best of all, you keep 100% of the proceeds. Learn how running an online auction works with these quick tips to help you make it a hit from home.
10 Tips for Putting on an Engaging Online Auction from Home
Online Auction Tip #1. Get your community involved.
Before you set out to plan your auction, put your feelers out to determine who in your community can help. Whether it's a small business that needs attention right now or a larger corporation that wants to do their part to support those in need, local companies can donate goods or services for your auction.
Local restaurants may be trying to transition from dine-in to take out and delivery and the additional exposure your online auction could provide may be especially attractive to them right now. Try appealing to local vendors by offering to link directly to their online ordering system from your auction page or in email promotions.
In return, you can offer them free advertising on your auction website. Featured items and sponsor logos flash across the top of your website in a slideshow for all to see.
Online Auction Tip #2. Need big ticket items? Reserve them at no cost!
For risk-free luxury items, you can count on Winspire. Winspire helps nonprofits raise more with high-ticket auction items, at no cost to you. Once the highest bid is made, Winspire gets paid the value of the item, and you get the rest. You can check out their catalog here.
Quite surprisingly, donors are still bidding on and booking vacations. Winspire offers a travel booking and concierge service to winners of travel packages, and they've extended the period to book trips to the end of 2021 in light of the coronavirus pandemic and current travel restrictions.
Online Auction Tip #3. Design a website with simple tools.
People trust brands and logos, so it's important that your nonprofit's auction website – where your entire auction will take place – reflects the imagery your supporters have come to know so well. ReadySetAuction equips you with easy-to-use website customization tools that allow you to capture your look without needing the skills of a programmer – a task that could be done by one person, anywhere.
Online Auction Tip #4. Get the word out with a multichannel campaign.
Don't rely on just one channel to promote your online auction. Adopt a multichannel engagement strategy to ensure that no one misses your message and be sure to include the link to your auction's website! If you're using Constant Contact email marketing for nonprofits, all of your DonorPerfect constituents will already be in your mailing lists, and you can use DonorPerfect filters to curate and segment as you see fit.
Now especially is a good time to use social media. With millions of people now staying home, many are searching for stress relief and entertainment on Instagram, Facebook, and Twitter. Something like your online auction may be just the ticket.
Online Auction Tip #5. Let everyone know it's free to browse.
Encourage window shopping for your online auction, because that first glance could result in the highest bid once time begins to run out. Give a sneak peek of some of your hottest items and let your supporters know that they're not obligated to purchase anything. No cost for admission, no raffle ticket purchase. Participants only pay for what they win. They'll need a login, but once again, it's free 🙂
Online Auction Tip #6. Fund your most urgent needs.
In addition to your auction, you can use this platform to fulfill fund-a-need pledges. All the buzz around your auction will bring attention to the more imminent goals you're seeking to accomplish.
For example, if you're raising money to provide your local nursing home with a sufficient amount of paper products, you can create an auction item with a "name your price" feature. This allows participants to donate any amount to this fund.
Online Auction Tip #7. Make your auction something to look forward to daily.
Your online auction doesn't have to be short-lived. In fact, each auction item can be set to open and close on its own schedule that you set. Participants can bid on auction items 45 days in advance and can continue bidding up to 45 days after your event. This way, your auction can build up an audience of excited followers and boost the value of your items early. Plus, those less popular items will get a second look!
Online Auction Tip #8. Keep bidders engaged from wherever they are.
Text alerts keep bidders on their toes, immediately notifying them when they've been outbid. This real-time SMS update motivates them to frequently raise their bids. If bidders choose to hang out on your auction page awhile, they'll be alerted with an Outbid Badge just the same. The Outbid Badge doubles as a button, taking the bidder to a list of all items they no longer take the lead on so they can up their amounts and win.
Online Auction Tip #9. Let ReadySetAuction handle the rest.
Bidders can select a "Win It Now" option to buy your items outright. Alternatively, they can wait until the auction is over and pay for all of their winnings at once at checkout. They'll receive an automated receipt, which you can tailor to deliver just the right message.
Because ReadySetAuction seamlessly integrates with DonorPerfect, you can rest assured that your data entry is taken care of. Just a couple clicks, and voila! The data is instantly moved to your system.
Online Auction Tip #10. Keep 'em coming!
If you find that your auction was a good solution for you at this time… do it again! With ReadySetAuction, you can host an unlimited number of auctions.
For more ideas to move your events online, check out 10 Fundraising Event Alternatives in Light of Coronavirus. To receive special pricing on ReadySetAuction, contact our Sales Team at 888.824.0490.
Finally, the DonorPerfect Team wants to say thank you, thank you, thank YOU for all of your continued efforts to help our most vulnerable populations and make a positive impact throughout these uncertain times. View our complete Coronavirus / COVID-19 Nonprofit Support Resources for more ideas and tips.