April 4, 2020 | Categories Coronavirus / COVID-19 Nonprofit Resources, Featured, Fundraising Strategies, Nonprofit News
Resources to Help Nonprofits During the Coronavirus / COVID-19 Pandemic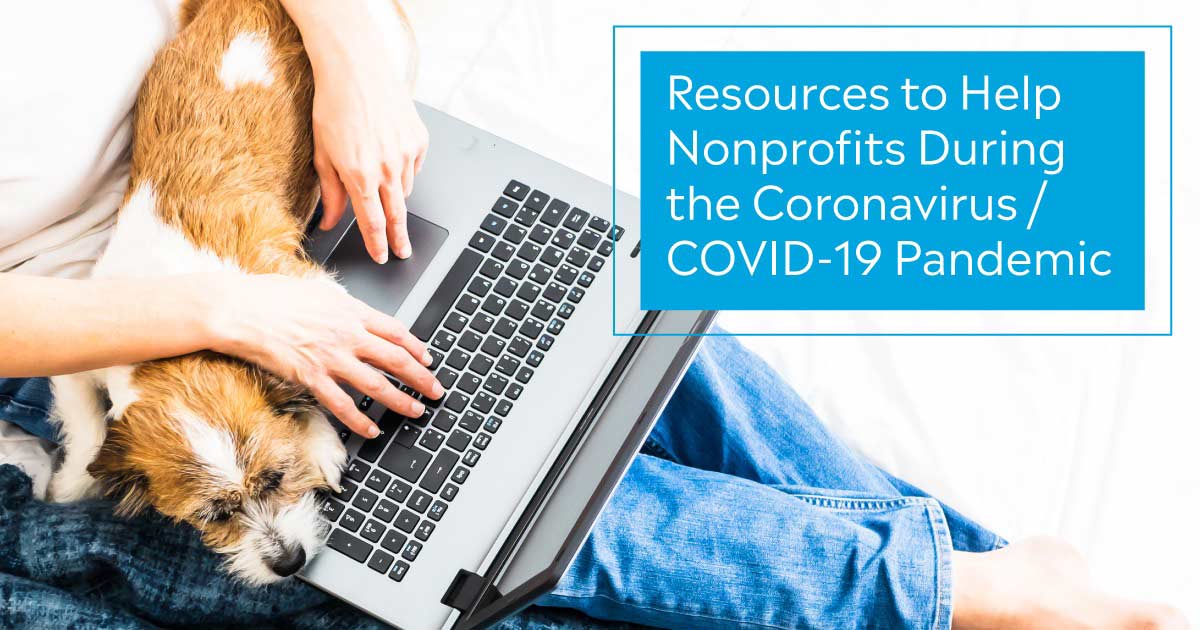 Like many of you, we've been receiving hundreds of emails on topics related to the Coronavirus / COVID-19. To save you time, we combed through the hundreds of "helpful tips and suggestions" emails to compile a list of resources with information focusing on:
Virtual Collaboration and Remote Working
Fundraising Strategies During the Pandemic
Financial Assistance for Nonprofits (Government, Grants, etc.)
Self Care and Mental Health
Virtual Collaboration and Remote Working
5 Tips to Planning the Ultimate Virtual Meeting
As we all work from home, the need to collaborate, solve problems, and get work done as a group is crucial as nonprofits scramble to raise funds, communicate with supporters, and fulfill their missions in new ways. This article includes best practices for planning a successful virtual meeting.
Remote Work Toolkit
Gotomeeting has been providing remote meeting tools for years, and they put together a hub of content that includes everything you need for a seamless transition to a remote workforce. Whether or not you use their tools, you'll find this toolkit helpful. Its content categories include leadership, staff work-from-home tips, marketing, human resources, and education. Use their suggestions to organize your staff, board, volunteers and anybody else who will help your nonprofit operate remotely.
The Ultimate Remote Work Resources Guide
Many companies shared advice in this comprehensive resource on everything from setting up your home workspace, to leading remotely, to balancing childcare with work—and more.
COVID-19 Response Course Track for Nonprofits
TechSoup is providing a free COVID-19 response educational webinar series for nonprofit organizations. You'll learn how to:
Identify necessary technology tools to get your remote office up and running in no time
Boost collaboration
Ensure information security
TechSoup Courses is an online learning resource of free and paid bite-sized training courses created just for nonprofits.
Best Practices for Managing Remote Team Members
There is a very good chance that coronavirus will have a permanent effect on how we work. These resources were created before the virus, and they share ideas on how to rethink the way we work in a decentralized environment.
11 Ways DonorPerfect Can Help You Work From Home
If you use DonorPerfect or you're considering our web-based fundraising platform, here are some tips on how DonorPerfect can ease the transition to working from home for your entire team, from seasoned staff members to short-term volunteers.
Fundraising Strategies During the Pandemic
Nonprofit Action Guide
Our email marketing and communications partners at Constant Contact put together this guide with actionable tips to help you move forward.
Coronavirus/COVID-19 Resource Guide
To help nonprofits navigate the ever-changing landscape, the Association of Fundraising Professionals (AFP) gathered resources to help guide you in your fundraising, donor communications and more.
5 Rapid-Fire Ideas to Fundraise During a Global Crisis
Nonprofit Pro put together these communication and fundraising ideas recognizing COVID-19 is affecting everyone and everything, nonprofits included.
How Nonprofits and Board Members Can Respond to COVID-19
Many nonprofits are struggling with how to help their communities while also trying to survive themselves. BoardSource compiled some of the most common questions nonprofits are asking, and got answers from their 'Ask-the Expert" team.
How The Coronavirus Pandemic Impacts Marketing Strategy
Learn how to adapt ideas from the for-profit business world on marketing strategies to fundraising.
10 Fundraising Event Alternatives in Light of the Coronavirus
If your nonprofit has to cancel a fundraising event due to coronavirus (COVID-19), you're probably wondering, "What do we do now?" Rather than letting recent events keep you and your community apart, here are 10 ways to bring your donors closer than ever and keep funds flowing toward your mission.
Financial Assistance for Nonprofits (Government, Grants, etc.)
Coronavirus Aid, Relief, and Economic Security Act CARES Act
A summary of key provisions in the recent U.S. stimulus bill of sector-wide interest to charitable nonprofit organizations.
4 Ways to Spot a SBA Loan Scam
Before you apply for a SBA loan for your nonprofit, make sure you know the warning signs of a deal that's not for real.
How Nonprofits Can Utilize the New Federal Laws Dealing with COVID-19
Nonprofit Quarterly asked Tim Delaney, President & CEO of the National Council of Nonprofits, to share insights about how nonprofits might utilize the new U.S. federal legislation relating to coronavirus to advance their missions.
Funds for Coronavirus Relief
Candid is compiling a list of funds specifically established in the wake of coronavirus. The list focuses on funds hosted at U.S.-based foundations that serve nonprofits, though others outside of this criteria may appear as well.
Coronavirus COVID-19 Grant Watch
Coronavirus COVID-19 grants, loans, funding opportunities and financial assistance to respond to its impact on individuals, artists, communities, nonprofit organizations and businesses.
Self Care and Mental Health
Feeling Overwhelmed at Work
8 Self-care activities that take 5 minutes or less.
Exercise Scientists: This Is the Ideal Amount of Exercise When You're Cooped Up at Home
Research shows the right amount of exercise increases your odds of staying healthy.
How to Stop Touching Your Face
Seems impossible, right? The folks at Popular Science suggest a way you can do it!
Feel-good TV and Movies Perfect for a Shutdown
While Tiger King may be the most talked-about show on television these days, anyone who has seen it can tell you it's not "feel good" TV (unless you count the shower you take after watching it). The folks at CNET have compiled several articles of feel-good entertainment lists to help you destress and feel uplifted.