April 23, 2020 | Categories #GivingTuesday, Coronavirus / COVID-19 Nonprofit Resources, DonorPerfect Fundraising Software, Featured, Nonprofit News
The COVID-19 Fundraising Template Kit for Nonprofits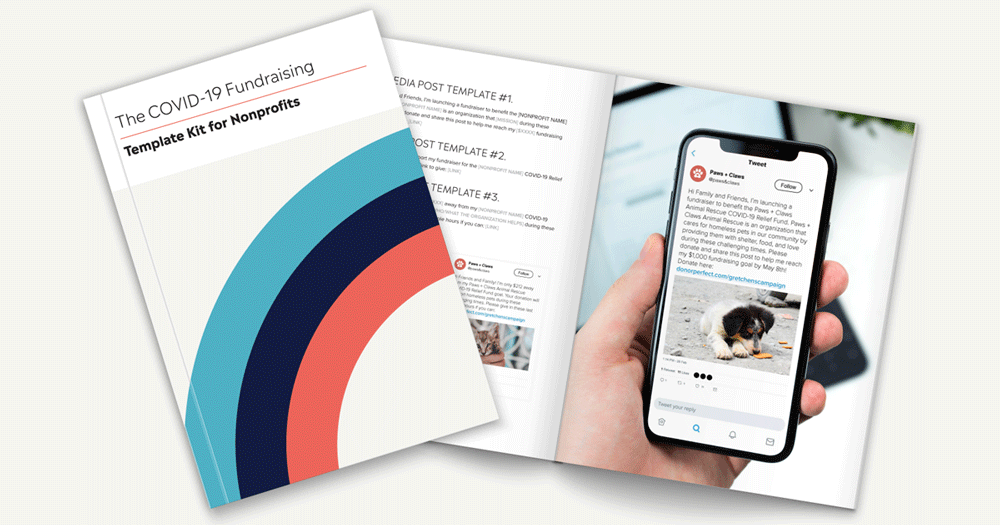 Even as the world slows down, your mission continues. The templates in The COVID-19 Fundraising Template Kit for Nonprofits are meant to save your staff members time while helping you effectively engage your donors today and when #GivingTuesdayNow arrives on May 5th.
All you need to do is copy them, paste them into a doc, and fill in the blanks Mad-Lib style to tailor them to your organization. It's really that simple!
Contents: The COVID-19 Fundraising Template Kit for Nonprofits
Inside the kit, you'll find Mad Libs-style templates for promoting your:
COVID-19 relief fund
Crowdfunding campaign
Monthly giving program
Fundraising event alternatives
Remote volunteer listings
Download The COVID-19 Fundraising Template Kit for Nonprofits
Bolster Your Online Fundraising Campaigns with the Right Tools
To build a truly engaging COVID-19 fundraising campaign, you'll want to ensure that:
Donors can support your organization online from wherever they are.
You give donors plenty of socially distant ways to interact with your nonprofit.
The conversation continues on your social media.
Look to these 12 social media best practices that can help you light up your feeds
In order to achieve these goals, you'll have to lean on tools and tech that streamline the donation process and offer new ways to connect with your donors while they're cooped up at home.
5 Online Fundraising Essentials You Need Now
Check out these 5 tools that will equip your team to turn your COVID-19 relief fund communications strategy into a success.
Online Forms
Power your emails and social media posts with online forms that process donations, volunteer registrations, monthly gifts, and more. See how easy it can be to create forms that spotlight your organization's logo, tell your story, and encourage donors to pitch in to help you brave the COVID-19 pandemic.
Visit the form gallery
Nonprofit Crowdfunding
Rallying your community around your cause is easier than ever with a crowdfunding tool specifically designed for nonprofits. Set up a crowdfunding page that enables your supporters to create their own individual fundraising pages – all to benefit your incredible mission.
Explore crowdfunding for your organization
Email Marketing
From email creation to campaign analysis, the right tool can transform fundraisers into email marketing gurus. See how easy designing, segmenting, and keeping tabs on your email fundraising efforts can be with an email marketing tool that syncs with your donor CRM.
Learn how you can sync your email marketing tool with your CRM
Automatic Monthly Giving
Did you know that your monthly giving program can be just as easy for your staff to manage as it is for donors to participate in each month? By choosing automatic monthly giving, the recurring donations collected each month from program members will automatically process for you.
Save time by automating monthly giving – for everyone
Auction Software
Looking for a way to recoup the funds from your canceled event and still gain the opportunity of engaging your donors? Host an online auction with auction software that provides you with an easy event website builder, an expandable auction item catalog, mobile bidding capabilities for donors, and automatic outbid alerts that drive up bids.
Start planning your online auction today
Get the Whole Package with DonorPerfect Fundraising Software
Offering affordable subscriptions packed with the tools and features your nonprofit needs to shine online, DonorPerfect is rated #1 for ease-of-use, customer support, and value by nonprofit professionals in the most recent Software Advice survey. That means acclimating your staff and setting up are a breeze and gaining donor-engaging, money-raising tools to bolster your online campaigns won't hurt your budget.
Download the COVID-19 Fundraising Template Kit for Nonprofits Now!
Simply tell us where to send it in the form below and we'll email you your free copy in minutes.