Instead of using Excel or Access, nonprofits with less than $100,000 in revenue can request a donation of DonorPerfect Online, a solution designed exclusively for fundraising and donor management.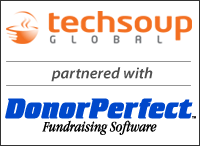 Horsham, PA, November 9, 2009 — DonorPerfect Online (DPO), a top-rated fundraising software solution as noted by independent organizations NTEN and Idealware, is now available as a donated service on TechSoup.org, a one-stop resource for nonprofit technology needs.
"We are very proud to partner with TechSoup Global" said Jon Biedermann, Vice President for SofterWare, developer of DonorPerfect. "Together, we'll enable nonprofits with less than $100,000 in revenue to use our top-rated web-based fundraising solution – DonorPerfect Online – as a donated service through TechSoup's product donation program. This offer includes product updates and access to our recorded webinars. Nonprofits with revenue over $100,000 and less than $1 million still qualify for a 10% discount on our installed version or a 1 year subscription to DPO, plus 10% off any support plan for one year."
"TechSoup Global strives to bring technology donations to the nonprofit sector that truly make an impact," Roger Abraham, Vice President of Products at TechSoup Global, commented. "This is especially important during times when budgets are tight and technology expenses are watched even more closely. Thanks to the generosity of companies such as SofterWare, social change organizations in over thirty countries have access to donated technology tools that help them better fulfill their missions."
Doug Schoenberg, CEO of SofterWare, noted, "In this economy, nonprofits have to work harder to raise needed funds, and we know that having the right tools is essential to fundraising success. With so many smaller nonprofits struggling with spreadsheets and general purpose databases, we felt it was important to make this donation to provide the benefits of professional fundraising and donor development tools to those who could least afford it. We're delighted to be working with TechSoup Global to make this great opportunity available."
About TechSoup Global
San Francisco-based TechSoup Global (www.techsoupglobal.org) is a 501(c)(3) nonprofit organization that provides technology information to individuals and organizations in more than 190 countries, has provided consulting services in more than fifty countries and, through its global network of capacity building NGOs, manages product donations to more than 107,000 organizations in over 30 countries. The product donations program has enabled organizations to save over $1.5 billion in expenses as of September 2009. TechSoup Global continues to innovate with a goal of bringing increased resources and capacity to organizations working diligently on their social missions. In addition to SofterWare, TechSoup Global has a network of more than 35 corporate donor partners including Microsoft, Cisco, and Symantec. For more information about technology donations and resources, visit www.techsoup.org.
About SofterWare, Inc.

SofterWare, Inc., based in Horsham, Pennsylvania is a leading provider of software to nonprofit organizations, with over 10,000 clients throughout the world. In addition to the company's DonorPerfect fundraising software, SofterWare also offers software for managing childcare centers, public and private schools, and camps and conference centers. For more information on SofterWare and its products, please visit www.softerware.com. For more information on DonorPerfect Fundraising Software, please visit www.donorperfect.com or www.donorperfect.ca.
Media Contact
Sam Goldenberg
215-542-4390 x233
sgoldenberg@softerware.com
www.donorperfect.com