Software Magazine Again Ranks SofterWare, Inc. as one of the World's Largest Software Companies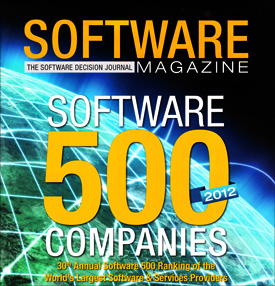 Horsham, PA, October 8, 2012 – SofterWare today announces its inclusion in Software Magazine's Software 500 ranking of the world's largest software and service providers.
SofterWare was ranked 402, with 2011 software revenue of $25.2 million. This is the fifth time in 5 years that SofterWare has made the list.
"We are pleased once again to be recognized by Software Magazine," said Douglas Schoenberg, SofterWare's CEO and Co-Founder. He added, "Our strong growth continues to be a testament to the hard work of our dedicated employees, and our commitment to helping our customers achieve greater productivity and professionalism with products and services that provide an outstanding value."
"The 2012 Software 500 results show that revenue growth in the software and services industry was again healthy, with total Software 500 revenue of $643.6 billion worldwide for 2011, representing approximately 17 percent growth from the previous year's list," says John P. Desmond, editor, Software Magazine. The ranking is based on total worldwide software and services revenue for 2011. This includes revenue from software licenses, maintenance and support, training, and software-related services and consulting.
Mr. Schoenberg noted, "Our goal has never been to be the largest or fastest growing provider of software to non-profits and educational institutions. Our success, which we fully expect to continue, is really just the by-product of our focus on creating innovative tools that help our clients raise more money and become more efficient. A recent example is our free DonorPerfect Mobile app, which literally puts real-time and current information about donors and prospects in the hands of our clients, even when away from their offices and computers."
About SofterWare, Inc.

SofterWare, Inc., based in Horsham, Pennsylvania is a leading provider of software to nonprofit organizations, with over 10,000 clients throughout the world. DonorPerfect, its fundraising/CRM solution, received more "Excellent" ratings than any other vendor in N-TEN and Idealware's "A Consumers Guide to Low Cost Donor Management Solutions". It also received the Campbell Award for "Excellent Customer Satisfaction".
In addition to the company's DonorPerfect fundraising software, SofterWare also offers software for managing childcare centers, public and private schools, and camps and conference centers. For more information on SofterWare and its products, please visit www.softerware.com. For more information on DonorPerfect Fundraising Software, please visit www.donorperfect.com or www.donorperfect.ca.
Media Contact
Sam Goldenberg
215-542-4390 x233
sgoldenberg@softerware.com
www.donorperfect.com
About Software Magazine and Rockport Custom Publishing
Software Magazine has been a brand name in the high-tech industry for more than 36 years. Softwaremag.com, its web counterpart, is the online guide to enterprise software and the home of the Software 500 ranking of the world's largest software and services companies. Software Magazine and Softwaremag.com are owned and operated by Rockport Custom Publishing.
Rockport Custom Publishing is a leading integrated media company focusing on technology. For more information, visit: www.rockportpubs.com.
Contact
Tom Tetreault, publisher
978-921-7850
edit@softwaremag.com
Cassandra Carnes, managing editor
978-921-7850
edit@softwaremag.com