March 9, 2018 | Categories Donation Processing, Donor Management, DonorPerfect Fundraising Software, DonorPerfect Update, Featured, Fundraising Strategies, Nonprofit Technology
New Feature: Customized Email Donation Receipts for DPMobile Fundraising App
Whether at a fundraising event, or in a donor's home or office, you spend a lot of time cultivating your donor relationships. Why not make the most of it? This week's release of DPMobile has some great new features that raise the bar on donor engagement. At the top of the list is the ability to customize the email donation receipts automatically sent from our mobile fundraising app.
Why are Customized Email Donation Receipts Important?
A donor's journey doesn't end when they make a donation. In most cases, it's just beginning. Personalizing your email donation receipts helps donor engagement and will foster future donations.  Now, when you collect donations and donor payments using DPMobile, you can customize the email receipt that donors receive. Include a logo, personalized subject line, and additional text to encourage donors to share about their donation and attend upcoming events. It's another way to connect with donors on a more personal level and boost their involvement with your organization.
How to Customize Email Donation Receipts in DPMobile
Several of you asked us for the ability to edit the automatic email donation receipt that is sent after you collect a donation or payment from a donor. (Thanks for the great idea!) You'll find this new feature in the Receipts option in Settings.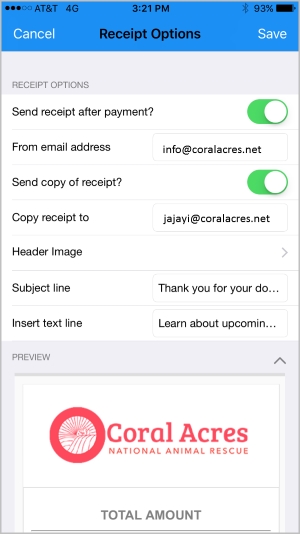 1. Click Settings > Receipt Options.
2. Specify the sender of your email receipt in the From email address field.
3. Need a copy of the donor's receipt sent to you or a staff member? Toggle Send Copy of Receipt? to ON and enter the staff email address in the Copy Receipt To field. The email copy is sent as a blind copy or BCC.
4. Tap Header Image to add an image to your receipt emails. It reinforces your nonprofit's branding and presents a more professional looking email receipt. The image should be no larger than 400px wide by 200px high.
5. Tap the Subject Line field to enter a personalized email subject.
6. To add additional text to your email receipt, tap the Insert Text Line field. This is a great place to let donors know about an upcoming event, share social media accounts or link to a website page that shows how their donation is used.
7. Finally, tap Preview to see how your email message will appear.
8. Once your email receipt is customized, tap Save in the upper right hand corner.


For full instructions, read How to Customize Email Donation Receipts in DPMobile in the Knowledgebase.


Key Information at Your Fingertips
Android and iOS users alike will appreciate how we've put key information right at your fingertips for quick access in this release of our fundraising app. Search for donors and quickly add them with new icons that appear right on the main screen.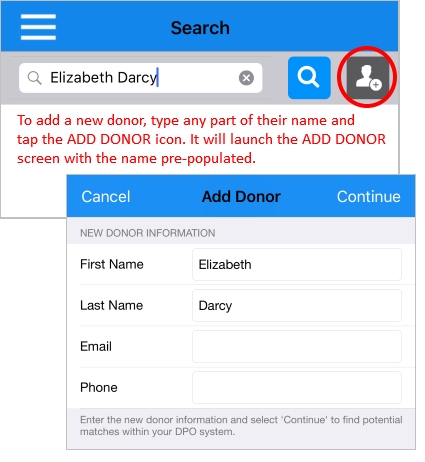 We've also moved all the DPMobile help documentation (iOS and Android), including our video library, into DP Community. Search for DPMobile articles whether you're in DonorPerfect at the office or on the road. You can instantly find all the help you need!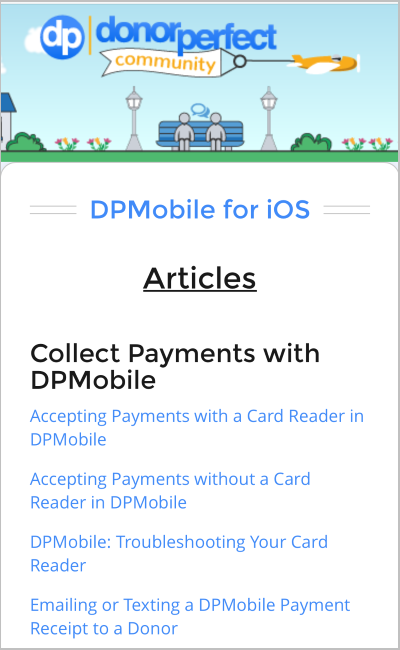 Release Notes and Download Links
Ready to get started? Download the newest version of our DPMobile fundraising app for iOS or Android. Read about all of the enhancements and fixes, including the ability to edit email donation receipts, in the DPMobile 2018.01 Release Notes in the Knowledgebase in DP Community.