February 6, 2020 | Categories Donor Management, DonorPerfect Fundraising Software, Event Management, Featured, Fundraising Strategies, Integration
How to Streamline Day-of-Event Payments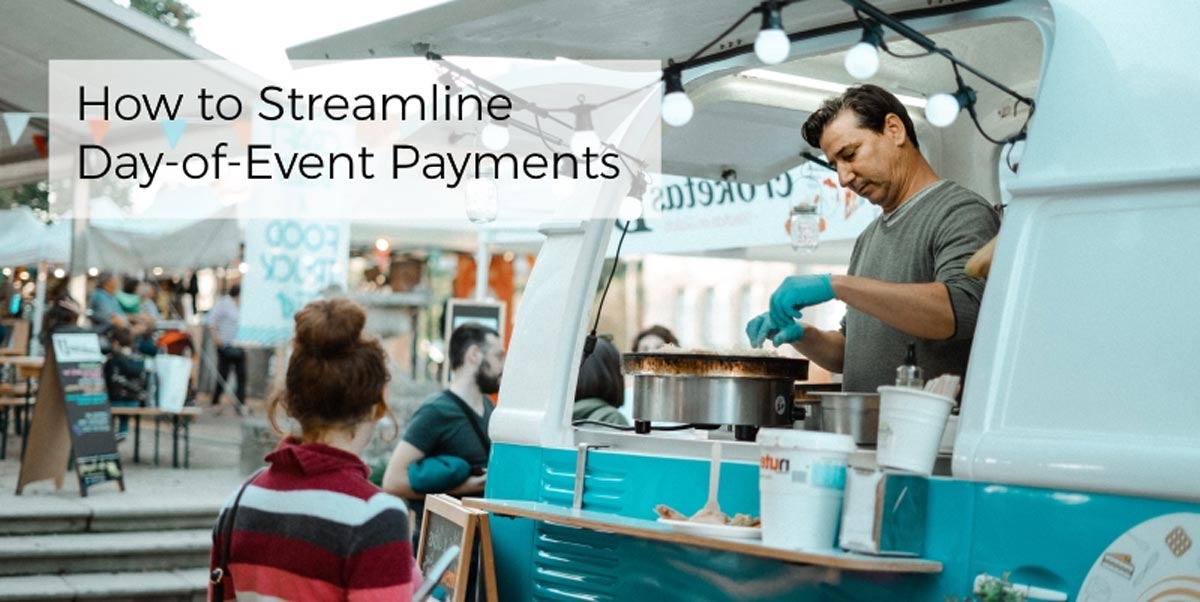 Do you know how you'll accept payments at your next fundraising event? Many donors expect to be able to use credit cards to purchase tickets, event-related merchandise, and to donate to any crowdfunding campaigns during your event. Are you prepared to handle these payments? Here's how to equip your organization with the online fundraising tools you'll need for a successful fundraising event.
Step 1: Activate Your Payment Processing Account
Every DonorPerfect system includes a payment processing account with no monthly fees*, no setup fees, and no annual fees. Before your event, activate your payment processing account so you're ready to accept secure credit card payments from attendees that seamlessly flow into their donor record. If you've already done this, then you're in great shape! Check out the online fundraising tools that are available to use during your event.
Step 2: Select The Tools To Collect Day-of-Event Payments
Your payment processing account powers DP's online fundraising tools. There are 3 main tools you have available to collect payments and donations during your event. Explore these before your event and set them up, so you're ready to use them to accept day-of-event payments.
Step 3: Streamline Day-of-Event Payments Using DP's Online Fundraising Tools
There are many ways to incorporate DP's online fundraising tools into your event fundraising strategy. Select the method that works best with your staff and event type.
Event Registration/Ticketing
Using DPMobile with a card reader, or your mobile device's camera is a fast, effective, and secure way to accept donations, process ticket fees, and allow donors to purchase promotional items at your events using credit or debit cards. Staff members and volunteers can load the app on their iOS or Android phone or mobile device, log in, and get started. The app is free.
Staff with laptops and a WI-FI connection can log into DonorPerfect on-site and process credit card payments using Insta-Charge or by manually entering in cash or checks.
At the Raffle/Silent Auction Table
Don't turn donors away that aren't carrying cash for your raffle baskets and silent auction items! Offer to accept their credit or debit card payments on the spot using your mobile device and DPMobile. You could also post a staff member or volunteer at the Raffle Basket table to collect credit card payments using Insta-Charge on their laptop. For live auction bidding updates, the ability to launch your auction before your event, and other auction management tools, check out ReadySetAuction.
Individual Donations
Be ready to convert event attendees into donors as you mingle during your event. Prepare a quick, persuasive speech about what your organization does, why it's essential, and how their involvement is an opportunity to be part of something amazing. Don't forget to have DPMobile on your phone ready to accept their credit or debit card donation.
Information Tables
Does your staff share information about your organization's services at your events? Make sure they are equipped with a phone and DPMobile or a laptop with Insta-Charge to accept donations from engaged event attendees who want to support your mission.
For other ways to collect information on event attendees, check out these recommendations.
Merchandise, Beer and Food Sales
If your event offers merchandise, alcohol, or food sales, staff or volunteers can easily accept payments using a phone and DPMobile or a laptop with Insta-Charge.
Add a QR Code to Flyers, Table Tents, and Presentations
It's not always practical to have a kiosk or laptop available at events for participants to donate. Create a QR Code that links to your online donation form and add it to flyers, table tents, and any Powerpoint presentations at the event. When donors scan the code, the form will appear on their phone, and they can enter credit card donations themselves.
Send a Text Before Event-Goers Arrive
DP Text, DonorPerfect's integrated text fundraising tool, makes it easy to engage donors via text. Remind donors about your event with a quick text message. Include a link to your donation form in a text message to event-goers before the event's start time. Let them know you're excited to see them later at the event and are grateful for their support. Since 95% of text messages are read within 3 minutes, there's a great chance donors will respond and donate.
Announce Real-Time Fundraising Results
Does your event have a fundraising challenge goal happening live during the event? Providing live donation progress updates is a great way to motivate donors to reach your fundraising goals. If you've collected payments using DPMobile, the Mobile Payments Report provides a listing of mobile payments that were processed for your organization during the event. You'll know at a glance exactly how much you've raised during the event.
Plan For Additional Day-of-Event Payment Needs
What else do you accept payments for during your fundraising event? Before your event, list out all the ways that event-goers might want to use credit cards to support your nonprofit during your fundraising event. Then, put a plan in place to handle those payments and equip your organization with the online fundraising tools you'll need for a successful fundraising event.
*No monthly fee only applies to organizations in the USA. Fees may be different in other countries. Call 800.220.8111 to learn more.