June 28, 2023 | Categories Featured, Fundraising Strategies, Social Fundraising
7 Ways to Grow Your Donor Email List
Consistent communication is key to building strong and lasting relationships with your constituents. Specifically, email is a great way to keep them up to date on your organization's activities, share inspiring stories, invite them to events, and ask for donations. It remains effective for nonprofits, but many only have email addresses for a small percentage of their supporters.
When building your donor email list, it's essential to prioritize quality over quantity. Rather than trying to amass as many email addresses as possible, ensure that the people on your list are genuinely interested and want to engage with your organization.
Here are several effective strategies to collect constituent email addresses.
1. Leverage your online donation form
There are a few ways to go about creating and leveraging online forms, depending on whether or not your organization is using fundraising software that is specific to nonprofits.
Your constituent relationship management (CRM) system may have a built-in tool to create an online form where information from the form is automatically uploaded into your CRM. If you're not yet taking advantage of a CRM, you can still capture contact information with a form builder like Google Forms. Once you have a CRM, you can export and upload the information.
Don't forget to test the form before making it live. You'll use it as the foundation to collect emails in the materials you produce and at events you host and attend.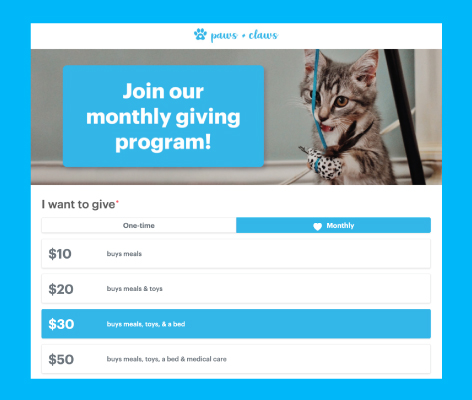 2. Comb through existing sources
You probably have email addresses for many of your past supporters. Some of them may not have heard from your organization in a while and would be delighted to rekindle the relationship.
Take some time to scour existing sources and compile the email addresses into a spreadsheet that can be uploaded into your CRM. Better yet, delegate the compilation to a volunteer or intern. The key is to keep all your organization's contacts in one place, and the best option is a CRM with an integrated email marketing system.
Did your supporters send you an email message or attend a webinar or a virtual fundraising event? You might even have old sticky notes or sign-in sheets from an in-person event hidden in a drawer.
It's also worth checking the backend of your website. If you have the option to subscribe through your content management system (CMS), it's possible those email addresses have gone unnoticed and unused.
3. Generate a QR code (and place it everywhere!)
Convert your online form into a QR code, include a message to get involved or sign up, and insert the QR code on all of your materials.
Remember to test it by trying it yourself, and make sure the QR code generator you're using doesn't have an expiration date attached to the code.
Sign-in sheets: If you're a nonprofit with frequent visitors, you probably already use a sign-in sheet at your reception area. You may also have people sign in at in-person meetings, community presentations, and events where you set up your display.
Direct mail pieces: Annual report, solicitation letter, reply form, postcard, etc.
Promotional materials and items: Brochure, table-top display, letterhead, business cards, and promotional items (if there's space).
Digital materials: Email signature and PowerPoint presentations.
In addition to the QR code, be sure to include an email address line in the contact information section of all your printed materials like reply forms in your annual report and brochure.
4. Make the most of your website
You've already earned a connection with visitors to your website, but you can gently nudge them toward the action you want them to take even after they leave your site. To encourage visitors to provide their email addresses, use a call to action (CTA) in the form of a button, pop-up, or banner. Embed the online form you created in each of these options and be strategic in your placement on your homepage, footer, and high-traffic pages.
We recently sat down with digital marketing consultant Dana Snyder to discuss the online donor journey. In exchange for donor email addresses, she recommends offering a value-based lead magnet – a free resource or download that would be of interest to them and speaks to your mission or cause.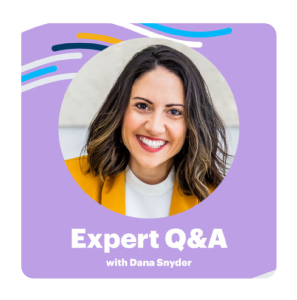 5. Use the power of social media
Periodically post reminders on your social media channels encouraging your friends or followers to sign up for your donor email list, or provide their email addresses in exchange for a helpful resource. Ask your fans to share your posts in their own feeds and with their networks.
If your organization doesn't yet have social channels, find out where your community is gathering online and start interacting with them.
6. Send a text message campaign
Consider reaching out to your supporters with a text campaign asking them to share their email address with you. Asking for something other than money every once in a while will show that you value the relationship and are not just focused on financial gain.
With DP Text you can capitalize on the high open rates of text messages and reach people where they are – their mobile devices.
Example: Keep up-to-date on [organization's] mission. Provide us your email address.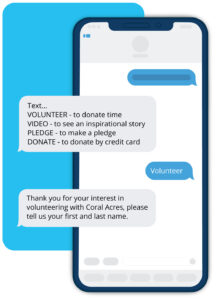 7. Create a giving competition
When communicating with donors about your upcoming competition, give them the opportunity to receive updates or find out who won by providing their email addresses, or allow them to spread the word by providing their friends' email addresses.
Another idea is to ask your community to email photos they've taken at your events or that showcase your mission. With cameras so readily available in everyone's pockets, amateur photographers are everywhere and likely eager to share their work.
Plus, you'll build a stock photo collection, through user-generated content, that comes across as sincere and saves you money. Encourage your community to vote for their favorite photos, and feature them in your annual report, website, or calendar.
When choosing a prize for your winner or winners, it's important to consider something directly related to your organization's cause. Instead of offering cash prizes, choose a speaker meet-and-greet, a free ticket to your upcoming gala, or free registration for your charity race.
Building an email list for your nonprofit is not necessarily easy and may take time. Filling it with people who have a connection to your organization will yield better results, and you'll also be able to segment your email list to effectively grow your presence and collect more donations in the future.
Bonus tip: When you send your email campaigns, include a CTA for your recipients to forward the email to their friends, family, and colleagues, allowing their personal contacts to join your network. If your mission resonates, and your supporters are willing to spread the message, let them help you build your mailing list.
Are you ready to take your email campaigns to the next level? Discover how to craft compelling messages to increase your email communication efforts.
Download your free copy of Email Best Practices for Fundraising below.
Download Now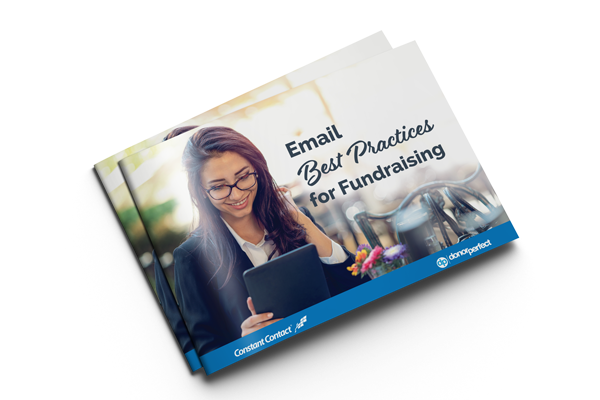 Download Email Best Practices for Fundraising