April 8, 2020 | Categories Donation Processing, DonorPerfect Fundraising Software, Featured, Fundraising Strategies, Monthly Giving, Social Fundraising
How to Create Dedicated Campaign Forms That Drive Conversion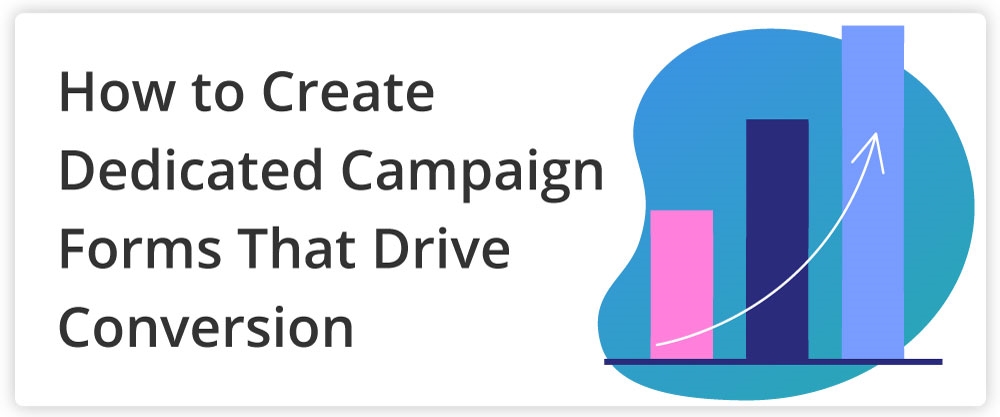 If your fundraising campaign has a particular focus or supports individual programs, your donation form should too. Just as segmentation is the key to better email open rates and engagement, the same is true for online donation forms.
Now, more than ever, it's crucial to capture the attention of today's donors and keep it. Dedicated fundraising campaigns are a fantastic opportunity to stand out from the noise and connect with your supporters in meaningful ways. Here's how you can use dedicated fundraising campaign forms to drive better conversion rates for your nonprofit.
5 Uses For Dedicated Fundraising Campaign Forms
1. Gauge Support for Specific Programs and Projects
You don't need to survey constituents to discover which programs in your mission they support. Create a dedicated fundraising campaign form to help donors connect with an individual program or project. Revenue from their donations can be the barometer your program needs to determine supporter interest. Plus, this is a great way to reassure donors that the money they are donating goes straight to the specific program or project they are supporting.
2. Create Segmented Donation Forms with Targeted Giving Levels
Not all donors give at the same level. Some donors might give $10 a month while others give $200. By presenting constituents with targeted giving levels, you'll maximize your donations. Start by researching the average donation amount for different segments of donor giving. Then, create a form that features suggested giving levels that make sense for that segment of your supporters. For example, one form might target donors with an average donation amount of $50. Set the middle giving level (e.g.,$50, $75, $100) just slightly above your average gift as a way to upgrade donation amounts. A second form might be targeted at supporters that have a higher average donation amount of $150. Those supporters should get a different form with custom giving levels tailored to them (e.g., $150, $175, $200). Include your dedicated forms when sending out your appeals to the respective segment.
3. Boost Seasonal Campaign Results with Themed Forms
Different times of the year, such as the Holiday Giving season, are better than others to solicit donations. Boost your results with a themed donation form that enhances your seasonal fundraising campaigns. For these forms, include powerful images that tie the seasonal aspect of your campaign to your nonprofit's mission. Since seasonal fundraising is often time-sensitive, include language that speaks to the urgency for donors to act.
Don't limit your thinking of seasonal fundraising to holidays and other calendared events. Natural disasters and other time-sensitive happenings, like COVID-19, would also fall into this category. The idea is to dedicate a form with an urgent or timely appeal to address your organization's needs.
4. Run a Matching Donation Campaign
In today's environment, it's never been more necessary to make the most of every dollar. Matching gifts are an easy way for your donors to double the impact of their contributions. Boost your matching gift revenue by running a matching gift fundraising campaign using a dedicated form that encourages supporters to check if their contribution might be eligible for corporate matching gifts. Double the Donation, one of our DPConnect partners, has a matching gift search tool that integrates with DonorPerfect. Include it in the Receipt page of your custom form so donors are immediately reminded to check for matching funds right after they donate. Don't forget to email supporters a reminder that their contribution might be eligible for corporate matching gifts in your thank-you note, too.
5. Build Your Recurring Giving Program
Monthly Giving is a proven method of drastically increasing your donor retention and a trusted way to build a loyal donor base. The donors currently in your database already know you, and they most likely want to give more. You can turn those one time donors into lifetime supporters with a monthly giving program. Boost enrollment in your program with a dedicated Monthly Giving form tailored to recurring donors. It's the perfect form to include in your new donor welcome email series as a way for supporters to connect more with your organization.
Resources for Creating Dedicated Fundraising Campaign Forms
With DP Online Forms, you can create a form for every campaign, holiday, and social media ask you like! There is no limit to the number of forms you can create. Our newly launched Online Forms Success Hub takes you through every aspect of creating a form from start to finish. Follow the steps in the Collect Donations section of the Hub to get started creating, branding, sharing your form. You can also find proven advice on how to increase form conversions and maximize donations in the Hub as well.
FREE Template Kits to Promote Your Fundraising Campaigns
Campaign-specific forms are perfect for segmented emails and social media posts. A dedicated donation form allows you to be more specific with your fundraising asks and how supporters can participate. Check out these free templates to use for sharing your dedicated fundraising campaign forms.