November 11, 2020 | Categories #GivingTuesday, DonorPerfect Fundraising Software, Expert Webcast, Featured, Fundraising Strategies
Giving Tuesday Follow Up: Retain More Donors with This Post Giving Tuesday Email Timeline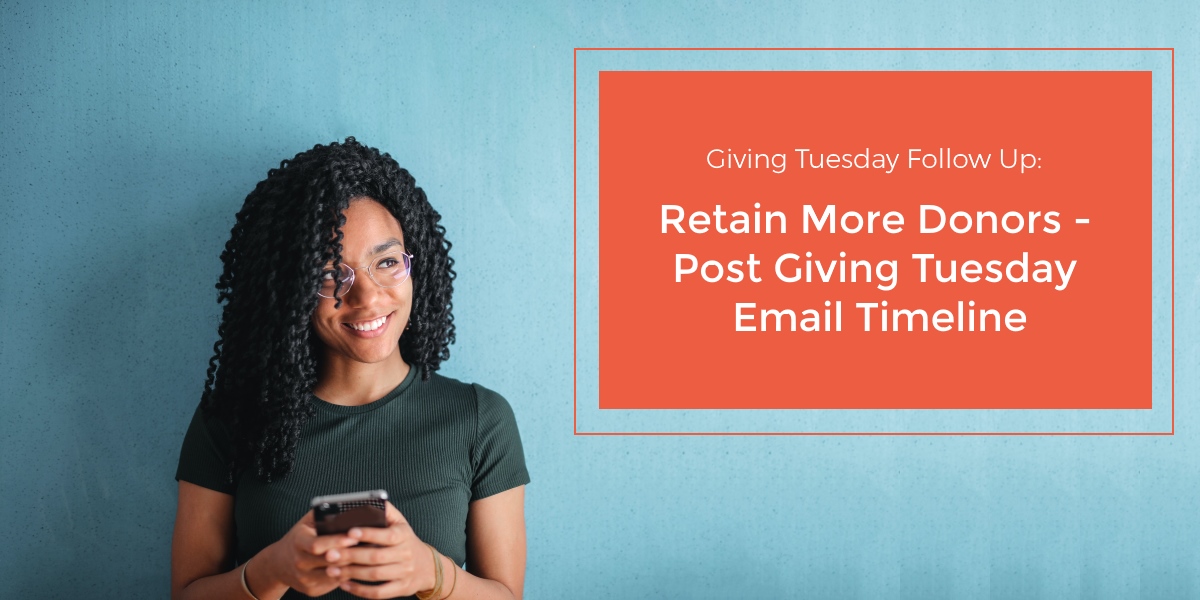 Did you know that 63% of Giving Tuesday donors only give on Giving Tuesday? What if you could convert those one-time donors into engaged supporters that give again? That process begins on Welcome Wednesday, the day after Giving Tuesday. Using the templates found in our New Donor Welcome Series Template Kit and our Post Giving Tuesday Email Timeline, we'll show you when and how to follow up with your Giving Tuesday donors. Get ready to convert more of your Giving Tuesday donors into lifelong supporters!
FREE On-Demand Welcome Wednesday Webinar
Watch this on-demand Welcome Wednesday webinar to learn how to follow up with your Giving Tuesday donors. We'll help you outline a plan to begin building good relationships with this new group of donors from day one.
Timeline: When and How to Follow Up With Giving Tuesday Donors
What do I need to do for Giving Tuesday follow-up? Is it ok to ask these donors for money again? What is the best way to retain Giving Tuesday donors? In the timeline below, we tell you exactly when to send emails designed to cultivate a relationship with your new Giving Tuesday supporters.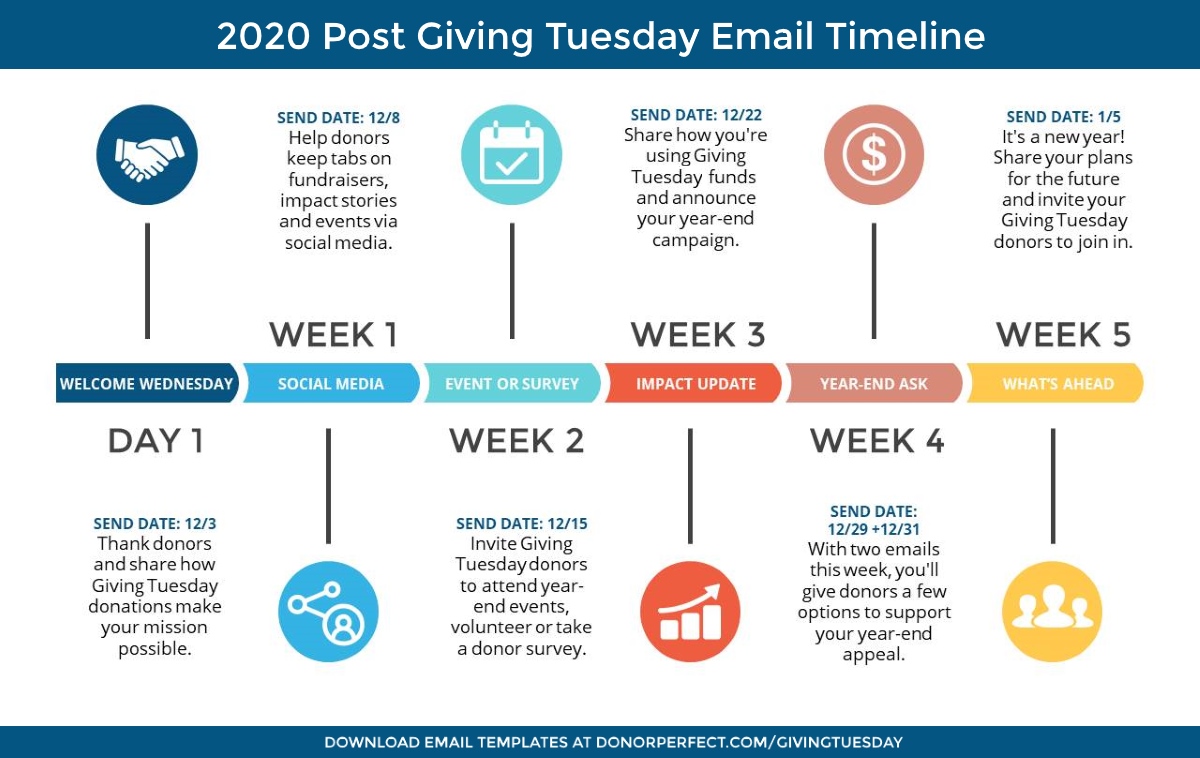 Post Giving Tuesday Emails
Day One: Welcome Wednesday + Thank You
Week One: The Friend Request (Social Follows)
Week Two: Share Engagement Opportunities
Week Three: Give An Impact Update
Week Four: Year-End Ask (Two Emails)
Week Five: Preview What's Ahead
Day One: Welcome Wednesday
WHEN TO SEND IT: Wednesday, 12/2
SUBJECT LINE: Giving Tuesday was a success, thanks to YOU!
WHY SEND THIS EMAIL?
If you expect to retain your new Giving Tuesday donors, add saying "Thank You" to the top of your to-do list. GuideStar reports that new donors who receive a thank you within 48 hours of donating are four times more likely to give to your organization again.
Share the good news of any preliminary results you have from your Giving Tuesday campaign, such as how much you raised or any challenge matches you've met. Also, remind donors who they've helped with their donation and how they make your mission possible.
Get This Giving Tuesday Thank You Template
Don't recreate the wheel! Save time and grab this exact template from our Giving Tuesday Fundraising Template Kit and personalize it for your organization.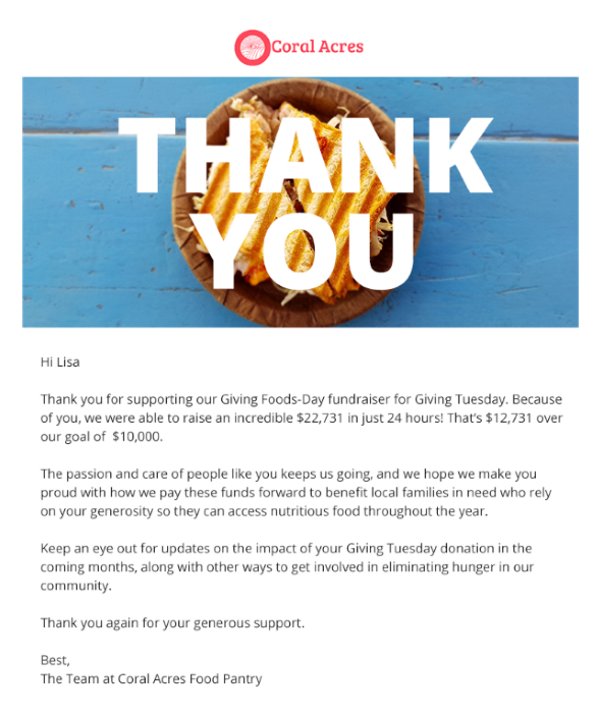 Week One: The Friend Request
WHEN TO SEND IT: Tuesday, 12/8
SUBJECT LINE: Colleen, keep tabs on the impact of your gift by following us on social media.
WHY SEND THIS EMAIL?
Social media is a great tool to showcase your impact, help supporters understand the challenges they can help solve and build an authentic community around your cause. Plus, your social media accounts are the easiest way for donors to keep tabs on all of your organization's fundraisers, impact stories, and events on their own time, using the platform they interact with daily.
Use this email to share how supporters can learn more about who they are helping with their donation and some details about your community on social media. List the platforms you're active on and how your new Giving Tuesday donors can connect with you there.
Week Two: Share Engagement Opportunities
WHEN TO SEND IT: Tuesday, 12/15
SUBJECT LINE 1: Everyone's Invited, Especially You! Join Our Latest Events + Volunteer Days
OR
SUBJECT LINE 2: Sofia, tell us what you think in a short survey!
WHY SEND THIS EMAIL?
Once a donor has given to your organization, it's essential to keep building a relationship with them by providing many different types of opportunities to engage with your nonprofit. Inviting donors to year-end virtual events and recruiting them for volunteer opportunities can be powerful ways to connect with your Giving Tuesday supporters. If you don't have any year-end events scheduled, substitute in a donor survey as a way to learn more about this group of new donors.
Week Three: Give An Impact Update
WHEN TO SEND IT: Tuesday, 12/22
SUBJECT LINE: Jamal, see the difference you made through your generous donation to Paws & Claws
WHY SEND THIS EMAIL?
Why do donors stop giving after their first gift? One of the top reasons donors only donate once to your nonprofit is that they don't know the impact of their contribution. Supporters give to your organization to make a difference.
Use this email to show your new Giving Tuesday donors the good that came from their generosity and inspire them to give again. Be sure to thank them for their role in bringing about your nonprofit's success on Giving Tuesday.
Since your donor's first gift was during Giving Tuesday, your update email should talk about the impact created by the funds raised during that day. However, that doesn't mean you can't let them know about other needs. Impact emails offer the perfect opportunity to let supporters know about your year-end campaign.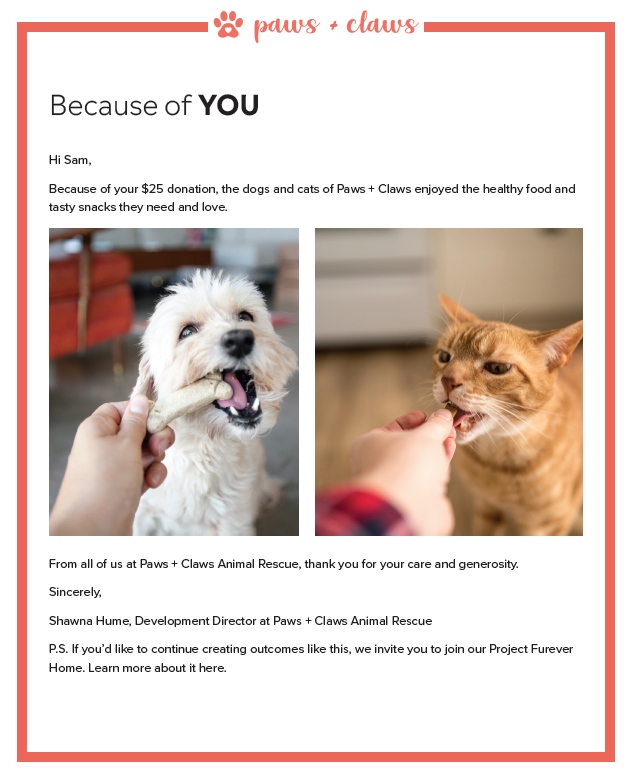 Share a Video of Giving Tuesday Impact
Did you know that 57% of people who watch fundraising videos will donate to that cause? Consider adding a short 1-3 minute DIY video about the impact of your Giving Tuesday campaign to your email.
Week Four: Year-End Ask (Two Emails)
WHEN TO SEND IT: Tuesday, 12/29 & Thursday, 12/31
WHY SEND THESE EMAILS?
Year-end giving is vital to the success of your organization. Some organizations raise almost 50% of their annual funds just from their year-end appeals. Nonprofits Source reports that 10% of all annual giving comes in the last three days of the year.
Since the end of December is one of the busiest times of the year for donors, you need to grab your supporter's attention and move them to donate by making sure your emails jump out from the rest of the list. Many constituents may be facing financial challenges due to COVID-19, so work in ways to make the most of their donations.
Donors love matching campaigns because it makes their donations go even further. Small-dollar donations are another way to keep financially challenged donors involved in year-end fundraising. With a Monthly Giving program, budget-conscious donors can still give a larger total gift but spread out the payments over time as a lower amount.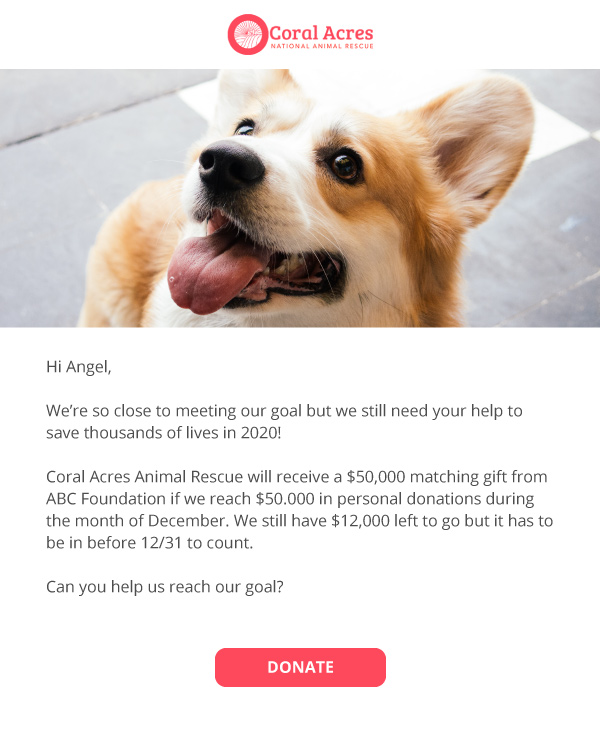 We recommend you send one email on Tuesday, 12/29 asking your Giving Tuesday donors to take the next step and partner with you monthly. Send a second email (to those who still have not donated) on Thursday, 12/31 letting them know about a last-minute challenge match. Visit the Year-End Fundraising Hub to find email templates for both of these last-minute year-end appeals.
Week Five: Inspire Supporters With "What's Ahead"
WHEN TO SEND IT: Tuesday, 1/5
SUBJECT LINE: Lin, see what's coming up at Paws & Claws!
WHY SEND THIS EMAIL?
Generate excitement and momentum for your programs by giving supporters a "sneak peek" into what's coming up in the New Year. By letting your donors know what's coming, you provide them with an opportunity to contribute to the success of your goals by donating money, volunteering their time and skills, spreading the word about your events, and launching crowdfunding campaigns on your behalf.
Here are some examples of what to include in your "What's Ahead" email:
What a challenging year 2020 was! Celebrate the unique ways that your supporters, clients, and nonprofit programs have adapted and thrived during COVID-19.
Share any program or fundraising milestones you've accomplished
Give supporters a preview of any new planned projects, upcoming fundraisers, future events, or volunteer opportunities.
Get creative with your What's Ahead email! Check out some of these easy-to-use tools to manage your organization's communications and keep your website and social media pages up-to-date.
Next Steps: Get the FREE Templates!
A first-time gift from a new Giving Tuesday donor can be the start of a long-term relationship that grows over time. If you don't want your Giving Tuesday donors to give once and immediately turn their attention elsewhere, set up a plan to communicate with them over the next few weeks. Create touchpoints using the templates found in the New Donor Welcome Series Template Kit to serve as their introduction to your organization and encourage them to become more involved.
Don't forget to watch our on-demand Welcome Wednesday webinar, where you'll learn how exactly to follow up with Giving Tuesday donors.