August 22, 2023 | Categories #GivingTuesday, End of Year, Featured
5 Ideas to Use AI for Giving Tuesday Communications

How to Use Nonprofit AI & What It Can Do
Artificial Intelligence (AI) can't replace the job of a fundraiser, but it allows them to welcome a world of possibilities. Let's discuss how nonprofit professionals can leverage AI, and specifically, how these tools can help fundraising teams execute a successful Giving Tuesday campaign.
How nonprofits can use AI
As a nonprofit professional empowered with AI, you step into the role of boss, with your generative writing tool as second-in-command. You take the creative lead while it provides strategic assistance to help you navigate the complex world of fundraising. Once you're free of humdrum tasks that take more time than they're worth, you can be the fundraiser you've always hoped you could be.
Nonprofit communications that can be generated by AI:
• Solicitation and appeal letters
• Thank-you emails and templates
• Impact stories and updates
• Social media posts
• Blog posts
• Crowdfunding pages
• Online forms and web pages
• Program descriptions
You have every opportunity to build your nonprofit with AI by simply showing it who's boss! All you have to do is tell it what to do, and it will act as your Peter Pan – reclaiming time wasted in areas in your nonprofit that have a wealth of resources, allowing you to redirect it to areas that might be lacking attention. It frees time for you to focus on your mission.
Together, armed with millions of data points, you and your new "sidekick" can make more informed decisions, segment your audiences more thoughtfully, and execute campaigns more effectively. So embrace your new strategic partnership and stay informed about the latest advancements to achieve a remarkable impact in your community.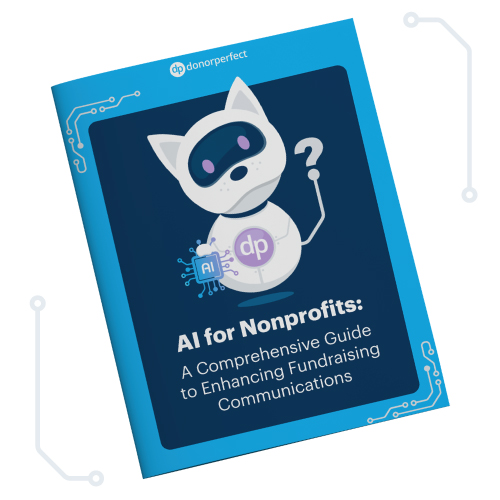 The last quarter of the year is usually pretty labor-intensive for fundraisers – you're tasked with planning huge campaigns like Giving Tuesday, plus writing all of the content needed to carry them out successfully. It's a time to take advantage of the spike in giving during the holiday season, and therefore a great opportunity to take advantage of AI and get some tasks off your plate.
AI allows fundraisers to save major time (reportedly at least three hours per content piece, according to HubSpot) to create, optimize, and personalize each of their fundraising communications sent on and around Giving Tuesday.
How to enhance your Giving Tuesday campaign with AI
AI prompt idea: Generate a thank-you email template for 2023 Giving Tuesday donors, introducing them to [Your Monthly Giving Program] as a convenient way to stay involved and informed in the new year.
Ask your AI tool to write this template using emotional language that inspires the donor to maintain their impact over time. You can provide it with any details that are pertinent to include, like the specific initiative you're hoping to fund on Giving Tuesday, and the impact their monthly gift would have over the course of a year.
You can even ask it to write a different template for each monthly gift amount in your program. If you're not a fan of what your AI tool generates on its first try, tell it what to change – more emotion, less words, rewritten from a board member, etc.
To personalize your AI-generated thank-you template, you can ask your AI tool to include placeholders in its response – for common thank-you fields like <<FIRST_NAME>> and <<AMOUNT>> – that your fundraising CRM can populate with stored donor data.
DonorPerfect clients: Once you're happy with your AI thank-you template, save it in a Word document and swap the placeholder text with your DonorPerfect merge fields.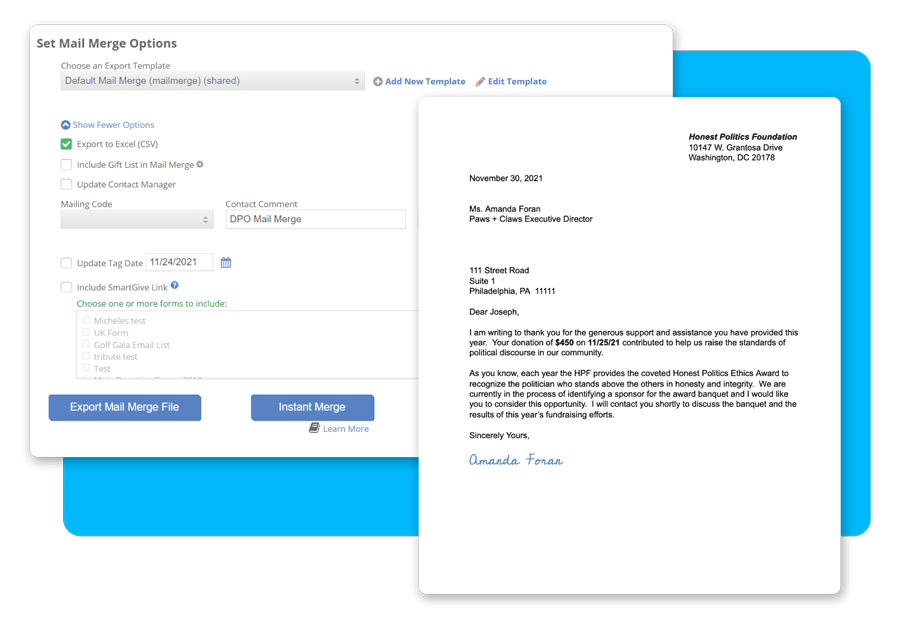 AI prompt idea: Generate three short Facebook posts announcing [Your Giving Tuesday Goal], encouraging donors to contribute or crowdfund through the online form on your website. Ask your tool to suggest three times of day when [Target Donor Group] is most likely to spend time on Facebook.
Include a few reasons why you need their help immediately for the AI tool to summarize.
Try telling it to write with a certain emotion or from the perspective of a beneficiary, to turn your Giving Tuesday fundraiser into a Facebook contest, or to use language that appeals to a certain generation of donors. You can even ask it to include emojis or puns, create your own meme, etc.
3. Content personalization
AI prompt idea: Generate a text message to donors under 25 who donated online last Giving Tuesday, inviting them to reply to give $5 toward [Giving Tuesday Goal]; and provide the option to reply to join [Monthly Giving Program] for $5 per month using their saved card information. Stress the convenience of using a digital wallet to donate, allowing them to complete the entire process from their phone in 2 minutes.
Here's another opportunity for you to leverage your fundraising CRM to create a targeted list of donors to text message, ensuring the extra effort you are making is well-received.
AI prompt idea: Generate a content calendar for the month of November that includes a total of 10 emails and social media posts leading up to Giving Tuesday. Suggest send dates and times based off of this resource: [Insert article about Giving Tuesday best practices]. Use emotional language to inspire donors to join in on the holiday spirit of giving. Make each content piece more urgent as time runs out to reach [Giving Tuesday Goal].
AI prompt idea: [Insert last year's Giving Tuesday announcement] Rewrite this text to resonate specifically with millennial donors who prefer a digital donation experience; generate 50 words for email copy and 20 words for social media copy.
If you're repurposing a letter, handwritten note, poster, or any other physical communication, you can even ask your AI tool to include instructions for scanning a QR code to visit your online giving page and take advantage of a digital wallet option like PayPal or Venmo. Improve your campaign performance by letting donors scan to give, avoid writing checks, and join a monthly program in minutes.
Feeling fancy? You can generate a QR code to direct anyone who sees it to your nonprofit's custom Giving Tuesday donation page! Try it out: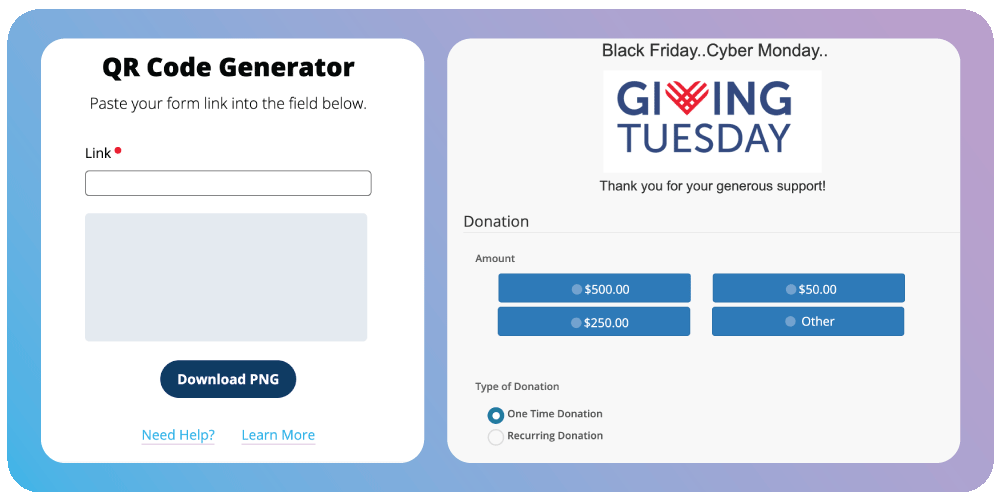 Fundraisers will benefit from brainstorming ways to incorporate AI tools into their next Giving Tuesday campaign. Get your free copy of the Giving Tuesday Cheat Sheet to start planning!
Download the Giving Tuesday
Cheat Sheet