Nonprofit Fundraising Software
Designed to equip fundraisers with the time-saving tools and actionable data that will help them achieve their goals, DonorPerfect fundraising software is the most trusted solution among growing organizations.
Most Awarded Nonprofit CRM Since 2009
35+ Years of Partnership with Our Customers
Over $300 Billion Raised Since We First Began
Discover the DonorPerfect Difference
See why over 10,000 nonprofit organizations worldwide choose DonorPerfect.
PEOPLE-CENTRIC DEVELOPMENT
We're 100% employee-owned, which means our customers are our stakeholders. That's why we involve them in everything we do and have implemented over 800 of their ideas into our products since 2016.
A PARTNER IN YOUR SUCCESS
We've got your back! From our tailored-to-you onboarding experience to our top-rated Support Team, you're fully supported in every goal you set out to accomplish from your first day and well beyond.
MONTHLY, CONTRACT-FREE PRICING
We believe our users should stay with us because they want to, not because they're locked into a contract. 93% of customers stay with DonorPerfect because we never stop working to earn their business.
15
hours saved weekly on data entry tasks
90%
of monthly donors are retained
50%
conversion rate for crowdfunding emails
15%
average increase in funds the first year of using DonorPerfect
59%
retention rate for repeat donors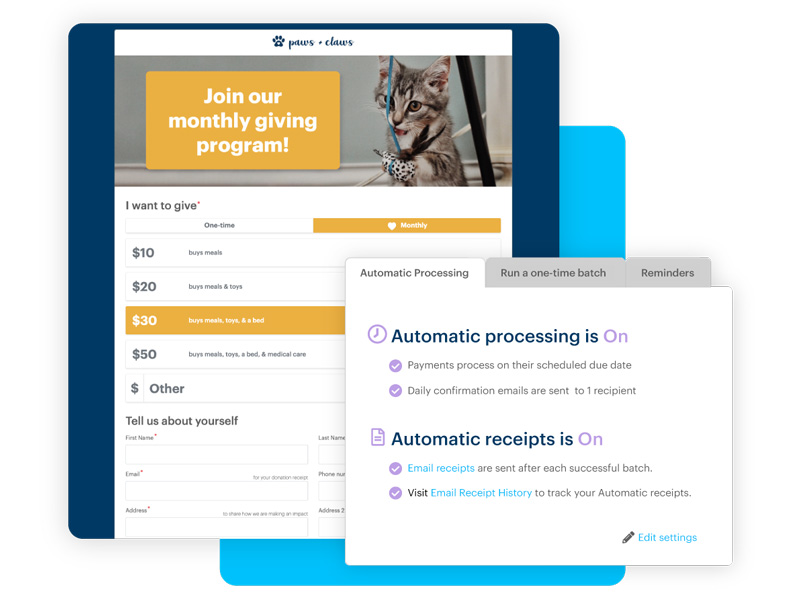 Achieve More Through Automation
Automatic monthly giving
Process recurring donations without lifting a finger.
Customizable online forms
Create branded online donation and registration forms donors will trust.
Task management and alerts
Instantly assign tasks to your staff the moment your specified criteria is met.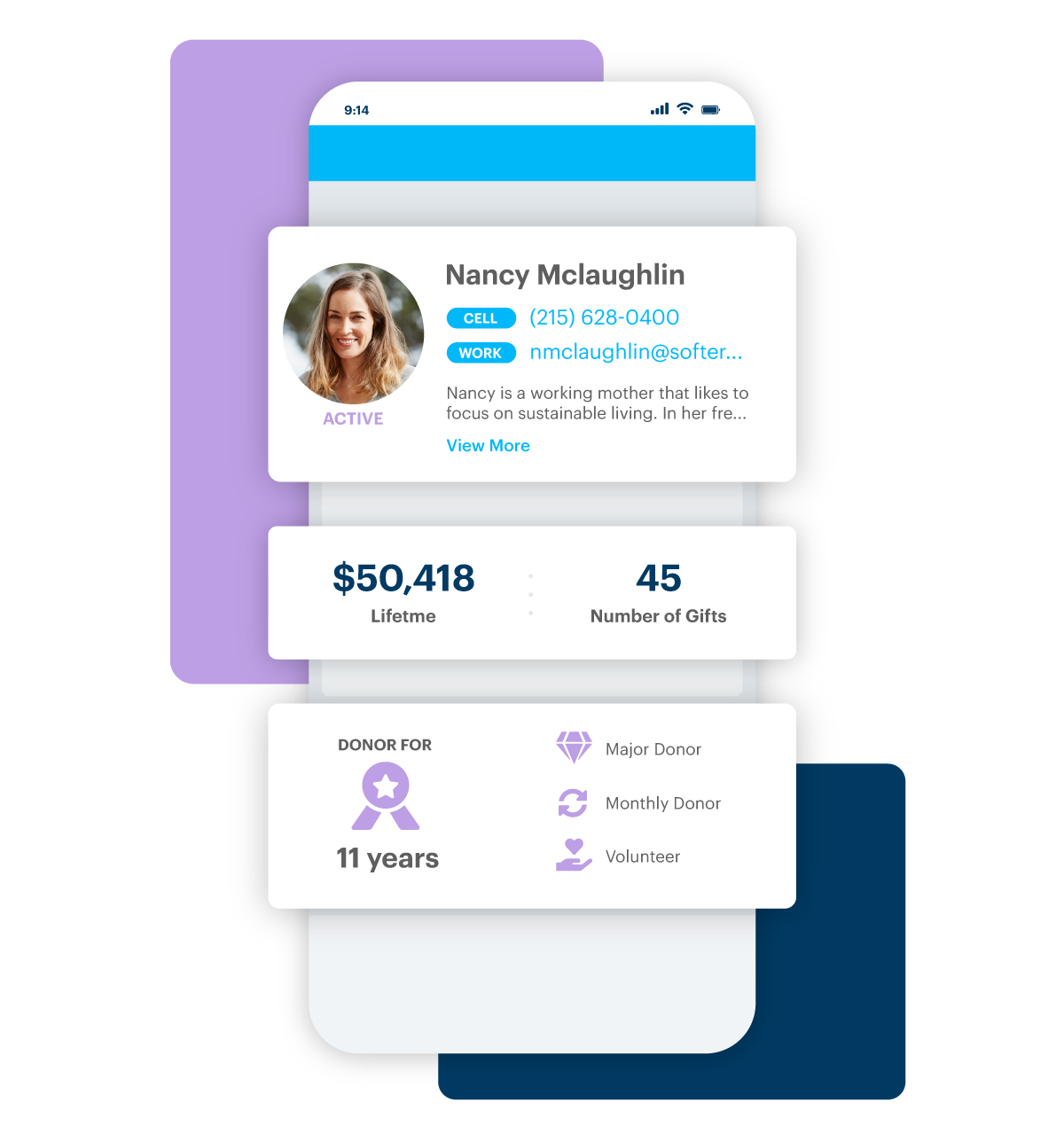 Align Around Your Greatest Goals
Crowdfunding
Exceed goals by empowering donors to fundraise with you.
Dashboard analytics
Keep your team informed with your latest metrics using a shared dashboard.
Mobile fundraising app
Access your data and process payments anywhere.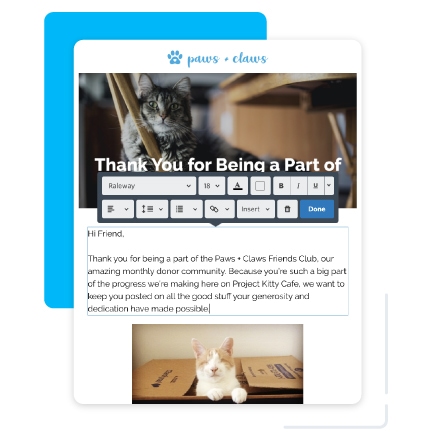 Nurture Donor Relationships
Constant Contact email marketing
Segment email messaging for maximum impact and track success.
Seamless letter and email personalization
Effortlessly merge donor and gift data into all your communications at once.
Event and auction management
Host engaging events with tools that make overseeing them easy.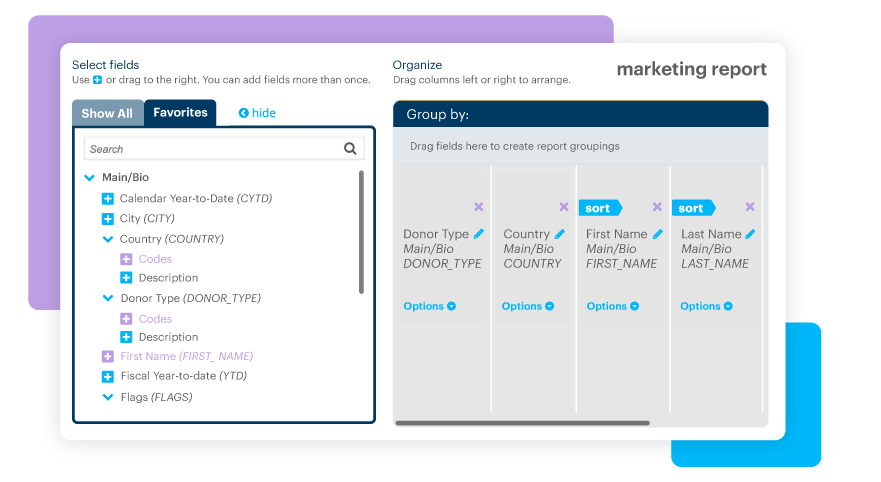 Make the Right Moves with Reporting & Analytics
Over 70 nonprofit reports
Stay informed of your donor retention, campaign success, and more.
Report builder and scheduler
Group, sort, sum, or average your data, then send to stakeholders in intervals.
Donor targeting and filtering
With limitless data fields you can create, you can group virtually any information.
Keep Growing with DonorPerfect's Goal-Based Integrations
DonorPerfect empowers nonprofits to strategically expand their system and staff capabilities to pursue their goals through 35+ tools, features, and solutions that integrate with DonorPerfect.
I love the simplicity of DonorPerfect on my end as a user. I have worked with other programs, and DonorPerfect has, by far, been the easiest to learn and to integrate. But more than that, I love the people who work for SofterWare (developers of DonorPerfect). I feel like I know the people on the team."
– Alyssa Acosta, Development Associate, Colorado Open Lands
Find out if DonorPerfect
is right for you
Register for a demo at donorperfect.com or call 800.220.8111.