Fundraising Software Pricing Guide
Packages are available for any size organization
with prices starting at $99 per month.
Contact us to request your custom price quote!
GET YOUR FREE QUOTE
System features
DonorPerfect is designed to be customized for any size nonprofit organization.
You hold the power to choose the package and add-ons that fulfill your specific needs.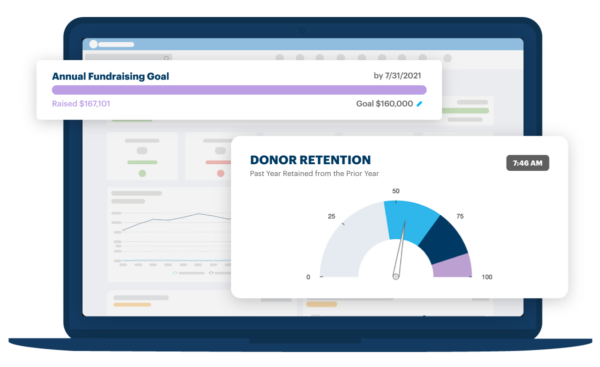 Included in all package options:
Customizable Fundraising & Donor Management System
Comprehensive Reporting & Dashboard Analytics
Integrated Online Donation Forms
DP Mobile App For Android and iOS
Constant Contact
Integrated Payment Processing (No monthly fees)
Receipting & Acknowledgements
Live Chat Support
Live and On-Demand Webinars
Hands-on Onboarding
Partners & integrations
Integrate popular add-ons like text-to-give, social media campaigns, address updater, Intuit QuickBooks, and more.
See why we outrank the rest
See why nonprofits stay with us
DonorPerfect boasts a 93% customer retention rate, and on average, our customers stay with us for at least 13 years. Why?
Nearly half of new DonorPerfect users see a return on their investment in six months or less. In fact, research shows that organizations raise 25% more funds in their first year with us.
We're able to manage our donor database in a way we never could and thus serve our donors more personally because of DonorPerfect. And [their] support team is a treasure! Thanks for bringing us into the 21st Century!"
– Tom Michaels Zahradnik, The Sound of Life Radio Network
In the first year, we increased gifts over 80%! After two years, we more than doubled our donor database. DonorPerfect is a MUST for people who need to know their donors better and maximize their fundraising."
– Jack Kalla, AISH
I've been very happy with DonorPerfect. I think it's a great solution for nonprofits of all sizes. You really get a lot for your money."
– Stephanie Cory, Kendal Corporation
Get a personalized price quote
A DonorPerfect representative will reach out to discuss your organization's fundraising needs/goals, and provide a tailored, no-obligation price quote for our services that match your needs.