December 22, 2020 | Categories Donor Management, DonorPerfect Fundraising Software, Featured, Fundraising Strategies, Monthly Giving
5 Ways to Cut Fundraising Expenses and Increase Revenue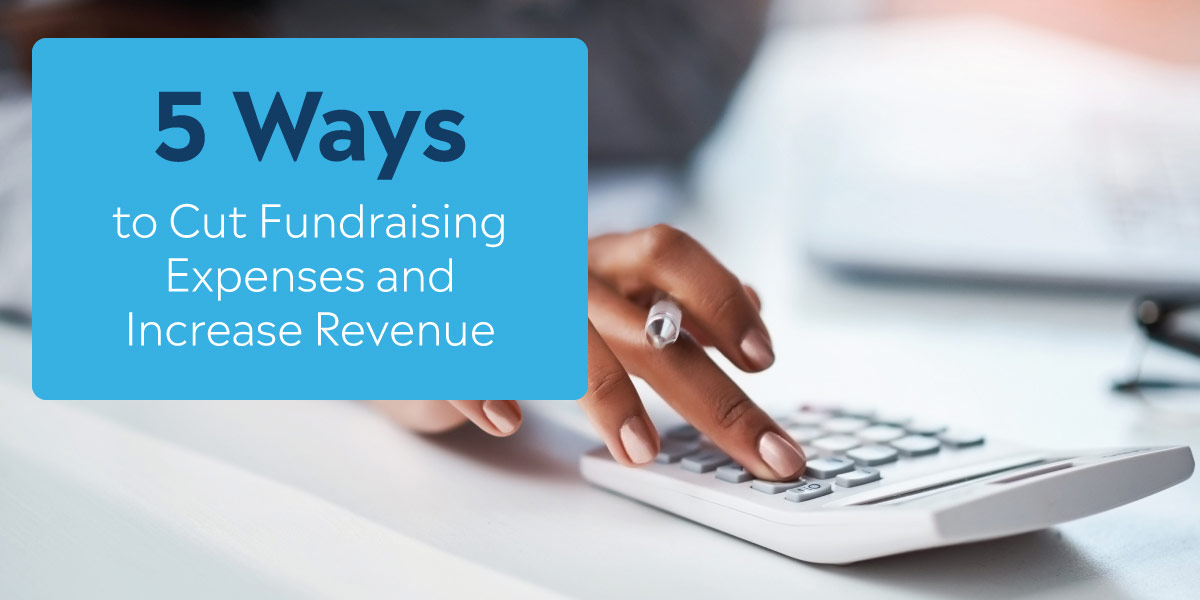 If your organization is looking for ways to cut fundraising expenses, you're not alone. Many nonprofits elect to reduce costs since that's easier and more immediate than trying to raise more money.
Using forms to manage typical nonprofit functions is an innovative low-cost way to achieve your fundraising goals and program outcomes. Let's take a look at five ways you can increase your fundraising profit by reducing expenses and maximizing your revenue using all online methods.
1. Leverage Volunteers to Save on Staffing Expenses
Volunteers are the backbone of many nonprofit organizations. They help with fundraising, administrative tasks, events, marketing, and so much more! While not a replacement for full-time staff, volunteers can help you get through a temporary staff or budget shortage without having to allocate funds. When you automate
volunteer management
tasks, you save even more. Recruiting, scheduling, and tracking your volunteers can be done virtually through online forms. You'll save valuable data entry time and free up staff for other functions by having your volunteers enter their availability and interests into your online application. Volunteers can also submit hours worked against different events and projects in your organization using an online form.
2. Grow Your Donor Base Using Email Cultivation
Donor attrition is a huge problem in the nonprofit industry. Only a small percentage of donors who gave to your organization will donate again. How can you sustain growth by gaining new contacts and converting them to donors? Email cultivation should be part of your donor acquisition plan. When visitors access your website, provide an email signup form for them to subscribe for more information about your nonprofit's mission and programs. Without an email signup form to collect contact information, you're missing out on the potential to grow your donor base exponentially.
3. Don't Leave Money on The Table
Make sure you're getting the most out of the software you use! Not fully utilizing all the features and components of your donor management system is like leaving money on the table. Here are a few valuable DonorPerfect features to make sure you are using. Our data shows that nonprofit organizations that use these features are more successful at fundraising than those that don't.
Payment Processing
How many ways do you collect donations at your organization? Are you missing out on funds because you don't accept credit card and ACH payments? Every DonorPerfect system includes a payment processing account that lets you accept credit card and ACH payments using customizable online forms, via our mobile app (credit card swiper), or over the phone. You can also use recurring gifts processing to set up a Monthly Giving program. All these methods put donor payments and contact information directly into DonorPerfect. No confusing imports are needed! If you need help activating your payment services account, reach out to your account manager. They can get you started.
Constant Contact
DonorPerfect also includes Constant Contact integration that helps you build segmented lists using any filter in DonorPerfect and send beautifully branded emails to supporters. They offer a range of templates you can easily customize or you can create your own. Plus, by leveraging email more and printed outreach less, you'll save money on printing costs and extend the life of your printing equipment.
FREE Live Training on DonorPerfect Features
Take advantage of the free training that DonorPerfect offers. Our Foundational Series is a collection of 15 free, live webinars that takes you through basic and intermediate functions in DonorPerfect. Training can dramatically improve how quickly you or your team can implement your fundraising software and take full advantage of all of its features. Confident, well-trained staff members are better retained and less likely to leave the organization over frustrating or confusing software and processes.
4. Use Surveys to Help Evaluate Programs and Justify Expenses
How often do you evaluate your annual budget? Are your program expenses in line with where they need to be? Is now the time to launch specific initiatives, or should you hold off? Surveys can help you evaluate these items. Surveying donors about how likely they would support specifically planned expenditures, programs, or services can help you prepare for your fundraising needs in the future. It can also help you avoid costly projects that won't have the financial support from your constituents.
5. Offer Convenient and Secure Online Donations
Now, more than ever, you need a way to fundraise virtually. Donors expect to have the convenience of online payments when contributing to their favorite causes. By offering supporters a way to use their credit cards to donate online, you'll reduce fundraising costs, increase overall donations, and reach new donors. The best way to collect donations virtually is to use a donation form that accepts credit and debit cards and ACH (e-check) payments.
Challenge: Let Forms Do the Hard Work For You
Is there a creative way you can let forms do the hard work for you so you can achieve your mission? How can you automate a task to save time and money? For more ideas on how you can use forms to help manage your nonprofit, save time, and reduce fundraising expenses, check out the DP Online Forms Success Hub.