October 30, 2020 | Categories #GivingTuesday, DonorPerfect Fundraising Software, Featured, Fundraising Strategies, Nonprofit Technology
How to Launch a Successful Small-Dollar Donation Giving Tuesday Campaign in 4 Easy Steps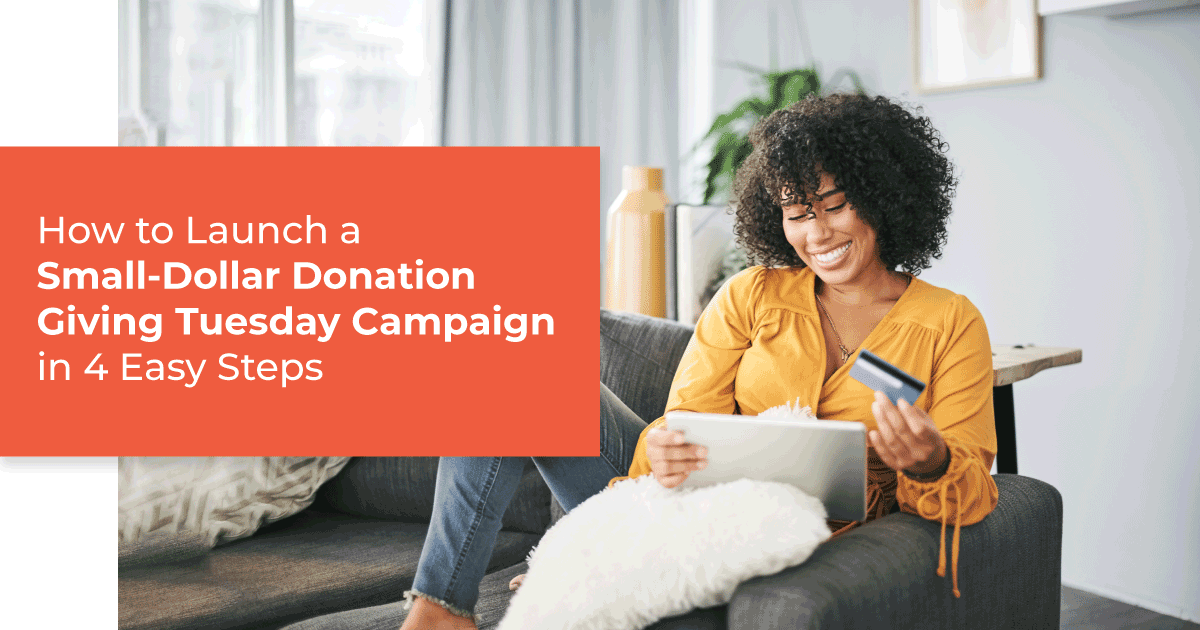 Between the hectic schedules of #nonprofitlife and the holiday season in full swing, coming up with Giving Tuesday ideas that feel doable can be a challenge. Not to mention navigating an extra campaign in the wake of a global pandemic. How much should you ask for? Should you be asking at all?
The truth is, it's always a good idea to join in on the most social giving day of the year. Giving Tuesday is a goldmine for new donors, after all. And fortunately, Giving Tuesday participation doesn't have to be a hassle when you choose to set your sights on small-dollar donors. Take it from Tamar Paltin, Social Media Manager at New Leash on Life USA. Her light-handed approach to crafting a small-dollar donation campaign garnered big results, raising 43% over New Leash's Giving Tuesday goal.
3 benefits of a small-dollar donation Giving Tuesday campaign
This strategy is gaining momentum because, well, it works
Call it the "Bernie Effect" or chalk it up to the rise of socially-charged millennial and Gen Z donors, but small-dollar giving is beginning to reach beyond politics. As the pandemic continues to put a strain on donors' ability to give, some nonprofits are tapping into this fundraising strategy by asking lots of donors to "chip in" small dollar amounts to help them achieve high-dollar goals.
It's an amazingly inclusive way to rally (and grow) your community
Open your nonprofit up to a whole new world of donors, passionate people who care about your cause and are willing to give what they can, when they can. More folks than ever before will feel good knowing they can rise to the occasion by supporting your mission at that moment in the way that you've asked them to.
Engage the next generation of loyal donors
While they may not be able to give much, Gen Z donors will give to your small-dollar campaign, and more importantly, they'll share your campaign on social media with their family and friends. Many will even create a fundraiser for your nonprofit. All you need to do is create a crowdfunding campaign and let these digital-savvy D.I.Y. fundraisers do the rest.
How do I create a small-dollar donation campaign?
A small-dollar donation campaign is a fundraising strategy typically used in political fundraising. Nonprofit organizations of all sectors can leverage the appeal of small-dollar donations to attract new donors and engage existing ones.
This type of fundraising campaign can be set up and launched in 4 simple steps:
Step #1. Ask these three essential questions
Before Tamar decided to pursue a small-dollar donation campaign, she considered the person at the heart of her Giving Tuesday campaign: the donor. "We focus on knowing who our demographic is, who is in our community, who we serve," Tamar says.
Tamar's Giving Tuesday campaign was inspired by the answers to these 3 donor-centric questions:
Who is our donor?

The New Leash on Life USA donor community is largely composed of women between twenty-five and thirty-five who care about social justice and the dogs and inmates supported by the organization's comprehensive prison post-release support programs.

How do our donors engage?

By looking at New Leash's social media analytics, Tamar determined their largest engagement generator is Facebook, so that platform is her main focus on Giving Tuesday.

How much can our donors give?

Tamar reports that most New Leash donors give small amounts, so she aims to reach a large number of small-dollar donors to achieve maximum impact.
This deep understanding of the community that champions the work of New Leash on Life USA drives campaign decisions not just on Giving Tuesday, but all year long. Because Tamar and her team take the time to know the who in regards to their campaign, determining the how becomes a breeze.
When she knows she's working with a demographic that's emotionally invested in New Leash's mission, active on social media, and typically gives smaller donations, Tamar can pursue a small-dollar donation campaign for Giving Tuesday with confidence.
Step #2. Ramp up your social media game with recycled content
No matter what your Giving Tuesday campaign entails, staying consistent on social media leading up to the big day is a must. Yes, even in the midst of a global pandemic. Prison is where most of New Leash's stories take place, but their team was unable to continue their work due to COVID-19 restrictions.
"Our focus has shifted to community engagement, working on food drives and pet food pantries, and things that were not our normal go-to, but we want to maintain that connection," Tamar explains.
While creating new content presents challenges in the age of social distancing, Tamar leans on creative ways to refresh the years of photos and impact stories that her donors love. Tamar is committed to continuing engagement on social media leading up to Giving Tuesday.
She says, "My goal is a post a day, so every single day there is something new on Facebook. Now with no dogs in prison and no new class, people think, 'Well, what are you sharing? There's nothing going on.' There's a lot going on, and we're actually doing a lot of reframing old stories or touching back on old stories."
In short, her advice is to:
Keep the momentum on social media by setting a daily or weekly post goal
Find fresh ways to repurpose the content you have (new captions, special updates, etc.)
Share about how your organization is adapting to the new normal (Has your mission expanded or pivoted since the start of the pandemic?)
Engage your community with these donor check-in ideas you can implement today
Step #3. Assemble a lean Giving Tuesday campaign team
Breathe easy because your lean team can totally pull this off!
"This campaign was put on by a core group of individuals who created a bunch of images for social media and shared them throughout the day," Tamar says. "Before Giving Tuesday, we sent our supporters an email letting them know that we'd be asking for a small amount on that day.
Quick tips for your Giving Tuesday team:
Host a brainstorming session to collect ideas for:

A Giving Tuesday campaign theme your donors will love
Impact stories that would make awesome social media posts
How you plan to get the word out to as many people as possible

Set up a shared spreadsheet using something everyone can edit in real-time like Google Sheets and work backward from Giving Tuesday, planning which days you'll engage donors on which channels. (In addition to social media, you'll want to send a reminder email to let donors know you're participating in Giving Tuesday this year, as Tamar mentioned.)
Download these Giving Tuesday template kits to help your team create buzz before, on, and beyond the big day. These template kits handle everything for you - just add your theme and campaign details and you're set!
Step #4. Build around a fun and resonant small-dollar fundraiser theme
One of New Leash's first Giving Tuesday campaigns was Which is your $6 worth? "Our goal was to raise $6,000 in one day for our sixth anniversary in $6 increments," Tamar explains. "We tried to find a cute way to get donors to give in small amounts."
Her team paralleled dogs named after candy and coffee and asked donors what they'd rather spend their $6 on - saving Rolo's life (shown below) or buying a pack of Rolos. Looking at that adorable face, what do you think donors chose?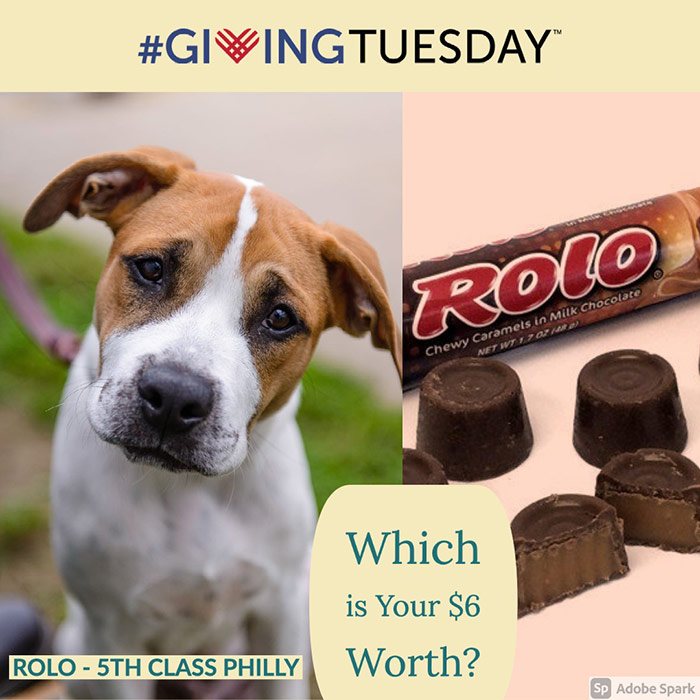 By pairing a catchy campaign theme with an attainable ask, New Leash on Life USA raised a total of $8,573 in a single day. That's 43% over their Giving Tuesday goal!
Are small-dollar donors a good focus for your organization? Considering the weight of the COVID-19 pandemic on demographics of all kinds, that focus may be worth a try. If so, follow the lead of New Leash by:
Choosing a small amount that your donors (and their friends) can afford
Drumming up a campaign theme that resonates with your donors
Asking supporters to share your social media posts to expand your reach