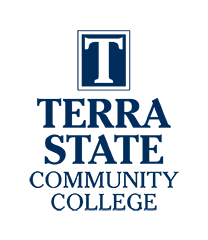 Terra College Foundation Impresses Alumni with DP Mobile Swipe Device at Annual Fundraising Event
The Terra College Foundation supports the students and educational programs of Terra State Community College. It currently manages about 2,600 donor records.
Business Challenge
Their old system used to track fundraising data was not designed to meet the specific needs of nonprofits. They also required a method to process transactions/donations on the spot for their annual golf outing.
Cory Stine has been the executive director of the Terra College Foundation for one year; Lonnie Shuey joined as the administrative coordinator shortly after. When they started, the system they used to manage their donors' fundraising activity was not specifically designed for nonprofits. Cory described the issues they were encountering, "It didn't have the robust CRM features that nonprofits need to be really effective. Donor management, communication tracking and advanced reporting were difficult, and there was no mobile solution, which we knew would be really helpful for our foundation."
Cory and Lonnie also spoke about an annual golf outing hosted by their foundation since 1998, and their need for a more advanced solution in managing the event and tracking revenue brought in during the event, "We wanted to do on-site donations and processing for our golf outing. We felt that giving participants easier ways to get involved and make payments would increase not only total funds raised but the quality of the event from their standpoint as well."
Solution
DonorPerfect to manage all fundraising activity and the DP Mobile Swipe Reader to easily take transactions/donations, which automatically syncs with donor records in DonorPerfect.
A sister college to Terra recommended DonorPerfect as a solution. After researching, Cory, Lonnie, and their team liked what they saw. "The company behind the product, SofterWare, has a great reputation. We read about the great Support Team, and the pricing was competitive to what we needed. We looked at Raiser's Edge as well, but it seemed much more involved. It would have required more resources to manage, while DonorPerfect was more self-sufficient."
In regards to the golf outing, DonorPerfect had the perfect solution. Lonnie explained, "I called support saying that I wanted to do on-site donations at an event. They told me that they just released their new DPMobile Swipe Reader for that exact purpose. And I said, 'Absolutely! I'll take one!' and three days later my mobile swipe device arrived. It plugged right into my iPad and I could collect payments and donations on the spot for the golf outing, with all of the data syncing back into DonorPerfect. We tested it out and it worked perfectly right away!"
Key Results
The positive results and feedback came in right away in response to the swipe reader and the golf outing event. Cory shared, "Our board of directors absolutely loved it. They said it was a brilliant idea and wish they would have thought of it years ago. In the past, we used to call back to our cashier at the college and manually enter the credit card number if someone wanted to pay that way. Credit card transactions were almost non-existent at this event."
"This year we offered the ability to pay for all the charges at the check-in. We had about 120 golfers and roughly one-third used the credit card swipe. They could pay for all of the field games like the longest drive contest, closest to the pin, etc. We had team captains paying for their whole team's round of golf so that four people didn't have to come up at once. It was fantastic, a much more enhanced player experience this time around. In fact, we had so many people lined up to use the swipe reader that we purchased a second one a few weeks later so that we could process them even faster for our future events. And all of the payments are posted to the corresponding records in DonorPerfect instantly. If they didn't have a record, it was very easy to create a new one."
• DonorPerfect provides key communication tracking, advanced reporting, and mobile payment solution functionality needed for events.
• DP Mobile Swipe speeds payments at events, adding convenience for attendees and saving staff date entry time.
• DonorPerfect staff enable smooth implementation for immediate success.
Overall, our implementation has gone very smoothly. The introductory webinars are thorough and helpful, the technical support has been very responsive to our needs, and everyone at SofterWare has just been very helpful. We're still getting our feet wet with some of the more advanced features, but there's a lot to look forward to. We highly recommend DonorPerfect."
– Cory Stine, Executive Director of the Terra College Foundation