September 7, 2021 | Categories Donor Management, DonorPerfect Fundraising Software, Featured, Fundraising Strategies, Monthly Giving, Nonprofit Technology
How to Start a Monthly Giving Program in 5 Simple Steps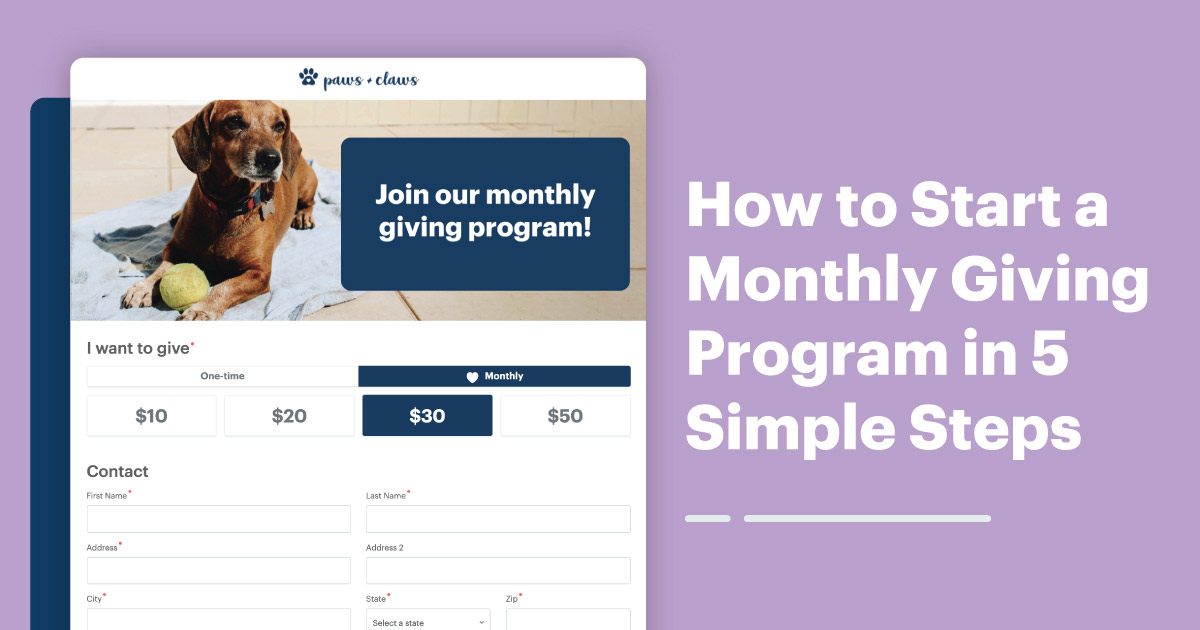 Six out of every ten donors will stop giving to your organization next year – but you can reverse that trend with the right fundraising strategy. Your existing donors actually have the most potential. They know you, they gave to you, and they most likely want to give more. It's just a matter of retaining them in a way that's manageable for everyone.
Enter monthly giving.
Who are your monthly donors?
Recurring donors are typically small donors, oftentimes on a fixed income. They want to support your organization, but aren't able to write big checks.
Why take on a monthly giving initiative?
On average, recurring donors give more money for more consecutive years than single-gift donors. Plus, for many donors, it is easier to donate a small amount every month rather than give a large, one-time gift.
With the revenue generated by a recurring donor program, you'll be able to focus more on your mission, prepare reliable budgets, and better plan your other programs.
Your monthly giving toolkit:
Here's how these tools come together to quickly assemble your new program:
Monthly Giving Step #1
Have a team member take the lead
No matter the size of your organization, it's crucial to have one person ultimately accountable for your recurring donor program. Think of this person as the overseer of the various moving parts so that everything works together.
The person or department accountable will also need to be close to your website administrator, DonorPerfect (or your database) users, and your accounting and finance specialists to ensure that payments are processed successfully. They must also be able to troubleshoot, follow up, and understand the processes within your organization to continually improve and grow your monthly giving program.
Monthly Giving Step #2
Give your monthly giving program a name
Recurring donors are a group of loyal supporters – they should be treated like the VIP they are! That's why we recommend coming up with a unique name for your program. Sit down with your team and brainstorm some possible names that tie into your mission.
Put your spin on these examples:
Circle
Friends
Advocates
Sustainers
Partners
Guardians
Champions
Monthly Giving Step #3
Determine your monthly gift processing method
Once you're ready to start requesting recurring donations, donors will provide their credit card or bank account information to process monthly payments. Once that payment information has been entered – through a form or manually – you can begin processing these donations each month, based on a schedule you set up.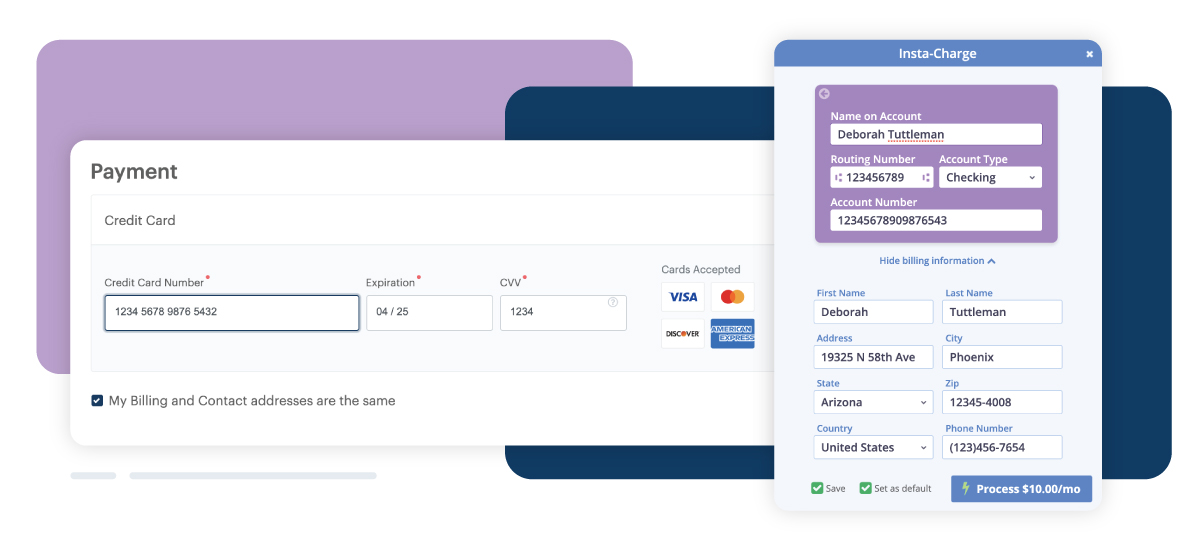 Among DonorPerfect users, 80% of recurring donors give through credit or debit cards, and the other 20% give through their bank account (an "ACH" transaction). As you expand your monthly giving program, you may want to encourage direct bank debits, as they typically require less updating.
How to collect monthly gifts
Keep in mind: your monthly donation program will have better, long-term results when your solicitations and online forms offer a recurring gift option.
A standard donation form on your website – Add a monthly giving option to your regular website donation form, and make sure it's easily visible. Allow the donor to make that choice and consider making the monthly option the default setting.
A special monthly donation form for email solicitations + more – Create a special recurring giving-only page (no one-time donations) so that you can link to it in email and social media campaigns. Gift information collected through your DonorPerfect Online Forms is easily downloaded into your database.
Monthly Giving Step #4
Ask donors to give monthly
The success of your monthly giving program will be based on your organization's unique database, the motivation behind your email campaigns, and the frequency at which you ask donors to join your program.
Other aspects of asking:
Timing
If a donor first gives online, ask them to join your recurring donor program in the welcome email.
If a donor first gives via direct mail or another source, mention the monthly giving program in the welcome letter within 72 hours after the first gift is received. Then, send a monthly donor request in a letter or email within the first month of receiving the donor's first gift.
Amount
When deciding your lowest ask amount, never go lower than $5 or higher than $10; asking low will allow more donors to join. Remember, bring in recurring donors first, and you can upgrade them later.
The average gift size for a specific donor can help you decide your ask amounts. The average itself can be its own gift amount, along with a note on your form that it is the most common gift. This will incentivize others to choose this amount.
For another gift amount, you could find donors with an average amount between $0.01 and $99.99 and divide the average amount by three. On average, the monthly giving amount across all nonprofit sectors is $20-$23.
Monthly Giving Step #5
Prepare to launch your monthly giving program
As mentioned, your monthly donors are special to you and should be treated accordingly. Here are some ways you can follow up with donors to show your appreciation once they've joined your program or given their latest gift.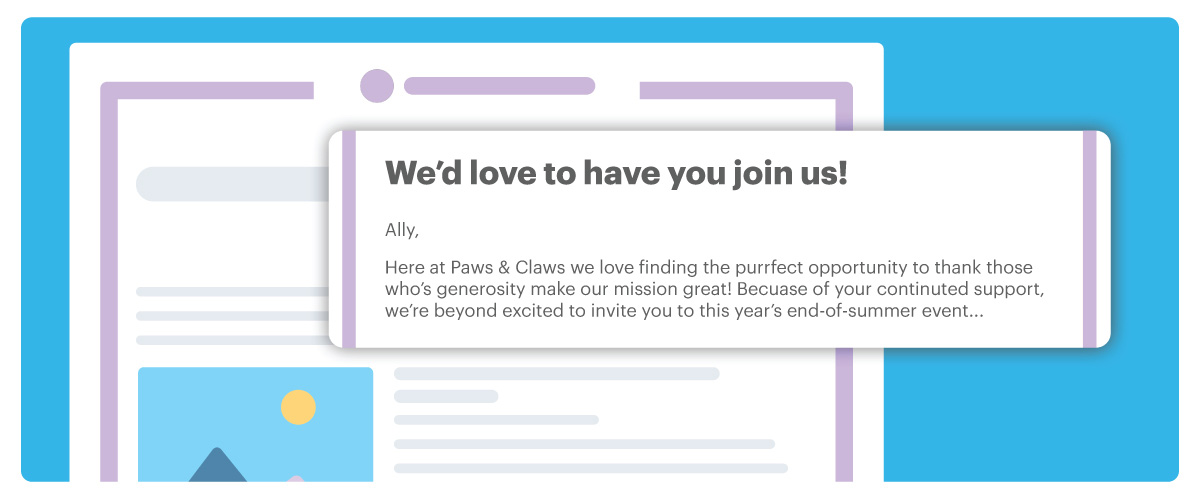 Thank your recurring donors multiple times throughout the year, not just when they first donate. Acknowledging gifts strengthens donor relationships when you use this opportunity to communicate the change they've created.
Send an email receipt confirming their payment. Make sure to thank them for their partnership with your organization, and include information about your recurring giving program, i.e. Will they receive a tax letter every January? Is there a special phone number or email to contact them about their recurring donations?
Think about how you can set this group apart from your other donors. Consider inviting your monthly donors to special events, recognizing them in your annual report, etc.
Once you've begun collecting monthly donations, track the success of your program by creating a coding system to segment your monthly donors by source and type in your database. To determine your codes, consider the following questions:
What solicitation appeal (if any) did the donor respond to when joining our program?
What was the month and year of that specific appeal?
Did we send the appeal through direct mail, email, or another channel?
Read 7 Best Practices for Automatic Monthly Giving »
For a streamlined program that brings in serious revenue, your approach to recurring donors should fit in with your overall fundraising strategy – say thank you, tell impact stories, track your progress, and set specific goals.
Remember, recurring programs make it easier for donors to give at a comfortable level, and you can show appreciation by letting them know what you're able to do with their ongoing support. By allowing small donors to stay with your organization longer, they can ultimately make bigger contributions.
Make your path toward monthly giving success with DonorPerfect