February 21, 2023 | Categories Donor Management, DonorPerfect Fundraising Software, Featured, Fundraising Strategies, Nonprofit Technology
Wealth Data: What It Is, How to Access It, and How to Prepare for a Professional Screening
When I was a fundraiser for an academic medical center, some of our care providers worked with the development office to help us find good prospects for major gifts. What our team wanted were people who explicitly indicated – unprompted – to their physicians that they were interested in giving. We wanted to work with prospects who believed their care made a difference in their life, and who were interested in paying it forward by supporting medical research and other healthcare programs.
Often, the suggested prospects we received from the care providers weren't quite what we were looking for. After some gentle conversations, including questions like, "What did you notice about this person that indicated they might want to give?", some of the care providers had answers like:
"She had an enormous diamond ring!"
"Every year, he takes his whole family on a trip to the Bahamas."
"Did you SEE their car in the parking lot?"
To the untrained eye, there are many indicators of debt, lavish spending, and life priorities outside of giving that look an awful lot like indicators of wealth and potential philanthropy. What data can actually help determine if someone in your community has wealth and is interested in giving back? Read on for tips on what wealth screening is, how to use information that's already in your nonprofit CRM, and how to prepare for a professional wealth screening if your nonprofit could benefit from having more major gift prospects.
What exactly is wealth screening?
For nonprofits, wealth screening is a process by which organizations use publicly available data – combined with information from their own databases – to determine who has both the capacity and the inclination to give.
Giving capacity refers to the prospect's wealth, including income bracket, real estate holdings, participation in the stock market, and other data that point to the potential ability to make a gift of significance.
Giving inclination refers to whether or not the prospect has a history of giving or has otherwise expressed interest in being philanthropic. Data to support inclination might include political giving, if the prospect is listed in other nonprofits' donor recognition programs, and qualitative data from conversations and visits.
How can nonprofits access wealth screening data?
Wealth screening solutions provide a number of services to nonprofits, including aggregating publicly available data into useful and practical information fundraisers can immediately use. For example, DonorSearch has been particularly useful in helping DonorPerfect clients discover major donors who might not yet be in their database, but have indicators of wealth and a particular interest in their mission.
DonorPerfect has partnered with DonorSearch to integrate donor prospect screening functionality directly into your fundraising CRM so that useful, visual cues about giving capacity, giving inclination, and other wealth screening data are available on donor records in your system.
Discover major donors in your database today with DonorSearch!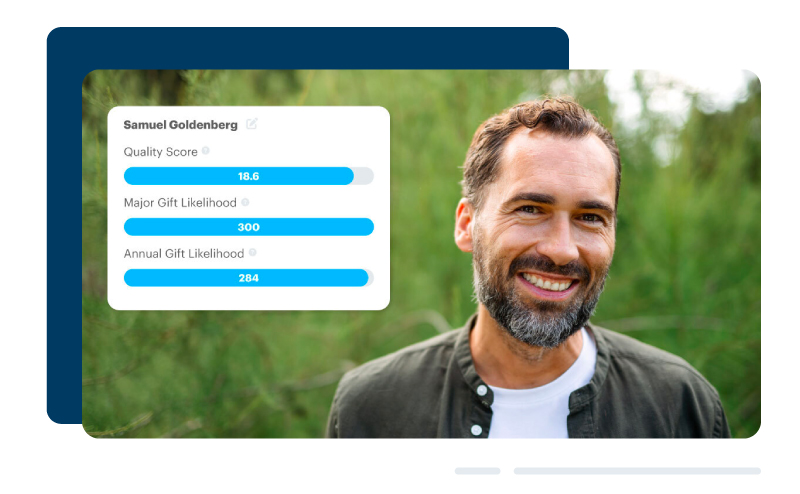 How to prepare for professional wealth screening
If you're interested in using a wealth screening solution to support your major gift fundraising goals, here are six tips for preparing ahead of time to get the most out of your investment.
1. Define what constitutes a "prospect" for your organization
You may be looking primarily for stock market insiders, private business owners, women with deceased spouses over the age of 70, or some other combination of characteristics.
If you're not sure, you can look at your most successful donor relationships as a guide, determining what they have in common, keeping in mind that this is also a reflection of where your organization has focused its past relationship building and solicitations.
Make sure this process involves every part of the development team so that everyone buys into the concept of wealth screening early on. At your next team meeting, consider showing the quantitative value of wealth screening and how it has benefited other nonprofits, and poll your staff to see what criteria they each personally use to determine whether or not a prospect is worth pursuing. You can aggregate their suggestions into a list you provide to prospective wealth screening companies to see if they can give you what you need.
2. Investigate what information best motivates your team
Since the ultimate measure of a successful screening is new prospects identified, cultivated, and solicited, the information you receive from a wealth screening company and share with the team must be digestible and inspirational.
Show team members the type of information that is available from screening companies and see how they react, letting that weigh on your decision-making process rather than forcing people to join committees or sit through multiple sales meetings.
3. Determine what information you already have on file
Look at your donor data to find out what fields you need to update and what you need to fill in, using your investigation as the measure of what you might have at the end of the screening process. This is also important as you begin thinking about how to prepare a file for a vendor to screen, and how to integrate any new information you acquire through the screening process.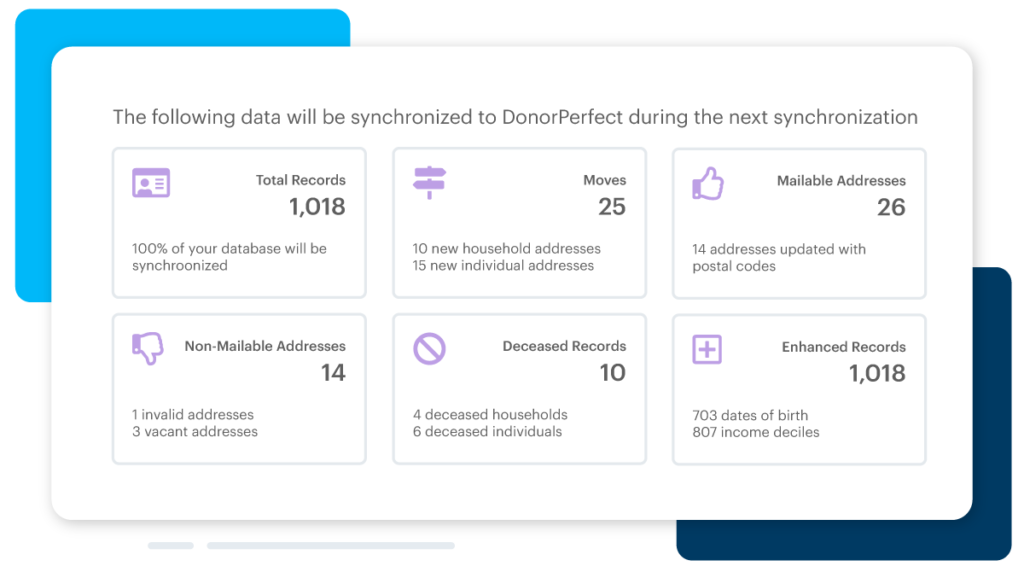 ProspectView offers DonorPerfect users wealth screening options at different price points for every nonprofit's budget and needs. Get started today!
4. Decide how many prospects you need
Nonprofits often wonder how few names they can screen, often to save costs. Instead, customers should determine how many prospects they can effectively manage for the project at hand and run a file of the warmest prospects to arrive at that number.
The cost is always small in comparison to the potential reward. It also increases the likelihood of a successful screening by only providing the information you'll find useful, and avoiding providing the information you've previously gathered yourself.
5. Talk to the screening experts
Tell each company you want to vet what you are looking for and ask if they can provide it. The screening companies can help you to determine the size and type of file you need to run in order to come up with the number and type of prospects you desire.
Make sure the data provided will play well with your CRM! There's nothing more frustrating than investing in useful data that just creates more work for you. Ask each company you're vetting if they've worked with your CRM in the past and whether their screening data can be automatically uploaded into your system.
For DonorPerfect users, DonorSearch integrates directly with your system, and they offer a variety of subscription options at different price points, so you only pay for what you need.
6. Write your implementation plan
No need to wait until you have your shiny new data to come up with a plan for how to use it! An implementation plan doesn't need to be long or take forever to draft. Rather, it can simply and briefly lay out the goals of the project, and assign responsibilities to your team (e.g. data review, data integration, prospect management, etc.).
Ideally, this plan should be approved by the head of the development team, shared with other team members, and ready for action upon receipt of the screening results.
While the "millionaire next door" trope may be a bit cliche, when you thoroughly investigate publicly available information and your own data, you'll likely find it's true! There are diamonds hidden in your data – check out our free guide, How to Discover Major Donors in Your Database Today, to take the next step toward closing transformational gifts.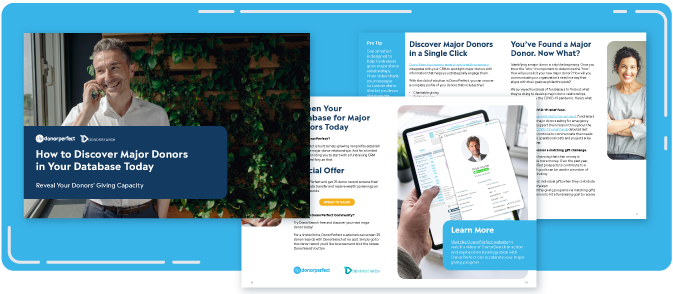 Download How to Discover Major Donors in Your Database Today