April 4, 2016 | Categories Donation Processing, DonorPerfect Fundraising Software, DonorPerfect Update, SofterWare Products
Release Announcement: Formatting Currency Fields and Accessing the Dashboard Just Got Easier
A new version of DonorPerfect was released this weekend that gives you quicker access to the Dashboard, the ability to add proper currency formatting to your export files and other helpful export template improvements. You can read about the changes below:
Quicker Dashboard Access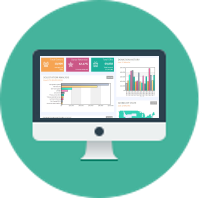 Would you like a quicker way to access the Dashboard screen? If so, you aren't alone. In a popular suggestion submitted via Suggest and Vote, many of you said you preferred the ability to be able to navigate directly to your Dashboard board without having to go through the Home Screen first. In this release, you can now set the 'Home' button on the main menu to go directly to the Dashboard screen. Here's how:
Click 'Settings (Gear icon) > Parameters > User Settings'
Check the box next to 'Set Home Button to Dashboard'
Click 'Save' at the bottom of the screen.
You'll need to logout and log back in for this to take effect but once you do, clicking the
'Home'
button will take you directly to the Dashboard screen.
Two New Export Formulas for Currency Formatting
No more formatting letters or spreadsheets manually to include the correct currency symbol, "thousand" separators and decimals in your currency fields. This release includes two new Export Formulas to add to your Export Templates for proper currency formatting.
Formula #1: General – Currency Symbol
The General – Currency Symbol formula will create a separate currency type column in your export files. The currency type in the column corresponds with the gift given for multi-currency systems (e.g. $ € £ ¥), or with the currency symbol value set in General Parameters for single currency systems. This is especially useful if you have multiple currencies, want to retain the gift amount as a number format, and still be able to perform calculations on it.
Formula #2: Conversion – Currency Value
The Conversion – Currency Value formula exports data from any field in proper currency formatting, with commas, decimals, and a leading currency symbol. It converts the number field to a text one. This is especially useful when you want to insert gift values and other formatted currency items into a thank you letter, receipt, or other communication. Using this formula, a value of 15000 in the Gift Amount field will display as $15,000.00 in your export file.
REMINDER: If you use these currency formulas, don't forget to adjust your Thank You Letter templates and other donor communications to remove any currency symbols you've manually added.
TIP: Be sure to check out Adding Currency Field Formatting to Your Export Templates for full, detailed instructions on using this powerful feature.
More Export Template Improvements
These two new Export Formulas weren't the only improvements to Export Templates. The ListAllEmails function now pulls all emails that are listed for a donor, and not just the one on the main screen. The same is true for the ListAllPhones function. All phone numbers for the donor will be returned when using this formula.
Release Notes
Read about additional enhancements and fixes for this release in the DonorPerfect 2016 Release Notes in our DonorPerfect Community Knowledgebase