August 16, 2023 | Categories #GivingTuesday, Featured, Social Fundraising
Engaging Donors Across Generations On Giving Tuesday and Beyond
Understanding your donors' unique needs and preferences is essential to building lasting relationships. Donor segmentation based on common demographics, such as previous donation amount, income level, and geographic location, is a powerful method to achieve this goal. One of the most valuable approaches is segmenting donors by generation.
Each generation brings different experiences, values, and giving habits. By understanding these differences, you can improve donor retention and create a more engaged and committed supporter base.
Here are some ways to effectively engage donors from different generations to ensure the sustainability and growth of your nonprofit during events like Giving Tuesday.
Segmenting your donors
Every donor is unique, with distinct motivations and preferences for giving. Tailoring your messaging and communication method to resonate with each segment, or donor persona, will help foster a stronger connection between your organization and your supporters.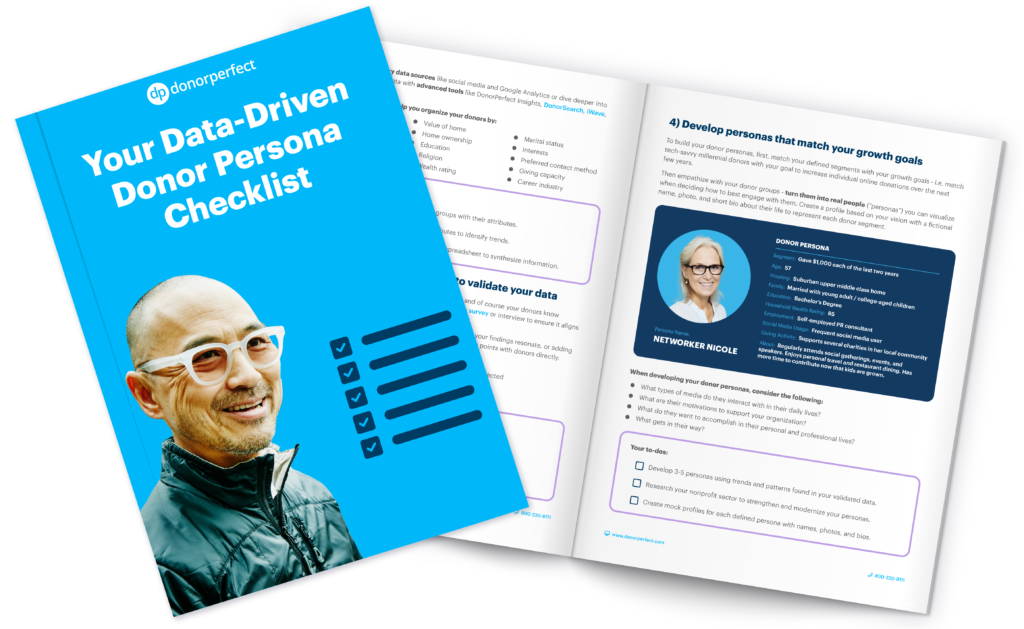 Today's nonprofits can't rely on reaching every donor with a blanket approach. Donor personas are defined by who the donor is as a person: their age, job, goals, challenges, and what influences their giving behavior. Need help figuring out your donor personas? Download the Donor Persona Checklist »
Segmenting by age, or any other determined category, means you'll need specific information about each of your donors. Having a modern, easy-to-use, and powerful nonprofit CRM like DonorPerfect is key. When you ask donors to give to your nonprofit, register for events, or fill out surveys, consider adding date-of-birth and other specific fields to your forms and registrations to collect pertinent information. You can also use your CRM's integration tools to gather public information such as net worth and birth year.
Then, utilize your CRM's report center to create targeted lists for your text-to-give or email marketing campaigns.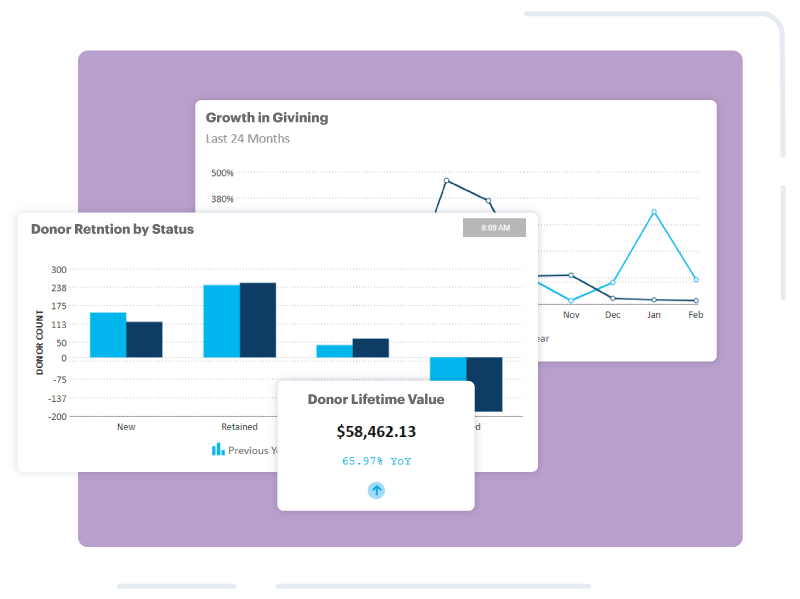 DonorPerfect users: Knowledge is power. That's why DonorPerfect is equipped with over 70 reports that present key data needed to make informed decisions for all your fundraising needs. With just a few clicks, you can discover more about your most important donor segments.
Don't yet use DonorPerfect? Request a demo today »
Engaging Gen Z: Future philanthropists
Gen Z, born between the late 1990s and early 2010s, have a strong sense of social responsibility and care about causes like environmental sustainability, social justice, mental health, and education.
Though they might not donate much now due to being in college or starting their careers, building relationships with them is crucial for future giving.
Connect through digital platforms and use visual and engaging content. Be authentic and transparent about your brand or cause, and showcase diversity and inclusion. Utilize surveys and polls, and ask them to get involved in other ways like advocacy, social media shares, and volunteering.
Engaging Millennials: Mobile-centric and socially conscious
Millennials, born between 1980 and 1997, are a significant portion of the population and represent a growing force in giving. To effectively engage millennials, it is crucial to recognize their tech-savvy nature and strong social consciousness.

Millennials prefer mobile platforms for communication and donations. Utilize text messages, social media, and mobile-optimized websites to reach them. Embrace video as they respond well to visual storytelling. By using tools like DP Video, you can record and send personalized videos to supporters while leveraging your CRM to track and manage video email recipients.
Design a mobile-friendly website and donation forms, and enjoy the added benefit of automatic data downloaded into your donor management system with Givecloud. Get started with Givecloud today »
Social media also plays a central role in millennial engagement. Identify the platforms your repeat donors frequent and target your campaigns there. Showcase your organization's impact and achievements through small asks that show how their donation can result in meaningful change.
Think about the types of purchases millennials tend to make and draw a comparison between that casual spend and a donation that empowers them to make a difference. For example, "For the cost of a cold brew you'd grab before work, you can give a shelter pup a second chance at finding a forever home. Celebrate Giving Tuesday with a $5/month pledge to [nonprofit name]. Give here: [link to online donation form]"
Engaging Gen X: Results-oriented and online savvy
Gen Xers, born between 1965 and 1979, are dedicated supporters who expect results from their contributions. Highlight your organization's impact and show how they help make a difference. Since they are more likely to volunteer and fundraise for causes they believe in, leverage crowdfunding and peer-to-peer campaigns.
To engage Gen X, focus on email, social media, and text messages as communication channels. Ensure your media is mobile-friendly, as Gen Xers are frequent texters but not as tied to their phones as millennials.
Engaging Boomers: Research-oriented and results-driven
Boomers, born between 1946 and 1964, tend to expect quality services and treatment from nonprofits. They respond well to email and social media and tend to give more than once a year, so consider offering an option for monthly giving. As Giving Tuesday approaches, highlight the impact of their donations and the opportunity to make a difference.
Focus on email communication, as over 50% of baby boomers give in response to an email. Provide transparency about your organization's use of funds and give them a say in how their contributions are used.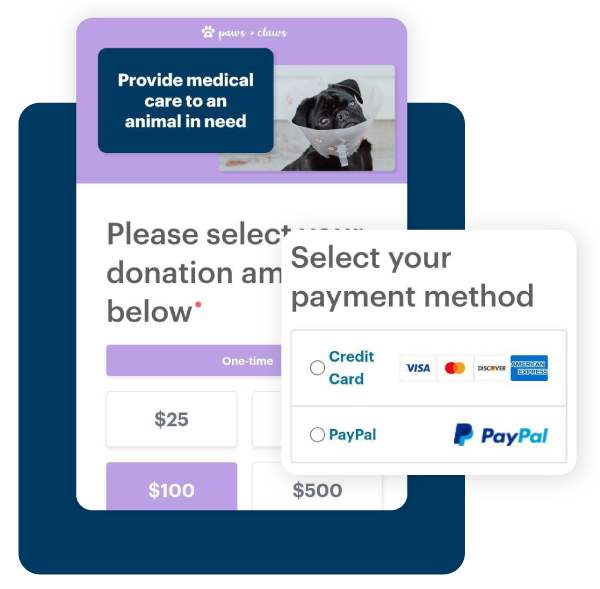 Customize your online forms and include impact statements or donation descriptions next to your ask amounts, so your donors have a say in how their gift can positively impact your mission.
Engaging Seniors: Personal touch and direct mail
Seniors, born before 1945, make up a significant portion of charitable givers. They still prefer direct mail and phone calls as their primary communication channels. Some will give online, so ensure your online giving platform is straightforward and user-friendly.
Emphasize the personal impact of their contributions during Giving Tuesday, and provide options for traditional giving methods like check donations.
Connecting on an individual level
Donor segmentation by generation is a powerful strategy to connect with your supporters, especially during events like Giving Tuesday. Each generation has unique communication preferences and giving habits, and understanding these differences is key to effective engagement, building stronger relationships, increasing donor retention, and securing a sustainable future.
As Giving Tuesday approaches, tailor your strategies to each generation. Take the time to find, within your donor management system, where the majority of your donors fit in and strategize the best ways to reach them.
Keep these things in mind when planning and writing your messages:
Involving young professionals ensures your organization's future and expands your donor base.
Cultivating mature donors provides stability and ongoing support during critical fundraising events like Giving Tuesday.
New ideas and approaches energize your donor base, boosting enthusiasm for participation.
Understanding individual motivations builds strong, personal relationships that lead to increased engagement during Giving Tuesday and other fundraising initiatives.
Pro tip: Not sure about the messaging for each generation? Try using Artificial Intelligence (AI) writing guides as a tool to craft messages that speak directly to your donor segments. Our AI guide for nonprofits provides you with the information you need to get results from AI.
Get more quick tips for Giving Tuesday. Download your cheat sheet today.
Get your free Giving Tuesday
Cheat Sheet