Reporting is a critical tool for any fundraising team. Being able to quickly see the current status of all your efforts is needed from a daily to monthly basis. After all, you can't manage your fundraising efforts if you can't measure the results. Starting this week, DonorPerfect is making your reporting faster and easier than ever before with our new dashboards feature.
On July 22, we'll begin enabling this feature in all systems; this process will continue throughout the remainder of July and August. You'll know the feature has been enabled for your system when you see this new screen immediately after logging in.
A New Place to Call Home (home screen, that is)
This new Home screen provides fingertip accessibility to important areas in DonorPerfect. Whether you need to find a record, add a new one, or acknowledge your donors through receipts, the new screen is designed to help you quickly get to where you need to go. When you're ready, simply click the middle option to access your new fundraising dashboard.
Real-Time Insights with Your New Customizable Dashboard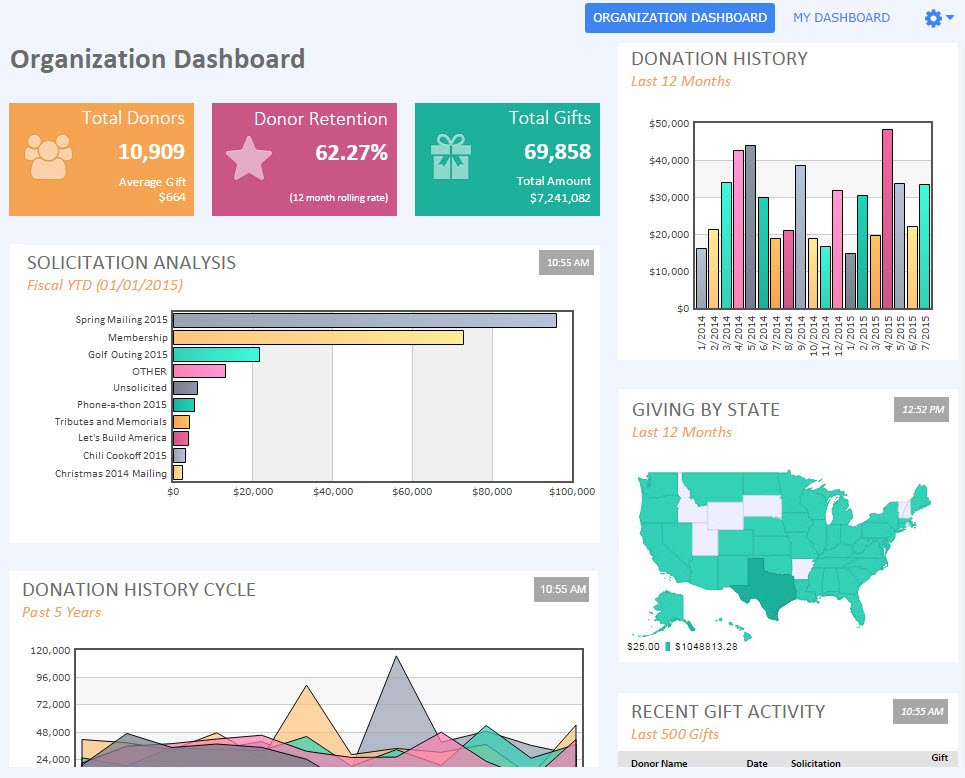 Your customizable dashboard takes the guesswork and extra effort out of fundraising reporting by visualizing your results in charts and tiles. By simply glancing at your dashboard, you will know exactly where you stand on your KPIs (Key Performance Indicators) to make better data-driven decisions. Here's a look at some of the great new features.
Share an Organization Dashboard and Keep One for Yourself
One size does not fit all, and that's especially true when it comes to reports and dashboards. That's why we made your new dashboard configurable. Everyone at your organization can share your Organization Dashboard while you can personalize My Dashboard for just the stuff you care about. Simply navigate between the two buttons at the top of your dashboard to see the dashboard of your choice.
Choose from 25 Dashboard Widgets and Tiles
These colorful tiles make it easy for anyone to quickly learn the status of your entire system. In addition to the number of donors and gifts, we added a tile for your current donor retention rate. Since it costs more money and takes more effort to acquire a new donor than to retain an existing one, we recommend using this to continuously set your next retention goal.
The Giving by State dashboard widget will help you see where your donations are coming from. Over the last 12 months, you'll see giving trends from each state. The states with a higher concentration of your overall gifts will be indicated by a darker color (Texas in the above example).
Want to see your donations in Canada, the UK, or the rest of the globe? We have those too!
Spotting trends is much easier when you can overlap each segment. With the Donation History Cycle, you can see up to 5 years of giving history by month.
The Solicitation Analysis widget will show you the top ten categories that brought donations in this fiscal year. This makes your fundraising tracking a walk in the park.
Need to show the finance department your money allocations? Simply show them the General Ledger Analysis widget, complete with drill downs for each pie slice.
Where'd the old dashboard go?
We converted all the old dashboard features into the version such as Open Contacts and My Reports, which you can find under My Dashboard. But, for those of you who would like to see your old dashboard for a limited time, you can click on Return to Old Dashboard under the gear icon.
And so much more for you to explore
We're running out of space to tell you about all the great features such as adding your own custom text to the dashboard, embedding a website or even your favorite Twitter feed. To learn more about these new features, check out our Knowledgebase or watch this video below.
We're so thankful to all the beta testers who provided their feedback and helped us create this great feature. If you have an idea to improve the new dashboard even further, tell us your feedback on Suggest and Vote.
Announcing Real-Time Fundraising Dashboards in DonorPerfect