Online fundraising software for today's digital world.
These uncertain times have shown us just how much your donors want to contribute to good in the world. Lean on DonorPerfect's money-raising, donor-engaging tools to give them the opportunity to be a part of the stories that bring us together.
Based in Montreal since 1987
Donor data hosted in Canada
Bilingual support and training
Billing in Canadian dollars
Experts in tax receipting following CRA standards
Meet DonorPerfect:
Your Canadian Fundraising Growth Platform
SOFTWARE OVERVIEW
Raise more with top-rated donor management and fundraising tools.
PACKAGES + PRICING
Choose a fundraising software package that meets your needs and budget.
SOFTWARE DEMO
Learn how to grow your revenue and reach with DonorPerfect.
RECEIPTING
Show gratitude to your supporters with receipts that follow Canadian Revenue Agency standards.
NONPROFIT FORMS
Create beautiful, branded donation forms that are as unique as your mission.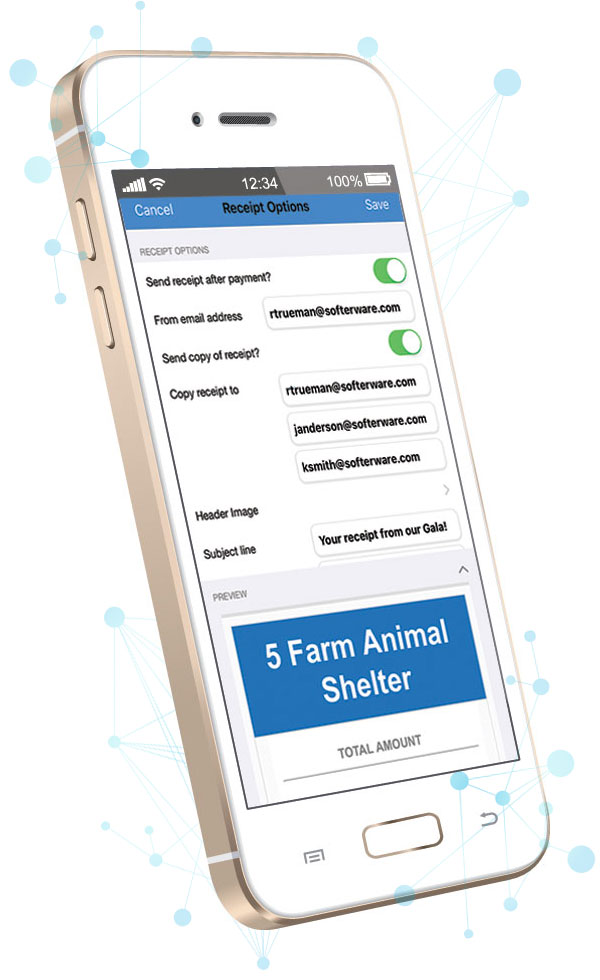 Show gratitude to your supporters with receipts
that follow Canadian Revenue Agency standards.
Using DonorPerfect's Receipting tools, you can send out email and letter receipts to your valued donors, as well as thank donors for the donations they have made.
DonorPerfect's Receipting feature enables you to:
Send email receipts, letter receipts, or both.
Send individual or consolidated receipts
Send acknowledgements with or without an official receipt
Reissue receipts by email or by letter
Preview every email receipt message before it is sent
Customize templates for each occasion: add an image, colors, hyperlinks
Issue receipts and acknowledgements in English, French or any other language
Include currency symbol
E-receipt securely encrypted
Create contact records for sent receipts automatically
Generate notification letters for tribute donations
Your #GivingTuesday Game Plan
No time to pull together a campaign? No worries. This fundraising resource hub has everything you need to engage and expand you donor community including:
Donor engagement and retention strategies
Email, social media, and crowdfunding templates
Giving Tuesday donation form best practices
Plus, you can access new donor welcome series templates for what we like to call "Welcome Wednesday", the day you introduce new donors to the community that sets your organization apart.
Go for the Goal with DonorPerfect
DonorPerfect equips your nonprofit team to accomplish just about everything on your plate, from routine daily tasks like data entry to big picture initiatives like annual campaigns.
RAISE MORE MONEY ONLINE
Effortlessly collect online, mobile, and monthly gifts through integrated forms and processing.
SAVE TIME FOR WHAT MATTERS
Streamline daily operations with time-saving tools, automatic features, and integrations.
GROW YOUR DONOR COMMUNITY
Reach people who care about your cause with stories that turn them into advocates.
RALLY YOUR SUPPORTERS
Host can't-miss digital events with auction software and dedicated event websites.
GET TO KNOW YOUR DONORS
Turn donor data into valuable donor details with custom reports and fundraising analytics dashboards.
Remote Onboarding, On-Demand Training, and Customer Support
When you purchase DonorPerfect, our expert team partners with yours so everyone you lean on can learn and leverage your new system on Day 1 and beyond.
Personalized New Customer Onboarding
On-Demand New User Webinar Series
Top-Rated Customer Support
Support and training when you need it,
from bilingual DonorPerfect experts.
DonorPerfect clients love our dedicated customer service team and our commitment to their success.
As a DonorPerfect client, you can lean on our live support team and DonorPerfect's online client engagement community, for assistance resolving issues, learning new features, and discovering best practices for using your DonorPerfect system. Everyone from your newest staff members to your most-seasoned development professionals will greatly benefit from DonorPerfect Support.
Choose the DonorPerfect Support Package that's right for you. Our Canadian team is based in Montréal and is always available to answer you in English or in French.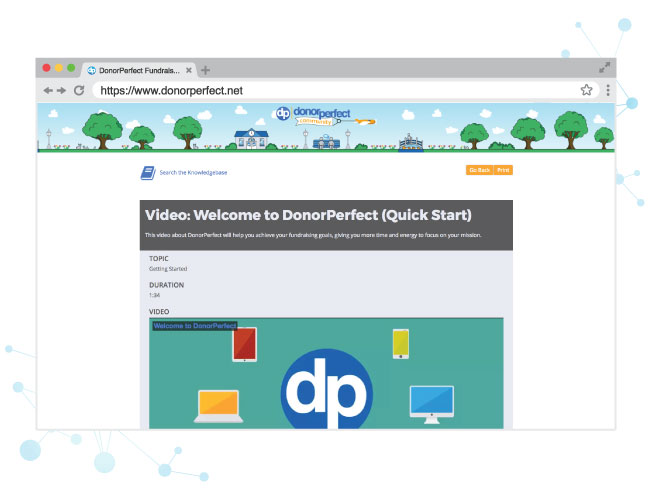 One Source for All of Your Fundraising Data
Stay aligned while working online. DonorPerfect is your nonprofit team's central data source for coordinated development efforts.
Annual Appeals
Monthly Giving
Crowdfunding
Online Donations
Fundraising Events
Major Gifts
Volunteers
Direct Mail
Capital Campaigns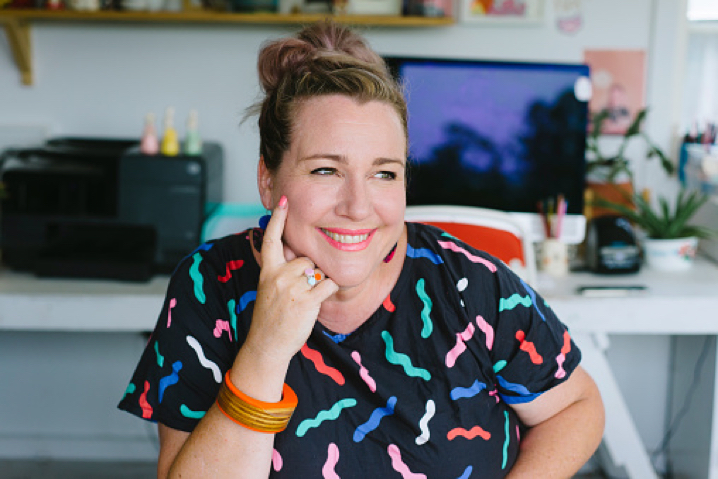 Flexible Terms for Uncertain Times
Here at DonorPerfect, our terms are based on our top priorities: your happiness and success. That's why, we offer a low upfront deposit, flexible monthly payment options, and no long term contracts.
Join a Growing Community of Over 50,000 Nonprofit Professionals
DonorPerfect is an amazing tool for our organization. I truly could not do my job without it. The simple design, deep functionality capabilities, and endless customization options make it an amazing CRM for nonprofits."

– Nicole P., Philanthropy Associate
10 years with DonorPerfect. Still a strong yes. DonorPerfect is fast, cloud-based and accessible anywhere, powerful and flexible, customizable, and easy enough for new staff to use comfortably and with confidence while the admins can create calculated fields and custom report solutions."
– Rick M., Advancement Operations Manager
Our experience with DonorPerfect has been excellent for 10+ years. It allows us to track all of our donors' giving history as well as update their contact information very easily…The reports allow us to analyze where we are and where we need to be financially as an organization."
– Carrie M., Development Director
Back to Top