November 23, 2021 | Categories #GivingTuesday, Featured, Fundraising Strategies
Your Welcome Wednesday Workflow in 6 Steps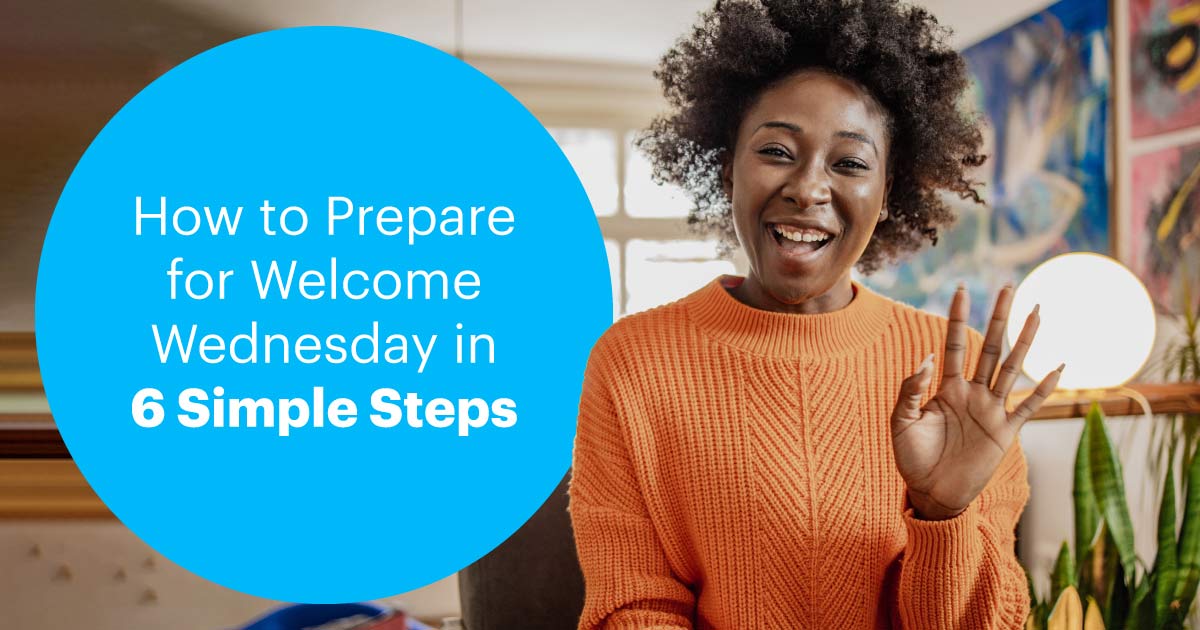 You worked hard to rally supporters on GivingTuesday, the biggest giving day of the year… now what? We created Welcome Wednesday so that potential won't go to waste. Since GivingTuesday began, we have watched nonprofits enjoy a surge of new donors, but struggle to maintain those relationships and retain their new donors as recurring donors.
Turning new GivingTuesday donors into repeat sustaining donors is no simple task and creating new workflows can be taxing, so we've done the heavy lifting, leaving you with a few simple steps to follow, and related resources to learn more.
Your Welcome Wednesday workflow made easy:
1. Recoup
The Giving Tuesday party's over, and it's time for the decorations to come down. Begin Welcome Wednesday with a quick clean-up to ensure your donors – old and new – keep current on opportunities to get involved.
Your quick clean-up checklist:
2. Thank donors
After Giving Tuesday, swift thank-yous are critical to retaining your influx of first-time donors. The faster you thank them, their likelihood to give again increases. We've seen that donors who are thanked within 24 hours of giving have a 60% retention rate – a significant increase over the average donor retention rate of about 40%.
Your essential thank-you elements:
Send within 24-48 hours of Giving Tuesday
Include your donor's name, details of their gift, and the cause they gave to
Let your donor know the impact of their gift
Thank them for the difference they've made in your community
3. Welcome new donors
To steward your new donors on Welcome Wednesday, and moving forward, motivate them to invest in your mission in mutually-beneficial ways.
Your actionable strategies to steward Giving Tuesday donors:
Consider a New Donor Welcome Series via email. This outreach establishes familiarity with your nonprofit and all you will accomplish together. Constant Contact makes it easy to create an email campaign that automatically enrolls news donors and engages them using a timeline that you designate!
Welcome them into your community and encourage them to get involved through a volunteer program or upcoming event. They are already feeling great about their gift and will be excited to learn about the opportunities that are in store. You can send invitations and links to enroll straight from your CRM in batches!
Share your social media pages and online resources. Include impact stories about the community you serve so they see the difference their support makes and get to know your organization and your team better.
Not sure what to say and when?
Your suggested email schedule:
Day 1: Welcome Wednesday/thank you
Week 1: Invite them to follow your social media
Week 2: Share some engagement opportunities
Week 3: Give an impact update
Week 4: Encourage year-end contributions
Week 5: Preview what's ahead for 2022
4. Engage reactivated donors
It's possible that Giving Tuesday brought back donors who haven't given to you in some time. They're still engaged in your mission, and that's why Welcome Wednesday is the perfect time to say thanks and reach out with a targeted appeal.
For example, you may ask them to join your monthly giving program so they can give on a more consistent basis without needing reminders. Best of all, automatic monthly giving makes donations easier for both of you at once.
5. Measure campaign success
You put a lot of time into your Giving Tuesday campaign, so it's important to measure its results – internally and externally – to reflect on what worked best this year.
Not to mention, your Giving Tuesday donors like to celebrate success just as much as you do. If you reached or exceeded your goal, share that information on your website and social media, and email those who contributed. When sharing results, be sure to let your community know how these funds will serve your mission.
6. Recalibrate
After you've determined any gains or losses over previous campaigns, take some time to identify what accounted for the changes. Reach out to your staff and volunteers, as well as board members, long-time donors, and major donors for their input. You can send a quick online survey to collect feedback asking what they found engaging or lacking.
Your survey questions:
Did we provide enough updates throughout the day on Giving Tuesday?
Was our email campaign timeline on point? Did we send out our first announcement too early? Too late? Right on time?
Did you see any Giving Tuesday campaigns you found particularly compelling? What about the campaign did you like?
You know well enough that your work behind the scenes – like reporting and surveying – deserves dedicated time, but there are still emails to write, letters to send, and donors to call. For help prioritizing, you can use our free Welcome Wednesday donor retention kit with email and social media templates.