October 30, 2020 | Categories #GivingTuesday, Donation Processing, Donor Management, DonorPerfect Fundraising Software, Featured, Fundraising Strategies
Nonprofits Share How They Make Giving Tuesday Work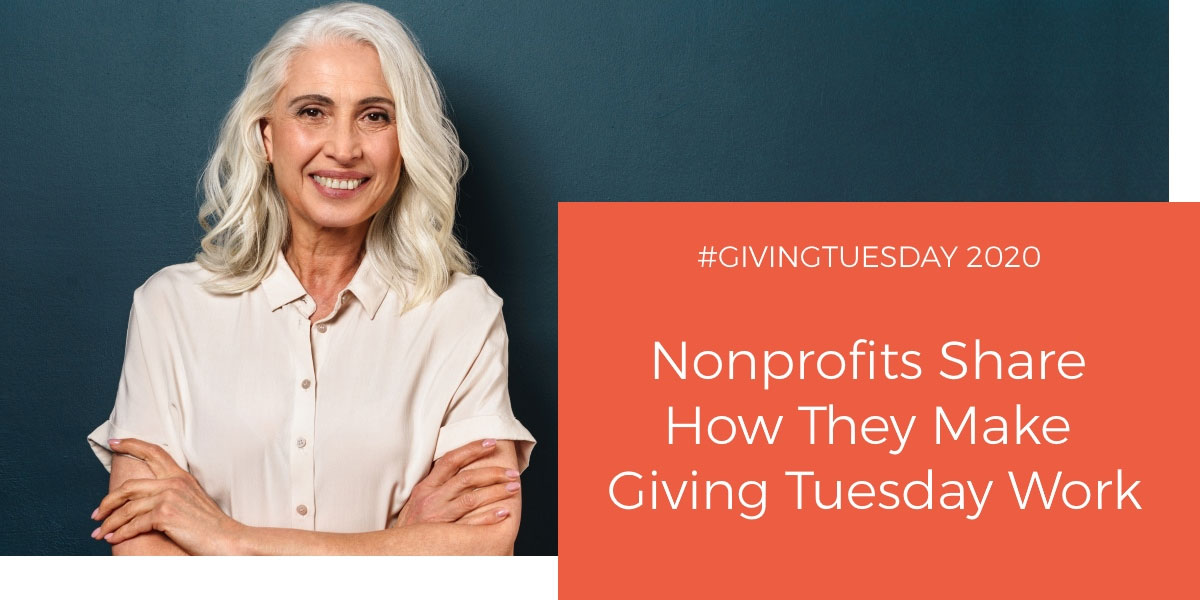 Should you participate in Giving Tuesday? How should you adapt your fundraising strategy for the shifts in charitable giving this year? Recently, our Associate Product Manager for DP Online Forms, Josh Cobert, had a chance to sit down with Maggie Kebler-Bullock, Director of Development (CFRE) from ASTS & ASTS Foundation, and Anne Carter, Development Director, from the Catholic High School Foundation. Both of these organizations have grown their Giving Tuesday program over the last few years and met with us to share how they planned to make Giving Tuesday work this year. Here are some of the highlights from our talk.
What Worked For Giving Tuesday Last Year
The American Society of Transplant Surgeons (ASTS), where Maggie Kebler-Bullock, CFRE works as the Development Director, advances the art and science of transplant surgery through patient care, research, and advocacy. Maggie started ASTS Foundation's Giving Tuesday outreach at the end of October after securing a $25K matching donation from a corporate partner. She built awareness of their Giving Tuesday appeal by presenting to the Foundation's Board, Council, and Committee Chairs. She also sent email appeals every week in November, held direct meetings, and updated the Foundation's website. (The Foundation didn't send subsequent emails to clients who donated.) Maggie boosted awareness even more by including Giving Tuesday information in her email signature. Finally, Maggie used various social media platforms to reach out to ASTS Members in between emails.
While the multi-channel outreach plan helped, the messaging in their Giving Tuesday communications won supporters over. The ASTS Foundation emphasized the $25K corporate match and its impact on research, a subject close to ASTS members' hearts. ASTS Foundation's supporters didn't want to miss out on any money from the $25K match. It was a big incentive for them to donate. Maggie's strategy to get the word out early and often, with targeted messaging, worked. The ASTS Foundation reached its fundraising goal by 11 AM on Giving Tuesday and raised $96K overall.
Online Convenience and Instant Results For CHS
The Catholic High School Foundation, where Anne Carter serves as Development Director, provides need-based tuition assistance to students at Catholic High School for Boys and helps supplement their teachers' salaries. Anne started her Giving Tuesday outreach to secure matching donors in her community about a month from the big day. She waited until two weeks before Giving Tuesday before announcing the campaign to constituents via email and social media. Anne was able to do this with confidence because of how well she understands her donors. Most of her constituents are alumni from the male-only Catholic High School. In her experience, they respond better to appeals with shorter timeframes.
Anne's first email, sent two weeks before Giving Tuesday, encouraged supporters to check Facebook for some special "day of" events. A reminder email went out a week later. On the morning of Giving Tuesday, Anne emailed constituents to announce a small matching gift and let them know to tune in to Facebook Live at noon for a big announcement. Lunchtime has traditionally been the most significant time of giving for CHS. Their largest matching sponsor announced a $2.5K matching gift to students during lunch live on Facebook. The boys' enthusiasm spread, and supporters rallied to meet the Giving Tuesday match with their donations.
Anne also announced smaller matching gifts in the afternoon and evening to keep the momentum going. During the day on social media, CHS broadcasted live on Facebook with a behind-the-scenes look at what makes Catholic High special. Alumni and parents got to see students in action throughout their day, which helped them stay engaged in the campaign. With their generous donations, the Catholic High School Foundation raised over $80K on Giving Tuesday.
Key Takeaways On Giving Tuesday Success
Recognize that there are lots of organizations that your constituents could support on Giving Tuesday. Create awareness for your cause in a way that resonates with your supporters. Grab their attention with images and videos that tell your unique story. Maggie and Anne took very different approaches and had different campaign timetables, but they both found a way to make Giving Tuesday work for their organization. Stay true to your nonprofit's mission and message. Do what you know your donors will respond to, and you'll be successful too!
Watch the Recorded Webinar
Watch the entire recorded webinar of our conversation with Anne Carter and Maggie Kebler-Bullock by selecting "Nonprofits Share Their Best Giving Tuesday Advice" on our Giving Tuesday Webinars page.
How to Adapt Your Giving Tuesday Strategy for 2020
COVID-19 has changed how we relate to donors, but it hasn't changed what your constituents want out of a relationship with your nonprofit. That remains true on Giving Tuesday and all year long. Here's how to adapt your fundraising strategy to overcome the challenges that we're facing now.
Offer Alternate Ways to Donate During Giving Tuesday
Our webinar panelists and other nonprofits we've talked with are concerned that their donors might be facing financial hardships due to the impact of COVID-19. They want to be sensitive to their supporters' finances during Giving Tuesday yet still offer ways to participate.
Small donations over time can mean big results. With a Monthly Giving program, budget-conscious donors can still give a larger total gift but spread out the payments over time as a lower amount.
Donors that are unable to give financially can fundraise on your behalf with a crowdfunding campaign.
Outline specific actions supporters can take beyond donating to show support for your cause.
Make Donor Retention a Priority On Giving Tuesday
Retaining your Giving Tuesday donors starts by thanking them for their support. Donors who receive a thank you within 48 hours of donating are four times more likely to give to your organization again. Anne Carter, from CHS, takes this advice to heart. She sends a thank you email out the next day after Giving Tuesday, letting supporters know the amount raised and thanking them for their support. She also adds the Giving Tuesday totals to the December school newsletter.
Webinar: Keep Your Giving Tuesday Donors
What if your one-time Giving Tuesday donors weren't one-timers at all? In this Welcome Wednesday webinar, we'll help you outline a plan to begin building good relationships with this new group of donors from day one.


Focus on Virtually Building Your Community
If your nonprofit has had to rework an in-person fundraising event because of COVID-19, you're not alone. Both the ASTS Foundation and Catholic High School plan to leverage virtual events at year-end to remind their constituents that their organizations are still part of their community. For ASTS, they'll hold an Annual Recognition event as a virtual get together to do something fun and celebrate their member's accomplishments. Catholic High School moved their Alumni Dinner and Homecoming celebration to a virtual event as well. Event speakers and videos will be available on social media and via their Alumni Youtube channel. If you're planning on holding any virtual events at year-end, Giving Tuesday can be a great way to build momentum and kick off your overall end-of-year fundraising.
Get Started on Your #GivingTuesday Game Plan
It's not too late to participate in Giving Tuesday and still get great results! When asked "What advice do you have for nonprofits that never participated in Giving Tuesday?", both of our webinar panel participants agreed that it was well worth it. Even if you do a soft launch and see how it goes, your organization can only benefit from participating.

We've even done the hard work for you! Visit Your #GivingTuesday Game Plan to grab our campaign timeline and email and social media templates to personalize for your mission.